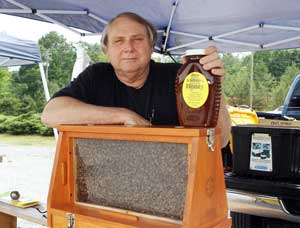 By David Story
Photos by Jerry Martin
Without flowering plants, there would be no honey.
It's all about the nectar, says beekeeper and self-proclaimed "bee doctor" Jimmy Carmack, who's appeared on numerous local TV shows and radio shows promoting honeybee issues. Owner of Carmack Farms in Odenville along with others in the state, he has become quite the expert.
Many myths have surrounded honey over the centuries: unfiltered honey can be good medicine for allergies, that the body metabolizes honey differently from other sweets or that honey's as good as gold.
State Apiarist Dennis Barclift with Alabama's Plant Protection section is quick to point out the pros and cons for people with allergies, "The pollen in the honey can make some people with allergies sicker. Others may claim to want honey because of its antibodies, which gives resistance allergies, but all this is speculation and folklore."
Barclift adds, "However, we do know honey's good for you; we know it tastes good and is a ready energy source since it's simple sugar. The sugar's broken down by the bees, so the human body can use it immediately. That's why many athletes drink a solution of honey and water."
And, honey's indeed much in demand. "I get a lot of calls in the spring looking for local, unfiltered honey," says Carmack, who's participated in workshops and continuing education courses at Auburn University.
So, myths aside, two facts about honey are indisputable. Whether an entrepreneur like Carmack or a hobbyist, honey production's fun and challenging. And, whether a chef or a homemaker, cooking with honey's nutritional.
Man's fascination with honey began 10,000 years ago. According to retired home economics instructor Lee Cannon, author of the Southern Living Quick & Easy Cookbook, honey extraction, and not solicitation, is the world's oldest profession. Since the dawn of time, she says, man has craved honey, coveted honey and consumed honey.
"Honey's the world's oldest sweetener," she adds "There's evidence of honey gathering on mesolithic cave paintings in Valencia, Spain. In Ancient Greece honey was the primary sweetener. And in ancient Egypt, honey was used to sweeten cakes and biscuits; Middle Eastern people used honey for embalming' and in the Americas, the Maya used honey from bees for culinary purposes. Honey was a 16th century sweetener popular before slavery in the West Indies made sugar cane plantations a reality. Then, sugar changed the game and took the place of honey."
People still clamor for honey today, and in order to meet the growing demand, Carmack excises honey from hives at his apiaries, keeping bees in three or four counties. "We have colonies of bees all the way up to Huntsville," says Carmack, who has set up exhibits at fairs, Earth Day events and Farm Day for Kids at statewide schools.
"We primarily produce wildflower honey, cotton honey and occasionally kudzu honey," continues Carmack, who has worked with the apiary at Jones Valley Urban Farm in downtown Birmingham. "Our honeys have won numerous local, state and national ribbons."
Other popular flavors indigenous to Alabama are "clover/spring flower (peach apple, and blackberry mixtures) and tulip poplar," Barclift says.
And Cannon goes on to say some of the honeys with which she's most familiar are alfalfa, buckwheat and basswood, the latter of which is an ornamental shade tree producing cream-colored flowers known for their nectar.
Buddy Adamson, director of the Alabama Farmers Federation's Bee and Honey Producers Commodity Division, says the most common honeys in Alabama are wildflower, clover, cotton, soybean and privet, an invasive plant that's nonetheless a "fruity" source of nectar. Lighter honeys are more prevalent and come with a milder flavor.
"Honey can be as clear as water," explains Carmack, or almost as black as coal. It can vary from practically tasteless to bold and robust. The nectar source determines the color and flavor. For example, cotton honey is very sweet but prone to crystallization. He says that when honey granulates, it hasn't gone bad. It can be re-liquefied by heating in a pan of water, but cautions that honey should never be refrigerated. Folklore has it, he adds, crystallized honey found in the pyramids of Egypt was still edible.
Once his honey's extracted and packaged, Carmack sells jars of Pure Alabama Honey to retailers on US 280 at Cowboys' gas station and Whole Foods, also on US 280, which in 2007 became the first national grocery chain to open its anchor store in Alabama with an exclusive supply of Pure Alabama Honey. Carmack, who's described by Barclift as "knowledgeable about bees and a good beekeeper," also sells at other venues, such as Valleydale Farmers Market on Saturdays in the summer and Pell City Farmers' market on Wednesday afternoons.
Pure Alabama Honey's available in five sizes: 8 ounces, 12 ounces, 16 ounces, 32 ounces, and 64 ounces, but individual retailers may not carry every size. "You'd be surprised at how big a seller our 64 ounces is," Carmack says. "There are people who really go through a lot of honey."
Adamson explains Carmack is the exception to the rule as there are practically no commercial-sized apiaries left in the state today, as opposed to almost 70 about eight years ago. According to Adamson, costs vary from $1 per lb. on up. He says one pint of honey is about 3 lbs. and may sell for around $4 to $5.
Barclift concurs, "Honey can go up to $2 to $5 a pound."
An early fascination for bees
"Bees always interested me as a child," explains Carmack. "Then, as an adult I was working with a guy who was a beekeeper, and he showed me what to buy along with the book, First Lessons in Beekeeping. We went to the old Sears store in Birmingham. It had a big garden center and sold beekeeping supplies. In 1973, I ordered my first bees there from York Bee in Jessup, Ga. I was hooked. I've been keeping bees ever since."
Carmack, a certified master beekeeper through the University of Georgia's Honey Bee Program, has served as president of the Jefferson County Beekeepers Association and president of the Alabama Beekeepers Association.
"I was involved with the Alabama Farmers Federation in creating a bee and honey commodity with their organization," he says, "and served on the Bee and Honey State Committee for nine years."
One thing Carmack says he learned during his tenure with the committee was people often don't realize the benefits of bees and the role they play in agriculture: "The pollination bees provide is essential to many of our state's most valued crops."
Adamson agrees, "Beekeeping's indeed important from the standpoint of pollination; honey's important secondly to pollination."
The nectar source for Carmack's Pure Alabama Honey bees comes from wildflowers, which include a cross section of blooms: dandelion, clover, tulip poplar, holly, blackberry, mimosas and sumac.
"Pure Alabama Honey's raw and strained as opposed to microscopically filtered, which means it still maintains the pollen granules that are so beneficial." When pasteurized, honey is heated to a high temperature, breaking down the vitamins, minerals, and enzymes.
Barclift notes that "pasteurized" is a bad term: "Honey's filtered but not 'pasteurized', and it's often highly filtered or strained. Straining and filtering are cleaning processes, getting bits of wax, a purification, if you will, to get out bits of pollen from the comb."
As for the nutritional benefits of honey, Cannon explains what's in it: "It's about a third fructose, a third glucose, and less than a fourth water. Higher sugars and sucrose make for less than a tenth of honey's make-up."
With an Italian-American background, Cannon's traditional cuisine wasn't steeped in honey – her mother, Philomena Ferrara, didn't really cook a lot with it, so Cannon's first culinary experience with honey was in the form of a pancake or ableskiver from a recipe prepared by her husband Bob's Mormon mother, Winifred Morrell Cannon. "For every Sunday supper we ate ableskiver, prepared in a special ableskiver pan, topped with homemade honey butter."
This family tradition has been carried on by Cannon's sister-in-law, Winnifred Cannon Jardine, a home economics graduate of Iowa State University and author of the Mormon Country Cooking (She for many years was a food critic with The Desert News in Salt Lake City.).
"Today honey has become more expensive than sugar," says Cannon, "but I still like to put honey on toast and squash – don't peel the squash – it's better than butter."