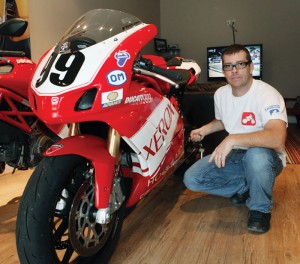 The craft of making fast bikes look even faster
Story by Mike Bolton
Photos by Jerry Martin
Rider photos submitted
The rider on the sleek, screaming motorcycle shifted left on the seat and his left knee dragged the asphalt as the brightly colored rocket hugged the turn at a speed that seemingly defied physics. The rider was not alone in his insanity. He was surrounded by other riders and their cycles in a perfectly choreographed high-speed routine that made Dancing with the Stars look like some vacation Bible school production.
Despite the incredible skill level, this motorcycle race broadcast by the SPEED Channel from another state means little to most NASCAR-addicted Southern channel surfers. Scoffing that motorcycle racing isn't real racing, they steer the channels with the remote to the safer and less insane confines of Pawn Stars or Storage Wars.
Scott Moore isn't the typical Southern channel surfer. He watches the race with intense interest. While the motorcycle being shown on television can't claim its soul was born in the unassuming beige workshop just outside Moore's back door in Washington Valley, he knows its identity is fully rooted there.
To say Moore has found an unlikely niche in a world foreign to most Alabamians is a gross understatement. The quiet 1984 Springville High graduate is not a mechanic that can make a motorcycle engine perform at magical levels. He's an artist who can make a motorcycle a one-of-a-kind rolling billboard that is easily identifiable at 160 mph.
Erase the thought of the Teutels painting motorcycle frames on American Chopper. Motorcycle racers from across the big pond and across the U.S. ship their fairings — those fiberglass and carbon-fiber additions that make racing motorcycles aerodynamic — to the small shop in Springville for Moore to work his magic on. His business is called Fast-Finish.
How does an artist that isn't that well-known in St. Clair County become so well known across the United States and the world?
"In 1992, I painted a few street bikes and amateur racers for some friends in Birmingham," Moore said from his shop in Washington Valley, a shop that doesn't even have a sign touting what goes on inside. "My friends took those bikes to some national events and other people saw them and asked where they had their paint-work done.
"I started getting painting requests and it just grew. I never really set out for it to turn out like this. Now I have stuff all over the world. It got there for awhile you could pick up just about any motorcycle magazine and see a motorcycle that I had done."
By providing the identity for the motorcycles for World Superbike champion Neil Hodgson, former Moto GP champion Kevin Schwantz and former AMA Superbike champion Ben Spies, Moore was able to display his artwork across the U.S. and world. It has resulted in word-of-mouth advertising that has branched off in many different directions.
UPS delivery drivers have the route to Moore's rural Washington Valley shop memorized as they provide frequent deliveries of motorcycle fairings to get Moore's touch. One day he may receive fairings from a national racing team, the next day from Grammy Winner Trevor Sadler. A delivery may be from a vintage motorcycle enthusiast one day, a delivery from China from an admirer of Moore's work the following day.
One of Moore's biggest customers at the moment is the National Guard racing team belonging to Michael Jordan Motorsports. The former NBA great has owned an entire team of racing motorcycles for several years.
"My dad called me one day and said some guy named Michael Jordan had sent me a package by UPS and he wanted to know if I wanted him to just leave it on the driveway," Moore said with a laugh. "I told him that he'd better put that one up in a safe place."
The paint schemes for some motorcycles come from Moore's head but bigger race teams provide direction.
"The bigger teams use a graphics art department that will send me detailed artwork of exactly how they want it to look," he explained. "It will include every decal with instructions of where they go.
"Others will send me a sketch of what they want and others will just tell me to make it look good."
The interest in vintage motorcycle racing has increased dramatically in the South with the opening of Barber's Motorsports Park and the Barber's Vintage Motorsports Museum in Leeds.
It has opened up a niche within a niche for the humble Moore. He has done the artwork for several motorcycles in the Barber's museum as well as some $500,000 vintage motorcycles for individuals. His work has won best in show at the prestigious Amelia Island Vintage Motorcycle show in Florida and the vintage motorcycle show in Pebble Beach.
Vintage racing motorcycles now make up a good portion of his work.
Moore says his evolution into this type of work has been pretty amazing considering it was never in his dreams after graduating from high school.
"I worked in Birmingham for a land surveying crew and somebody wanted me to paint a truck for them and I just needed a place to do it," he said. "My dad drove a truck and he paid me to wash the truck for him.
"I painted this truck and it turned out OK, and I started painting other trucks and cars. I figured out that the pay for painting them was a whole lot better than the pay for washing them."
To see more of Moore's work visit
www.fastfinishpainting.com