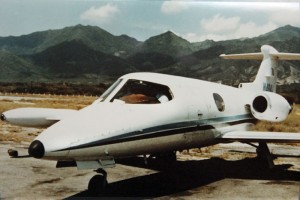 A mission of hope, a story of perseverance
Editor's note: Excerpts from Wood's book are italicized.
Story by Samantha Corona
Photos by Jerry Martin
In 1981, Bobby Wood sat down with a pen and paper, and began to write.
His story would have all the exciting elements – foreign countries, constant travels, a clash of cultures, gangs of criminals, and a few good guys who chose morals over money. It would highlight corrupt governments, an illegal industry on two continents, and one man's quest to bring a valuable piece of American property — and history — home.
Most importantly, Wood's story would be real. No fictional characters and no exaggerations, it would be his own true-life experiences – him and 464 Juliet.
"I wrote it all down by hand. I sat down and started writing, and I filled up notebook after notebook," Wood said. "I wanted to include everything, every detail."
Now, more than 30 years later, that original story Wood scribbled down has become a memoir, a nonfiction novel finally ready to be shared with the rest of the world – Learjet 464 Juliet.
"I've had this story for years and wanted to share it, but because of certain people and certain events, I wasn't able to," Wood said. "Now that some people have passed on, I'm able to publish it."
Owner of Wood Performance in Pell City, Wood grew up in Birmingham, detouring to Florida before now calling Cropwell, Ala., home.
He began his love for engines early. His father owned and operated Wood Chevrolet in Birmingham, and it wasn't long before the car fever caught on. Wood became involved in professional drag racing and was named the NHRA National record holder twice. He later traveled the nation in the Coca-Cola racing circuit.
Wood's business today is leading innovation and design of carburetors and cam shafts for Harley Davidson motorcycles.
"I've always loved working with my hands. I like putting things together to see how they work," he said.
In 1972, Wood moved to Opa-Locka, Florida, just outside Miami, with his wife, Terry, and their children. He started Wood Engineering, which built and designed products for the aircraft industry, and in 1978, under the title of Air Unlimited, Wood also opened a Cessna aircraft dealership, flight-training school and FAA repair station.
That's where the story begins, and a Learjet by the name of 464 Juliet enters Wood's life.
In January 1980, Raul Soto, Colombian by birth and Wood's "right-hand man" at Air Unlimited, arranged for Wood to meet with a lawyer in Colombia who was interested in striking up an oil deal and in need of private investors. It was a proposition Wood decided to explore.
As the deal unfolded, Wood was introduced to another Colombian lawyer who brought his attention to the opportunity of restoring and returning confiscated airplanes.
The "business" of Colombia at that time – drug imports and exports – made available several abandoned and hijacked aircraft throughout the country. Some were left to waste away, some stripped for any value they could provide to the starving, money-hungry population, and some were considered property of the Colombian government and military.
An aviator at heart, Wood's interest was piqued at the possibility of repairing and restoring these planes, both for the financial possibilities and the fun.
While out exploring the area and surveying a number of planes, native Soto remembered a U.S. plane that had been grounded just a few years earlier in 1977.
According to Wood and several news stories, the Learjet N464J was on a rescue mission to bring an American who had been badly injured in a plane crash back to the states to receive care in Texas. The victim was severely burned and required treatment that Colombian hospitals couldn't provide.
"464 Juliet, a Jet Ambulance on a medical mission of mercy, had been sent to retrieve an American named Bruce Douglas Allen, who had been horribly injured in a plane crash. As Allen lay dying with third-degree burns over 80 percent of his body, Colombian officials and agencies, with the possible blessings of their United States counterparts, detained 464 Juliet on trumped-up charges of violation of airspace, and then, days later, neatly confiscated her by planting only fifty grams of cocaine onboard to ensure she would never leave Colombia. Neither would Allen, who was left to die unattended, a few days after 464 Juliet was confiscated."
Six Americans – two pilots, two paramedics and two passengers – were jailed for their involvement with the rescue mission, but the circumstances, and their eventual release, left a number of unanswered questions.
As Wood made his way to the Simon Bolivar airport, where Juliet was detained, he saw the tail with her name, and it was love at first sight.
"Learjets are something special. I've always loved them, and I was excited about the chance to get her up and running again," he said.
That opportunity wouldn't be as easy as Wood had imagined.
As the story will tell readers, over several weeks and months, every roadblock imaginable lined the path – self-serving locals, legal red tape, drug lords and corrupt government officials would all have a say in Wood's new quest to uncover the true story of that mercy mission and free Juliet.
"At that point I made a decision: If I didn't get 464 Juliet out, no one else would either. I could have been wrong, but I didn't believe so. I would turn their game back on them and muddy up the waters so much as to actual ownership that it would take years to clear – by that time the jet would be worthless."
Today, Terry said she still remembers vividly how she felt every time her husband would head back to the Miami airport, bound for Colombia and whatever obstacles awaited him.
"I was terrified," she said. "I knew he had to do this because he wanted it so badly, but I hated it every time he left."
A man of deep faith, Wood said there was scarcely ever a moment when he didn't feel completely fortunate to make it through alive. Without a doubt, he says the adventure would not have been possible without the grace of God.
"I have always been a devout believer in God, and I prayed to him for strength. I had been so busy, I had almost forgotten that He was there, but as I prayed, rattling over that road to Cienaga (city along the northern coast of Colombia), I truly felt His presence and was comforted."
Thirty years later, Wood says he still feels blessed to have witnessed everything he did, and to have made it home to Terry and his children. As for the fate of 464 Juliet, he said, that is something readers will have to discover for themselves.