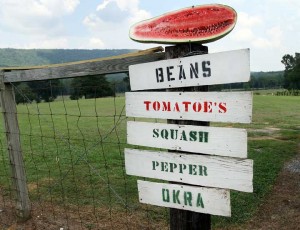 By Carol Pappas
Photos by Jerry Martin
The sign is like a portal to the South from spring and into the fall, beckoning one and all to come have a taste: FRESH PRODUCE, it says.
In the sweltering heat of a Southern summer, roadside stands and farmers' markets peddle palate-pleasing delights straight from the garden.
It's certainly no different in St. Clair County, where farms and backyard gardens — large and small — stretch from atop Chandler Mountain to the shores of the Coosa River below. Around these parts, cucumbers, okra, peas and beans with unsavory names like Rattlesnake are regular table fare, just like Silver Queen corn, eggplant, purple hull peas and yellow and zucchini squash.
Don't forget the peppers — sweet and hot banana, green bells and even an Italian named Marconi.
Tomatoes? By far, they're still the king. St. Clair County is home to one of the top five largest tomato crops in the country, perhaps the largest in the region. "We're the tomato capital of the South," said Judy Gilliland, who along with husband Hershel, raise five acres of vegetables and fruit on their Chandler Mountain Farm fit for the finest tables around.
And for dessert, Crimson Sweet watermelons are a farm favorite.
Up on Chandler Mountain is a treasure of thousands of acres of scores of varieties of tomatoes from traditional to heirloom. But there is plenty more to see along the countryside.
The Gillilands are third generation farmers on Three Oaks Farm, named for the trio of the more than century-old oaks that stand watch over their family home. Children and grandchildren, who lend a hand during planting and harvest, have become fourth and fifth generations of this branch of St. Clair County farmers.
"We grow as much as we ever need," said Gilliland. They grow enough to sell all summer long at farmer's markets in Trussville, Pell City, Sylacauga, Leeds and Ross Bridge, where city folks line up for their own taste of summer from early June to September.
Gilliland, a retired engineer from the state, and Mrs. Gilliland, who retired from a law firm, returned to their roots when they got the chance, moving back in 1990 from big-city life to the family farm in Steele.
Now they spend 14-hour days harvesting the fruits — and vegetables — of their labor. If you close your eyes and imagine the birth of a buffet of fresh-picked paradise, that would be the fields of Three Oaks.
The Gillilands are locally famous for their heirloom tomatoes, and Mrs. Gilliland explains the different varieties they grow as deftly as a seasoned teacher giving a history lesson. "They're the ugly face with the great taste. That's what you call an heirloom," she said, noting a series of deep ridges of these oversized tomatoes with an unmistakably sweet taste.
There are Yellow Blush, a variegated variety; Brandywine, which is pink; Yellow, a milder type; and Cherokee Purple. They share a common benefit. "All heirlooms are low in acid," she said.
Just down the road a piece, young Jake Owen lures passersby to his produce stand with a fresh cut watermelon perched atop a sign listing his family's vegetables du jour. The flesh of the watermelon is the deepest of reds, arousing taste buds of no telling how many motorists happening by.
His family owns six acres flanking the fruit and vegetable stand — "five more across the road," he said. He and his father handle the chores of growing and harvesting from the farm that produces enough "to feed all of us," he said, referring to his family. Owen has been selling the farm's produce for two years but plans to go to work on the commercial tomato farms of Chandler Mountain next year, he said of his future.
Then, he turned a moment to the past, talking about his farming lineage. "Daddy's been growing stuff as long as he's been living." His grandfather grew cotton, and his "kinfolks" in Oneonta in the next county farm as well.
For Andy Kemp, who along with wife, Paula, started A&P Farms five years ago, it was the lure of land that helped them find their way to St. Clair County. Andy, who managed a parts distributorship in Memphis, Tenn., and Paula, who worked as a software developer for BellSouth, "dreamed of having our own property — acreage," he said. "We found this, not knowing we'd farm," pointing to field after field of fruits and vegetables nearing picking time. They own 75 acres "to the peak of the mountain," he said, and they began growing and providing their bounty to one farmers market five years ago.
Today, they sell at seven farmer's markets a week and supply a grocery store in Birmingham as well as Community Supported Agriculture — an outreach of East Lake United Methodist Church — to provide fresh fruits and vegetables to buyers and for charitable purposes.
"It's a lot of work, but we enjoy it," Kemp said. While there are plenty of vegetables readying for harvesting across his acreage, his favorite is growing fruit — 15,000 strawberry plants, 160 peach trees and four 200-foot trellises of blackberries. "We pick 150 watermelons every two to three days and 150 to 200 cantaloupes every couple of days.
Then it's on to market in East Lake, Birmingham's noted Pepper Place, Valleydale, Trussville, Pell City, Adamsville and Gardendale.
Between growing, picking and marketing, "It's daylight to dark seven days a week."
Heirlooms are A&P's specialty, but he has plenty of the main ingredient to a good old fashioned tomato sandwich.
His crop these days is helped by a pair of high tunnels, similar to hot houses but strictly solar. The sides are rolled up during the day and let down at night, allowing Kemp to extend his growing season by four months. Planting season can begin March 1 in the tunnel instead of the traditional mid-April dates.
"I had 50 boxes (of tomatoes) in May. By May 15, we're picking red tomatoes. I hope to have them into November."
And there's no waste for any of Kemp's crop. They freeze what's left, and over the winter, they produce jams, jellies and relish. Perhaps the T-shirt he donned said it best: "We grow it. You eat it."