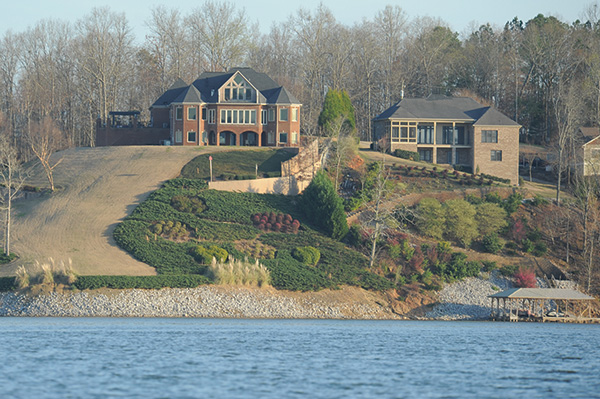 There's a saying around these parts: "You never know how many friends you have until you own a lake house." It's true. The water seems to have a way of drawing people in, and Realtors on Logan Martin and Neely Henry know why.
Story by Carol Pappas
Photos by Wallace Bromberg Jr.
and Michael Callahan
There's a saying around these parts: "You never know how many friends you have until you own a lake house." It's true. The water seems to have a way of drawing people in, and Realtors on Logan Martin and Neely Henry know why.
With thousands of acres of water forming their back yard, both lakes are hot properties for housing. From cabins to mansions to everything in between, Logan Martin and Neely Henry Realtors say they have just the right spot to fit any lake lover's budget.
The best amenities, of course, are of the natural kind.
"The crappie fishing is great on Neely Henry," said Realtor Lyman Lovejoy of Lovejoy Realty. "And it's a scenic lake. There are some places with high rock cliffs that are more than 100 feet high. It's absolutely gorgeous.
He noted that Neely Henry is not a flood control lake like Logan Martin, so levels stay the same all year long. "It never floods. You can build right next to the water."
If he had to rate it, Lovejoy said buyers can find a "pretty good lot" at $65,000 and a "good lot" at $100,000. Lovejoy Realty has just opened a new subdivision on Neely Henry in the Canoe Creek area, Canoe Harbour. Located on the grounds of an old Baptist camp, it has 40 lots for sale – 10 off water and 30 waterfront. They are level lots with deep water, and part is on a peninsula with water views from both sides.
While Neely Henry is not as developed as Logan Martin, it does have its advantages – less crowded, being one of them. "You can be at Publix in Rainbow City in 10 minutes. You can go by boat to restaurants like Top of the River and have dinner." He also noted that the new Canoe Creek Park opening this summer will be an asset, which will give more public access to the lake, will be state-of-the-art and will bring more major fishing tournaments to Neely Henry.
"Neely Henry's the best kept secret in Alabama, and that's the truth," Lovejoy said.
Logan Martin isn't as much of a secret, according to Realtor Dana Ellison with LAH. Development has been ongoing over the years.
Ellison has been selling real estate on the lake for nine years and knows the value in the investment there. "I've helped buyers, listed homes, helped stage, I've done it all. I love working with buyers," she said. Many of her lake buyers are retirees who have moved out of Jefferson County who want to "live where they play, that's what they tell me."
She sees more and more Georgia buyers, who find Logan Martin closer and more easily accessible than lakes in metro Atlanta. "Logan Martin is that happy medium between Georgia the mountains and the beach, and it's more affordable than Lake Martin, Smith Lake and Lay Lake," she said. "You get more bang for your buck."
She noted that interest rates are still relatively stable, and this is a good time for those looking to buy a home on the lake.
The bestselling price range she is seeing is in the $375,000 to $500,000 range, she said.
Ellison encouraged would-be homebuyers to get pre-approved. "It speeds up the process much more quickly. In 45 days, you can close and enjoy the summer."
Broker and owner of ReMax Hometown Properties in Pell City, Sharon Thomas, agreed. "If financing is needed, get pre-qualified by a lender before starting the search. Do your homework. Decide what part of the lake you want to live on and what amenities are important." Her advice can apply to both lakes. "Try to use local sources that are experts on lake property. Choose a local Realtor and use them as your resource for all your lake home purchasing needs."
Thomas has seen her share of markets during her 17 years as a Realtor. "As recovery continues from the recession, not only lake homes but residential homes as well, are steadily increasing in value. We are seeing the market normalize," she said.
Pricing can go from $170,000 to more than $1 million on Logan Martin. "In the past six months, I have more and more homes in the $400,000 range."
But, she added, "There are still homes on the lake available in the $250,000 to $350,000 range."
Lot prices vary according to location and size and whether or not there is year-round water. "I have seen them as high as $350,000+ on Lake Logan Martin."
If you're selling a lake house, Thomas offers this advice: "Declutter your home. Pack away things you don't use. Spruce up flower beds and give it curb appeal. Touch up paint or repaint, whichever is needed. To get top market price for the home, the home has to be move in ready.
"Spruce up the waterfront and make it appealing. Many people see their dream home while riding in a boat!"
Josh Kell, a 12-year veteran Realtor at Kell Realty, knows the value in a lake home. His company is developing a subdivision on Neely Henry called Willow Point as well as maintaining a number of listings. Willow Point is a lakeside neighborhood of garden homes – smaller lots, less to manage. But even though they are smaller, they are approved for boathouses, he said.
Willow Point originally had 30 lots but only a handful remain. A new construction house in Willow Point is listed at $269,900.
What draws would-be lakeowners to Neely Henry? Kell said one of the main benefits is the consistency of the water level. He also noted that the southern end of the lake in St. Clair offers large, open water that particularly benefits recreation.
And, of course, "there's very good fishing."