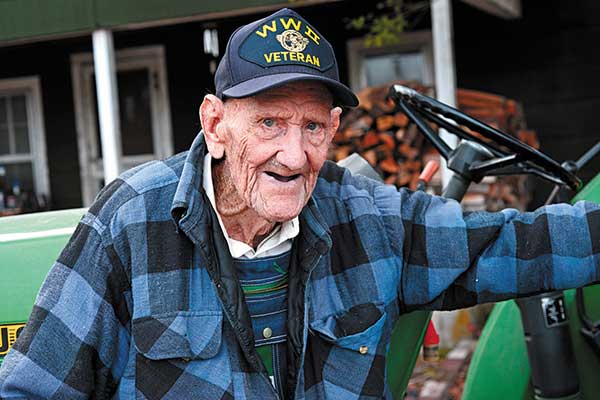 Farmer once served as bodyguard for Gen. Eisenhower
Story by Linda Long
Photos by Jim Smothers
Submitted Photos
The old wooden farmhouse is typical of many found in rural St. Clair County. Surrounded by winter swept fields, a Black and Tan hound sits on its front porch poised to sound a welcoming bay to approaching visitors. Across the way, a patch of dark green turnip greens awaits, ready for the picking.
Yes, the old house may look typical, but the farmer who lives here is anything but. At 96 years old, W.M. (Ike) Murphree still works his 105-acre farm, the place where he is the happiest. "I was born to be a farmer and a gospel singer," he says, but, fate and Uncle Sam had other plans for this quiet, unassuming gentleman. Back in 1943, Ike Murphree found himself on the front lines of history, an ocean away from his beloved country home.
Dressed in his usual starched denim overhauls and a plaid shirt, Murphree chuckled, "I've been accused of having a computer in my head." That becomes obvious as the farmer turned story teller recalls memories of a life well lived. Sitting in his small living room centered by a braided rug and a blazing space heater, Murphree is surrounded by faded black and white photographs, family pictures which line the walls. An upright piano holds a hymnal open to one of the farmer's favorite songs. And over it all, the American flag hangs proudly.
Reaching back in time to tell his story, Murphree's steel blue eyes take on a faraway look as he remembers the day his life changed forever. It was 1943. The then 26 year-old young farmer walked slowly back from the mailbox that crisp fall morning, letter in hand containing news which he knew he must share with his beloved wife Alice Lucille. The letter announced his induction into the United States Army.
"One day I was working my farm, the next thing I knew I was packed and ready to head overseas. I had one son, Billy. We went down to the bus one morning. My wife was crying. Billy was saying 'Daddy, don't go. Don't go.' That was the hardest thing I've ever done. I didn't know if I would ever see them again."
Eventually, he did see his family again, but not before fighting in one of the bloodiest battles of World War II, narrowly avoiding disaster on the sea in the North Atlantic, being named a master marksman, serving as a member of the escort guard responsible for the repatriation of American held German prisoners of war and serving as a personal body guard to Gen. Dwight D. Eisenhower.
It was January 1944 when Murphree saw some of his toughest combat operations. He was one of the American troops to storm the beach head at Anzio, a signature battle of World War II. Those scenes are etched forever in his memory. "The first wave went in and about 1,700 soldiers and nurses lost their lives at that landing," said Murphree.
Though he started the war as a member of the infantry, his commanding officers soon learned of the young country boy's sharp shooting skills, skills honed back home on Chandler Mountain while hunting for rabbit and squirrel. "I shot 198 out of a possible 220," said Murphree, "everything the army had…30 and 50 caliber machine guns, a grease gun, a pistol, a rifle, the M-1 rifle, a shotgun, and the tanks. I would hit it (my target) every time. I was the only one of 200 people that did that, and it went on my record as a master marksman."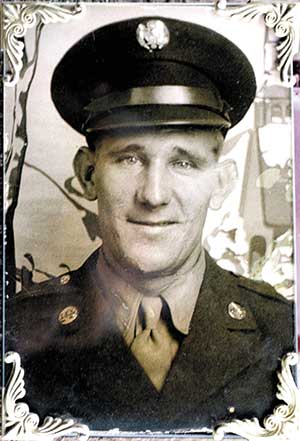 Murphree's job was to escort German prisoners captured on the battlefield to concentration camps, a dangerous and often deadly assignment. The old man is still haunted by some of his memories.
"We were climbing a mountain, German prisoners in tow. German snipers were in the trees, all around. I heard a gun go off. The bullet hit my buddy in the ankle. It tore his foot off, but I couldn't stop and do anything for him. The next day I heard he bled to death. He had a wife and two little girls back home. I try not to think about that," said Murphree in a soft voice, " but I can't help it sometimes. General Patton, one of the greatest military men ever to put on a uniform, said it best, 'war is hell.' You can't make nothing else out of it."
For most American soldiers in the European Theater that "hell" came to an end when — as Murphree explained — "the bombers were back on the ground, a peace treaty was signed and the guns were silent. Soldiers were loaded on the ships coming home. I said, 'I want to go home,'" a simple request, but one that was not to be honored for almost one more year. "My company commander said, 'No, you are still on special assignment. General Eisenhower needs you."
That began the young soldier's post war assignment as a member of the escort guard, whose duty was to protect General Eisenhower. One of his most memorable assignments in that role was to accompany the war hero on his first return visit to his hometown, Abilene, Kansas. It was on that trip that Murphree faced perhaps the most harrowing ordeal of his military career..
"The General flew to New York," said Murphree. "Me and the other guards went by ship, the USS Sea Robin, a 55,000 ton battleship. About halfway there in the North Atlantic, we hit one of the worst storms in history. They told us we might have to abandon ship. We lost all our life boats and life lines. We were literally between the devil and the deep blue sea. The ship would rock up on its side and just hang there, and I would think well, it's going over this time, but it would come back down and hit the water. It sounded like it was going to bust into a thousand pieces. Even the captain who had been sailing for 40 years said this was the worst storm in history.
" Finally," continued Murphree, "the USS Sea Robin limped into New York Harbor. Boy, it had taken a beating. I don't see how in the world it made it through that storm."
Then, pausing in his narrative, Murphree added, "well, actually, I guess I do see how it made it. I went down in the bow of that ship and I got serious with the Lord. I said, 'Lord, there's nothing I can do about it except for You. I've got a beautiful woman and a little boy back home, and I would like to go back to them.' About half an hour later, it was announced on the intercom, that the storm had weakened. The captain said we had blown off our course, but he believed we would make it."
By this time, Murphree just wanted to go home. "Each time I asked, all I was told was, 'No, you are still needed here.' I said, I don't care nothing about being a big shot. I had been gone almost three years away from my wife and baby. All I wanted to do was get out of there, get this thing over and get back home. I wanted to get back on the farm, pick some cotton, grow some corn, smell some sorghum syrup a-cooking. That's all I wanted to do."
Finally, in 1946 , Murphree was discharged from the army. Once back home, he bought the farm where he now lives and where he and his wife raised their son William, Junior and three daughters Elizabeth (Mealer), Linda (Vaughan) and Alice (Cater). And, it was here where Murphree resumed his passion for gospel singing.
According to his daughter Elizabeth Mealer, "Daddy was into gospel singing from the time he was a small child." As the story goes, one of his uncles took him to a gospel singing, and he actually got up there and directed a song.
Gospel singing was also on his mind in a fox hole in France. According to Mealer, "Daddy said he prayed if the Lord would get him home he would like to have a trio of girls that would sing. He always wanted a singing family, and that's exactly what he got."
"We had a wonderful life," said Murphree, "Me and the Murphree sisters. We traveled around in a Greyhound bus singing the gospel all over the southeast from Montgomery to Georgia. That blood harmony. There's no way you can beat it." And his son sang bass in several gospel groups.
Murphree says about the only time he sings these days is when he's out on his tractor. Neighbors listening closely might hear him bellowing out old favorites like, "What a Meeting in the Air," That Heavenly Home will Surely Be Mine," or Power in the Blood."
Despite his age, Murphree lives alone, still drives a car, and works his farm along with some help from grandsons Wayne Mealer and David Murphree and great grandson Cody Mealer. He says he's often asked what keeps him going at his age, and his answer is simple. "Hard work. If hard work would kill somebody, I would have been dead 35 years ago."
"Somebody once told me 'you don't have a bit of business out here doing this at your age. When are you going to quit?' Well, laughed Murphree. "I said I imagine when my toes are up." Does he ever think about retiring? "Oh, sure. I think about it every year, and every year I say well, this will be the last one. But, then the wild onions put up and you can smell them; and the fruit trees bloom out, and the bees go to swarming. It just gets in my blood, and I have to get out there and go."
Now, with a new John Deere tractor complete with power steering in the shed, Murphree may have even more reason to postpone his retirement. "Yeah, I'm proud of that tractor. When you get my age, it gets harder to steer but now that power steering has taken care of all that."
"I can say I've had a good life," said Murphree. "I was talking to my cousin the other night. She said, 'I guess you realize how the Lord has blessed you.' I do. He's given me a good life. He shepherded me through one of the bloodiest wars in history and one of the worst storms ever on the sea. I have had a very good life. I don't go around bragging about my life, but I am proud of it."