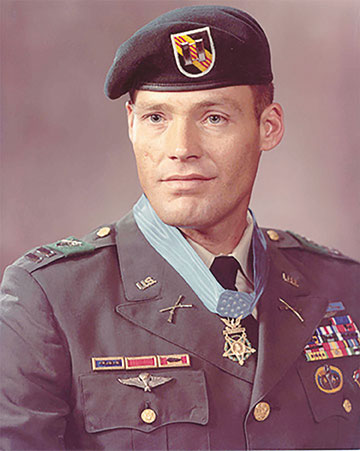 The legend behind name of veterans' home
Story by Leigh Pritchett
Submitted Photos
The military heroics and achievements of Robert L. Howard are no secret.
They earned him the Congressional Medal of Honor, among many other medals and awards.
However, what may not be so well known about this man — who is the namesake of Col. Robert L. Howard State Veterans Home in Pell City — is that he appeared in two John Wayne movies, said his brother Steven Howard.
During his 36-year Army career, Robert completed multiple tours in Vietnam and received a commission from master sergeant to first lieutenant in 1969. He was a Ranger, Pathfinder, Paratrooper, Infantryman and a member of the Special Forces. Ultimately, he rose to command positions. He also was involved in Desert Shield/Desert Storm.
Information from the veterans' home website reveals that he was an honor graduate as a Ranger, Pathfinder and parachute rigger and was deemed an "outstanding" Infantryman in his class. The site gives an extensive list of medals and awards Robert received, among them the Distinguished Service Cross, Silver Star, Bronze Star for Valor, eight Purple Hearts, Legion of Merit and four Vietnamese Crosses of Gallantry.
The awards and medals that Robert received during his military career are, in fact, too numerous to fit in the shadow box display at the veterans' home.
In 1956, 17-year-old Robert entered the U.S. Army, continuing a family military tradition that dates back to the Spanish-American War, Steven said.
In between Robert's enlistment in 1956 and his retirement in the fall of 1992, the Opelika native earned degrees from the University of Maryland, Texas Christian University and Central Michigan University and graduated from the National War College.
Robert was also named to the Military Hall of Fame of the Hoover Institute; Military Hall of Fame of the Veterans of Foreign Wars in Alabama; State of Texas War Memorial; Ranger Hall of Fame, and posthumously to the Army Aviation Association of America Hall of Fame.
Robert earned "every medal for combat courage in what is known as the military 'pyramid of honor' at least once and, in some instances, multiple times," Steven said in a speech July 11, 2014, on "Colonel Howard Day" at the veterans' home. That date was Robert's birthday.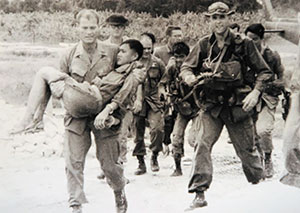 "From rifleman in the Infantry, he rose to become a recon team leader … with the most elite of America's special operations units, the Special Operations Group or SOG, as it is commonly known today," Steven recounted in his speech. "Fifty-four months in Vietnam, 380 combat patrols, 1,683 parachute jumps and eight awards of the Purple Heart. It should have been at least 14 instead of just eight. But many incidents Robert just quietly shrugged off as insignificant and unworthy of another medal."
Robert's many acts of battlefield bravery and determination, especially in circumstances when the soldiers were surrounded or outnumbered, earned him nominations for the Congressional Medal of Honor. Oftentimes, Robert put himself in danger to rescue wounded soldiers, Steven said.
One time, Robert executed a daring mission in which he entered an enemy camp and captured a North Vietnamese Army colonel. During later interrogation, the enemy colonel gave vital information about troop placement that aided U.S. strategy and saved the lives of many American soldiers, his brother recounted.
As a result of the capture, the North Vietnamese Army and Viet Cong placed a bounty on Robert, said Steven, who, himself, is a two-time Purple Heart recipient in Vietnam.
Prior to that, Steven had served alongside Robert in Vietnam. After a price was put on Robert's head, the Army separated the brothers out of security concerns, Steven said.
From battlefield to big screen
During one tour while Robert was a Ranger, he was wounded and sent to a hospital. President Lyndon Johnson and John Wayne visited the hospital. Johnson remarked to Wayne that Robert was a good-looking Green Beret. Wayne agreed and sought to have Robert take part in Wayne's upcoming movie, Steven said.
Thus, Robert appeared in The Green Berets. He played the role of an Airborne instructor, according to the website, www.rlhtribute.com.
It was not long before World War II hero-turned-actor Audie Murphy joined Wayne in trying to convince Robert to become an actor, Steven said.
To tout the movie The Green Berets, Wayne, Murphy, Robert and Steven were seen going about New York City together for two nights.
"They were all so much alike," Steven said of the two actors and Robert. "All of them were nice guys, the kind you'd like to hang out with."
Steven was elated when he saw his brother on the movie screen the first time. "He was amazing!"
Robert also made a parachute jump in another John Wayne movie, The Longest Day.
Ultimately, Robert decided against a movie career in order to be involved in one of the most elite and covert of the Army's Special Forces, Steven said.
"He had made the decision that the Army was for him," said Steven.
Author John Plaster took note of Robert's deeds and battlefield actions and has recorded them in two books, SOG: The Secret Wars of America's Commandos in Vietnam and Secret Commandos: Behind Enemy Lines with the Elite Warriors of SOG, Steven said.
After Vietnam, Robert's service concentrated greatly on teaching and training soldiers preparing for Airborne, Infantry, Ranger or Pathfinder assignments. He was also an instructor at the Special Warfare School, and Command and General Staff College.
"He loved his men," Steven said.
Upon his retirement from the military, Robert settled in Texas and worked with the Department of Veteran Affairs. He retired in 2006.
"He was a straight-up guy. He was easygoing. You'd never know he was in the building, unless someone told you. My brother was the kind of guy I always wanted to be," said Steven, who relocated to Pell City from Prattville to volunteer at the veterans' home.
Robert – who was a husband, father and grandfather — died Dec. 23, 2009, and is buried at Arlington National Cemetery.
"Much has been written and said about Robert's chest full of medals — both U.S. and foreign," Steven said in his July speech. "But I will never forget one statement that he made to me, and it was profound indeed. Looking down briefly at the left side of his uniform, he said, 'I would trade all of these to train one soldier.'
"To many, he will be remembered as a larger-than-life Green Beret," Steven continued. "And this, he was. But to me, he will be simply Robert, my brother."
Additional assistance with this article was provided by the staff of Col. Robert L. Howard State Veterans Home.