Memories of the War
Story and photos by Jim Smothers
Submitted Photos
For a half century, Howell Dulaney would not talk about World War II. He tried to shut it out. He didn't want to think about the horrors he experienced in the war, and he wanted the nightmares to stop.
"It just gets so real. It leaves you with an uncomfortable feeling," he said.
"It was 50 years after the war before I thought about talking about it," he said.
That happened after he joined the George S. Patton, Jr., Chapter of the Battle of the Bulge in Birmingham, an exclusive group of veterans of that battle.
Besides their monthly meetings, there was an annual Christmas party. At one of those events, the chapter president went to each veteran and asked him to tell an experience he had during the war.
"When he got around to me, I was about the last one, and I didn't know what I was going to say. But when it was my turn, I asked, 'Do you know about Bear Bryant, that they claim he could walk on water?' He said, 'Yeah, I've heard that.' I said, 'Well, I walked on water.' "
Then he told how he almost drowned, but was saved by a German soldier.
Part of his engineering group was assigned to ferry infantry soldiers across the Moselle River to prepare for an assault on a German division. The other engineers were to replace a span in the bridge for the rest of the army to cross, but that couldn't be accomplished if the Germans were there to stop them. So, an attack was planned.
His battalion was split into three parts, two to get the infantry across the river to attack, and one to fix the bridge. Two engineers would be in each boat to ferry six infantry soldiers at a time across the river on a dark, moonless night. The soldiers were instructed to paddle without raising the paddles from the water to maintain silence during the crossing.
"We gave them wooden pegs and told them to use those to plug holes in the boats in case we were fired upon," he said. "That really got their attention."
On one of the crossings, they found the infantry had taken some German POWs, and the engineers were tasked with taking them back to the other side.
"On that crossing, our boat capsized. We learned later that we had tipped over on an old ferry cable," he said. "I had all my uniform on, my helmet and my rifle, and I was not a good swimmer."
He dog paddled, trying to stay afloat, growing more desperate by the second until, just at the point of giving up, a hand reached down and lifted him up.
"When that happened, my feet hit bottom, and I realized I was only in about four feet of water. We were almost at the bank, but it was so dark I didn't know that. I looked up and it was one of the POWs we had just brought across. He was taken away with the others, and I never even found out his name."
Dulaney hasn't liked the water ever since.
But after telling his story to his fellow veterans, he decided it was OK to talk about the war. He developed an outline for sharing his memories, and gave speeches to a number of schools and church youth groups.
He shared many of his memories with them, but tended to leave out some details—like the bloody water at Utah Beach. He didn't tell them about young soldiers, his age, who were injured and crying for their mothers, or the horrible injuries some of them suffered.
But he did begin sharing his story with other people.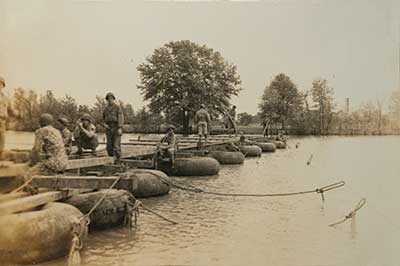 Dulaney grew up in Eastaboga as one of 15 children in the family. He never finished grammar school because farm life was so demanding. They raised cotton and row crops on an 80-acre farm, as well as animals for slaughter. His mother made dresses for the girls from flour sacks, and shirts for the boys from fertilizer bags. Shoes were a luxury and mostly worn about six months out of the year.
"It was hard work, but it was a good life," he said.
He joined the Army at 17 and trained at Fort McCain in Mississippi, where he and his fellow engineers practiced bridge-making methods on the Yazoo River. He made bus trips home to see his family, and on one fateful trip he sat next to telephone company operator Robbie Reynolds from Columbus, Mississippi. They wrote to each other during the rest of his training and throughout the war.
After completing training in Mississippi, his group went by train to Boston where they boarded a ship for Great Britain. They sailed around Ireland, up the River Clyde into Glasgow, Scotland, and then traveled by train to Dorchester near the English Channel. About a week later, they loaded their supplies and themselves into a Higgins Boat (made in Mobile, Ala.) and spent the night crossing the Channel for the invasion.
"In Dorchester, we received our combat equipment and began to attend classes, learning what to do if wounded or captured and what information to give the enemy if captured," he said.
"Once aboard the landing craft, we were told we would be crossing the English Channel into enemy territory within hours, and our destination would be Utah Beach…we knew this was D-Day. Some thought it might be their last day. As the boat was moving out everybody was real nervous. Some of us were trigger happy and ready to fight. Some were praying. And some were crying."
They landed less than half an hour after the infantry and Marines first landed.
"As we approached the beach, as soon as our craft landed we began to leave any way we could, out the front or over the sides. It was really frightening with all the noise from big guns, rifle fire and mortars exploding all around. The water was waist deep, and it was bloody. There were dead bodies floating everywhere and wounded soldiers crying for help. The only thing we could do was help them out of the water and help them get to a medic."
Shortly after Dulaney's battalion arrived in Europe, Eisenhower brought in Patton to be the "fighting general" the Third Army needed, and Dulaney's battalion was part of that army.
"Patton was an amazing general. He was a great leader, always in the battlefield with his men. He had proved he was a leader on the battlefield in World War I," he said. "Patton's theory was once you the get enemy running, don't give them time to stop and fire back, and it worked."
Patton moved so quickly Eisenhower told Patton's commander, General Bradley, to slow him down before he got so deep into enemy territory he would be surrounded and cut off from the other armies. Bradley started rationing Patton's gasoline to limit how far he could go.
Patton responded by taking his supply trucks to find a gasoline storage depot. "Now, when a four star general pulls up in his Jeep with his supply trucks and says 'fill 'em up boys,' do you think he's getting his gasoline?"
Patton's speed helped rescue the 101st Airborne Division when they were surrounded early in the Battle of the Bulge. Eisenhower called Patton to see how long it would take him to get his army to Bastogne, Belgium, to help, and Patton told him 24 hours. He then moved his army without a break, except for refueling, pushing through Germany and Luxembourg to get there.
Dulaney earned his Purple Heart during the Battle of the Bulge when he was hit by a piece of shrapnel from a "Screaming Mimi" artillery round. It was a minor wound, treated by a medic on site, and he returned to duty without being sent away for additional treatment.
His battalion's last action under fire came at Regensburg, Germany, where a bridge was needed across the Danube. It was built under fire, but not without the loss of four men killed and seven wounded.
After that, Patton moved toward Prague, but was called back to Regensburg when the war ended. Their new orders were to build barracks for a prison camp.
While in Regensburg, Dulaney's older brother "Doc" from the 7th Army, stationed in Munich, paid him a surprise visit on a three-day pass.
"What a happy three days that was," he said. "We received a big write-up in the Stars and Stripes magazine. After World War II, my younger brother was in the Korean War. Thank God we all came home safe and whole."
He said the Germans had superior equipment, but the Americans were better fighters
"I'm proud I was a soldier in Patton's army, and I thank God every day for sparing my life. I think Gen. Patton was the greatest general ever. He also had the 'Greatest Generation' fighting with him and for him…his 3rd Army fought across France, Belgium, Luxembourg, Germany, Austria and into Czechoslovakia. His army crossed 24 major rivers, liberated more than 82,000 square miles of territory, more than 1,800 cities and villages and captured 956,000 enemy soldiers. His army destroyed 3,000 tanks, 500 artillery pieces, 15,000 miscellaneous vehicles and 2,000 German aircraft.
"I'm not proud of the things I had to do in the war, but war is war. It's kill or be killed, and we must win all our wars, at all costs, in order to continue to keep and enjoy our freedoms."
He is a contributor to the National WWII museum in New Orleans, and he encourages everyone to go see it to gain a better appreciation of what it was about.
"I want people to understand what war really means," he said. "I just want the young people to know what our freedoms mean to us, and we are slowly losing our freedoms."
Upon his return home from the war, his first destination was to see his family in Eastaboga. But Robbie was on his mind, too, and it wasn't long before he traveled to Columbus, Mississippi, to see her.
They married within weeks and built a life together. After a 40-year career with Alabama Power, he retired as a district superintendent. They built their "dream home" at Rock Mountain Lake below Bessemer and lived there for 10 years before moving to Memphis to be near their daughter, Eugenia Bostic and her husband, Gary. They were in real estate, and after the real estate crash, they relocated to Florida, and the Dulaneys moved to Pell City, splitting the distance between family in the Eastaboga area and friends in the Bessemer area.
Robbie passed away six years later. Then Eugenia developed inoperable cancer and moved in with her dad to live out the rest of her life. Dulaney was 90 when she died, and decided to sell his home and move to the Robert L. Howard State Veterans Home in Pell City, where he lives today.