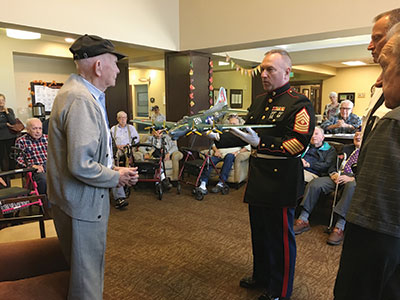 Special presentation adds local footnote to D-Day history
Story and photos by Carol Pappas
It would be hard to imagine that when William E. Massey, who enlisted in the Air Force at age 21, could have anticipated what he would witness during his time ahead in World War II.
But as June 6, 1944, approached, 1st Lt. William E. Massey of the 8th Air Force Mission knew he had just one job in mind – "keep the German Air Force out of the air," he said.
In what would become known as D-Day, Massey, now 91, retold his story to a spellbound crowd at St. Clair County's Col. Robert L. Howard State Veterans Home with the patience and skill of a seasoned teacher.
By the numbers, 210,000 men took part as airmen, 26,000 were killed, and 28,000 were taken prisoners of war. "One out of every four airmen who went out didn't come back," he said.
Massey told his personal story of one of the ones that made it back to a crowd gathered at the veterans home for a presentation. One of his fellow residents, Joe Zeller, built a replica of the 4-engine B17 G called Channel Express, "like the English Channel," Massey said, explaining that it was the same plane he flew during the D-Day invasion of Normandy, France.
It carried three tons of bombs – a dozen 500-pound bombs called "blockbusters," he said. In formation to cover the target, 54-81 planes would have flown. With that volume and power, "You can cause a lot of damage," he said.
Zeller, 3rd class boatswain, served from 1951 to 1955 in the Navy. He built the plane before Massey even arrived at the veterans home, but when he learned that Massey had flown that very plane, he wanted to present it to him. What prompted him to build it? "I think the Lord told me to build that. I think God sent me here."
In a formal ceremony, Zeller presented the model to Massey who then donated it to the veterans home so others to come may hold and examine a piece of history.
Massey's son-in-law, First Sgt. Scott Leigh, in full Marine uniform was there for presentation. He couldn't disguise his pride in his father-in-law. "He is one of the true warriors," he said.
Eye-witness to history
As Massey began to tell his story, the audience's attention to every detail was evident. His crew's mission leading up to one of the greatest conflicts in history was to block the route in the Far East, he said. They flew to Iraq, Iran, Kuwait and Syria with the purpose of preventing oil and gas to get to Hamburg for the Germans
On D-Day, he flew two missions to bomb bridges and cut off the possibility of the Germans to reach the beach and combat the invasion.
Massey flew directly over Omaha Beach and Utah Beach. Overhead he could see there was "not room for another canoe out in that water." The critical factor in the mission's success was to be dominant from the air. With more than a little hint of pride showing, he proclaimed, "Not a single German plane came up to contest the invasion."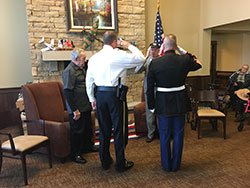 He spoke of his bombing mission to Berlin a month earlier – on May 7 and May 8. "On May 8, we turned around and went back to Berlin and bombed it again. You can't imagine the devastation."
He flew his fourth mission on May 29 to Berlin. The plane was loaded with incendiary bombs. When they were through, there was "no need to come back. Berlin had to be rebuilt from the bottom up. The Germans were defeated actually before then."
Quoting German Field Marshal Erwin Rommel to Hitler, he prophesied, "If you can't stop those bombers, we can't win the war."
Looking back to that fateful day in June, Massey reflected, "It seemed to be impossible. Those young men gave their all. When you hear what they did, what they accomplished…young men, some only 19, they weren't afraid. They manned their post and did an excellent job."
Thirteen days later proved to be a more formidable challenge for Massey. He wasn't supposed to fly that day, but he had to replace someone who couldn't go. His plane was shot down. "The plane was on fire. It was filled with black smoke," he said. "I couldn't see the instruments."
The crew was forced to bail out, and he jumped free of the plane but in doing so, he didn't have on his chute. It was in his hand. "The ground was coming up mighty fast." He got one side of the chute on, managed to pull the rip cord and the chute opened about 3,000 feet from the ground.
Guardian angel? "Somebody pulled that cord," he mused.
Once he hit the ground and made it past the enemy, he connected with the French Underground and stayed with them until the end of the war.
His interrogator told him: 'Lieutenant, your promotion to captain was sent in on the date you were shot down.' He asked the interrogator if he knew the status, and he told him, 'Don't worry. You go home. It will catch up with you.'
"It never did."