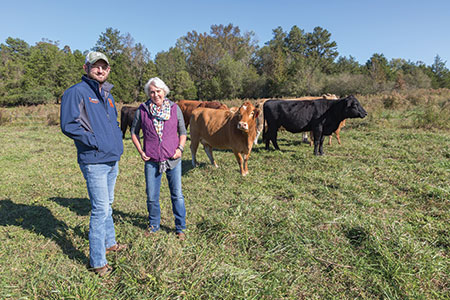 This ain't your granddaddy's Extension System
Story by Elaine Hobson Miller
Photos by Michael Callahan
Perplexed about when to plant kale or collard greens? The Alabama Cooperative Extension System has a workshop for that.
Want your teenagers to learn money-management skills or more about healthy eating? Alabama Extension has programs for that, too.
Need to touch up your job skills? Alabama Extension can help you do that as well.
Many folks remember St. Clair County extension agents coming to their farms to advise gramps about those pesky weeds in the cow pasture. They may recall home agents telling grandma that to safely can her green beans she must use a pressure canner not her hot water bath canner. But money management and job resumes? Clearly, this isn't your grandparents' extension service any more.
"Most people know us simply as the Extension Service, but our name officially changed from service to system in 1995 after a landmark federal court ruling, making ours the nation's first unified Extension program," says Lee Ann Clark, coordinator for Alabama Extension's St. Clair County office since 2005.
"Originally, program services centered primarily around agriculture and home economics-related topics. The 4-H Clubs, which began in 1909 as Corn Clubs (for boys) and Tomato Canning Clubs (for girls), laid the foundation for today's 4-H program. It is still one of our flagship programs, but we're so much more today."
For 90 years, the bulk of extension programs were carried out by county agents—generalists who kept abreast of many different subjects and delivered a wide-variety of programs.
By the onset of the 21st century, there were fewer farms, changes in public expectations and the World Wide Web, which changed how information was being delivered. In 2004, these changes prompted a reorganization and switch from using the generalist agents to regional agents who specialize in one of 14 extension program priority areas.
Regional agents now cover several counties, advising third-generation farmers and the newcomers who just moved out of the city. However, despite the growing emphasis on regional agents, Alabama Extension continues to operate offices in all 67 counties.
Funded by federal, state and county governments, Alabama Extension is an extension of land-grant colleges, according to Henry Dorough, extension coordinator for Talladega County and a former regional agent for animal science and forage in St. Clair County.
Land-grant colleges were established by the federal government under the Morrill Act of 1862, which granted 30,000 acres of federal land for each member of Congress each state had. Southern states were prevented from participation until after the Civil War. The Hatch Act of 1887 established agricultural experiment stations in conjunction with the land-grant colleges. In 1890, the second Morrill Act extended land-grant status to black colleges in the South, which included Alabama A&M and Tuskegee University.
Today, there are 16 research centers in Alabama, along with Auburn University and Alabama A&M, that feed research-based information to Alabama Extension.
"The basic premise for Cooperative Extension actually began at Tuskegee Institute, now Tuskegee University," Dorough explains. "Dr. Booker T. Washington, the university's first president, mandated that all professors spend time out in the community educating the public, especially the poor and in rural areas, teaching citizens where they lived. He coined the phrase, 'taking the university to the people,' which is what Alabama Extension does."

Early days
The roots of the county extension agent go back even further, to the 'movable school' George Washington Carver established through Tuskegee University in 1906. Named after Morris K. Jesup, the Jesup Wagon was a horse-drawn demonstration wagon used by Thomas Monroe Campbell, who later that year received a federal appointment as a farm demonstration agent.
The same day Campbell got his assignment (November 12, 1906), William Crider Stallings of Texas became the first extension agent to serve a single county. "The way I see it, the sun rises in Tuskegee before it does in Texas, making Campbell the first County Agent," says Dorough. "I think it's significant that a black man at a black college in Alabama was the first extension agent in the country."
Tuskegee is a private land-grant college with its own extension program. "Tuskegee opted out of Alabama Extension to preserve its history and unique identity, but they are a partner in the system," Dorough says. We call on each other and work with them, even though their name isn't on our letterhead."

Casting a wide net
The regional agents covering St. Clair County go far beyond what Booker T. Washington or George Washington Carver could have imagined. Angela Treadaway, regional agent for food safety, preservation and preparation, heads up the ServSafe program, a certification class for restaurant workers and owners required by the county health department. Her class on cottage industries keeps people who want to sell foods from their own kitchens from running afoul of the health department.
Vikki Blalock of Lincoln learned some jelly-making techniques at a recent Jams and Jellies Workshop hosted by Treadaway. "These new techniques will save me time and will produce a better jelly," she says.
Sallie Lee, urban regional extension agent for home grounds, gardens and home pests, has lots of programs for older folks, like Grow It to Eat It, a catchy name for container gardening. Emily Hines, regional agent for family resource management and workforce development, conducts workshops and advises individuals on budgeting and finance, along with job preparation skills like resume writing.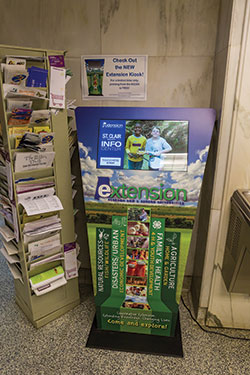 Nancy Graves is the 4-H Foundation regional agent, while Becky Staples serves as a 4-H agent assistant for St. Clair County. Staples goes into local schools with various programs like Skins & Skulls, a science program that gives fourth-graders an up-close-and-personal look at the structure of wild animals in the woods of St. Clair County. She also conducts a Classroom in the Forest program and takes a group of kids to 4-H camp every summer. Graves is in charge of all volunteer-led clubs, including the 4-H after-school club and specialty clubs that focus on horses, archery and shotguns.
Through the 4-H Innovators Program — the only one of its kind in Alabama — Staples uses STEM-based (science, technology, engineering and math) projects that expose kids to critical thinking and teamwork. Spaghetti Towers, for example, gives students 18 minutes to take 20 pieces of uncooked spaghetti noodles, three feet each of masking tape and string, and a marshmallow to build a freestanding tower that will hold the marshmallow.
Donna Shanklin, regional agent for human nutrition, diet and health, holds workshops on diabetes education and various other health and nutrition-related topics for the general public. She also works with soon-to-be released prison inmates, providing them information on nutrition and public health.
Bethany O'Rear, regional agent for home grounds, gardens and home pests, conducts classes on gardening, landscape and rain barrels. Every other fall, she teaches the 12-week Master Gardener course, which will be available again in September 2018.
Joan Belzer attended O'Rear's Fall Gardening Tips lunch-and-learn workshop in December 2017. "That was the first one I'd gone to," says the Steele resident. "I made notes about what I needed to do, and one was about the care of equipment before winter. I also made notes about how much rain and mulch new plants need and how to get my soil tested through Auburn. I'll probably go back to other events because I learned enough to make it worthwhile."
As forestry, wildlife and natural resource agent, Norm Haley hosts workshops on invasive plant control and pond management and creates and posts videos on the Alabama Extension YouTube channel, focusing on wildlife management, trapping and drainage control.
If military veterans need assistance in accessing their benefits, they can call Wayne Johnson, who heads up Veterans Outreach, a pilot program developed in St. Clair County. "Many veterans don't know what their benefits are," Johnson says. "I go to different events, visit the veterans home and churches, spreading the word and touching base with our vets to see what they need. One of their biggest needs is where to go to access their health and other benefits, but they are also looking for support groups and assistance with job training."
The Extension office has two vehicles to help vets get to and from medical appointments and sponsors a support group for PTSD victims. "I'm finding a lot of the older veterans don't have any family or close friends around," Johnson says. "We also help our homeless vets. Right now, I have two families I'm helping to find housing."

New to the job
Cori Harris and Alex Tigue are the two newest agents who serve St. Clair County. Cori is a SNAP (Supplemental Nutrition Assistance Program, formerly known as food stamps) Educator. She goes into qualifying St. Clair County schools using an iPad program called Body Quest to teach kids about making healthier choices. To promote fruits and vegetables, youth participate in weekly Warrior Tastings, where they taste a variety of crunchy fresh produce. Physical activity, sleep hygiene and family engagement also are promoted with recipes provided for parents to try at home.
Tigue works with farmers as an animal science and forage agent covering St. Clair, Jefferson, Marshall, Blount and Calhoun counties. One day he may be in Ashville or Guntersville, another day he's working with a cattle producer in north Blount County or helping other agents conduct a workshop at Auburn University for backyard poultry producers. "All of our agents are like this," he says. "We're wide open all the time."
Seventy percent of the calls Tigue gets are about weeds taking over pastures or bugs eating up someone's field. "People go on the internet and aren't confident about the answers they've found," he says. "They want someone who can tailor an answer to their specific problem and not a one-size-fits-all. Our specialty as Alabama Extension agents is finding individual answers for individual people."

All about learning
A couple of years ago, Emily and Mark Taylor of Ashville attended a hay and forage workshop, a four-class series held in different places. Emily is a member of the St. Clair County Farmers' Federation board of directors and chairperson of its women's committee. She and Mark raise cattle on acreage once owned by Emily's parents. "I've been to several of the lunch-and-learn workshops for gardening and fruit trees and fermentation," she says. "Those things are very helpful to your farm and household."
Lee Ann Clark, whose enthusiasm for her job shows in her animated conversation and the 4-H memorabilia in her Pell City courthouse basement office, uses several means of getting the word about Alabama Extension programs and services out to the public it serves.
The St. Clair office has two Facebook pages (St. Clair County, AL, Extension Office and St. Clair County, AL, 4-H); a web page (www.aces.edu/StClair); writes a weekly column for local newspapers; and offers a free, bi-monthly newsletter. Anyone who wants to get on the newsletter mailing list may call the Extension Office at 205-338-9416.
"Currently, we have more than 1,800 families on our mailing list," says Clark, a St. Clair County native and former 4-H'er who has worked for Alabama Extension here since 1998. "The newsletter is available on our web page and via an eNewsletter, but we realize that not everyone has internet access or prefers to read it online."
In addition, Clark spearheaded a project that put kiosks about Alabama Extension outside her office door and at the Moody and Springville libraries. Her goal is to place one in all other libraries and the courthouse in Ashville. Born of her idea to create an information center based on the Red Box movie rental-type box concept, the Extension kiosks — the first of their kind in the state — provide all a person needs to know about the county Extension office in one easy-to-access place. "I believe that our tagline on the bottom of the kiosk, 'Cooperative Extension. Extending Knowledge. Changing Lives,' quite simply sums up what we do," she says.
Clark's current project is setting up an aquaponics class in St. Clair County. Why aquaponics? "Because people have requested it," she says. That's reason enough for her.