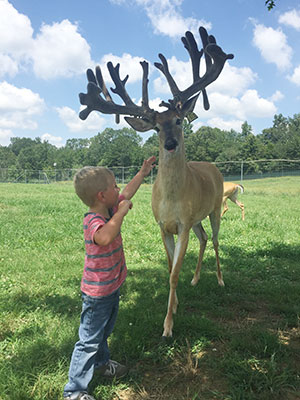 Deer farm in Odenville building a brand, bringing visitors' smiles
Story by Carol Pappas
Photos by Susan Wall
Photos courtesy of Backwoods Whitetails
Drive through the gates of Backwoods Whitetails in Odenville, and you can't help but sense you are about to witness something very special.
Wind through the property of rolling pastures, a canopy of towering trees lining both sides of the rocky road and pull to a stop at a nondescript barn. Fencing surrounds this farm, and it looks like most others around these parts, but instead of rows of crops growing all around, a hundred pairs of eyes are focused on you.
Fawns, bucks and yearlings wander through fenced pastures, their almond eyes trained on the strangers who have just arrived. Treats thrown in their direction bring them closer, and closer still.
At Backwoods, it's all in a day's work – raising prime stock deer from bottle-fed newborns to majestic bucks with racks wider than the length of your outstretched arms.
Owners Dane and Katelyn Dorsett and family are not your typical farmers, they breed deer, which now number 140 head, including fawns. And they sell to other breeders and owners of huge hunting enclosures around Alabama, fetching $4,000 and up each.
It's not as easy as it sounds, said Dorsett. "It's a big gamble. I tell people, don't invest more than you're willing to lose. One straw of semen to artificially inseminate in hopes of breeding prime stock can cost $15,000. And only 75 percent – "sometimes less than that" – take.
You might call this a family farm business. And you would be right. Dorsett's wife, Katelyn, assistant principal at Odenville Intermediate School, bottle raises many of the fawns each year for the business they started in 2011.
Her father and three others help Dane with the daily chores of running an expansive deer farm like this that contains 10 pens stretching over multiple pastures.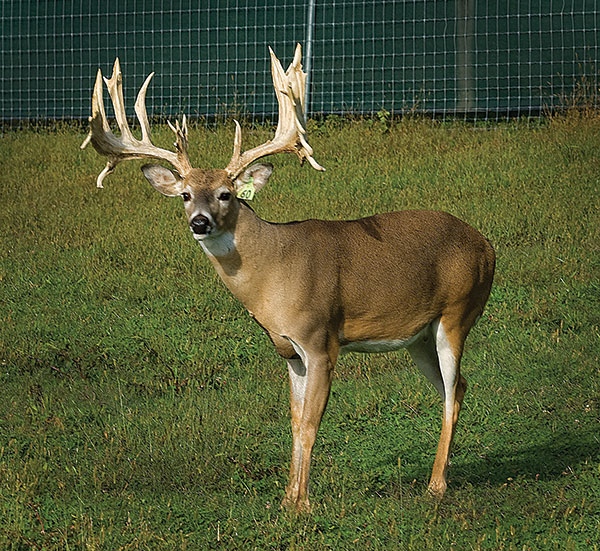 Macy, the Dorsetts' dog, hops aboard the all-terrain vehicle, keeping an eye on things and getting out at every stop. "She goes in every pen with me," Dorsett said. She's even been known to 'kiss' a deer or two.
The Dorsetts' two boys — Hayes, 3, and Bryce, 1 — play nearby. It's just another day to them as they round out the picture of this family affair.
"I am looking forward to next year, when I don't have actual babies and deer babies we're raising at the same time," Katelyn said. "I am glad the kids get to grow up around this. They like being outside."
When her "deer babies" are born, she starts bottle raising them in individual stalls located in the barn. Meanwhile, a ton – yes, that's 2,000 pounds – of custom deer feed a week keeps the rest of the deer satisfied.
This all takes place on 40 acres in rural Odenville. Dane said the farm's name came from its location – "the middle of nowhere."
But around Alabama, it's quickly making a name for itself, producing superior class genetics in its stock. According to its website, the Dorsetts have been on a "strategic breeding plan using Northern and Texas sires to create a range of genetic crossings."
And farm visits are welcome daily. August is the busiest time of year when breeders are coming in and out, they are moving bucks and getting ready for breeding, said Dane.
This time of year is a little slower, and the deer actually seem to enjoy the company of admirers passing by on a Saturday morning. Realtor Lyman Lovejoy was among that group. He had brought his stepson and grandkids to experience it.
"This is unbelievable that we have something like this right here in our own backyard," said Lovejoy. "These majestic animals are a sight to behold, and it's heartening to know that a young couple can not only make a living but put St. Clair County on the map with this farm. What they're doing is really impressive – the whole operation.
"And my grandkids see these beautiful deer, and their smiles tell me they think it's Christmastime and Santa's on his way!" l