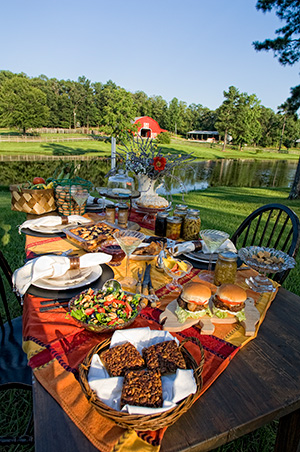 St. Clair County style food
Story by Elaine Hobson Miller
Photos by Susan Wall
Styling by Renee Lilly
Home-grown and home-cooked are as common as kudzu around St. Clair County. You don't have to go far to pick blueberries, find fresh eggs, fresh produce or grass-fed beef and pork, or to satisfy your sweet tooth. When it comes to culinary delights, St. Clair can hold its own.
Drop by Wadsworth Blueberry Farm in Cropwell, owned and operated by Mike and Jeanette Wadsworth, and pick blueberries whenever you want them during berry season. That's usually early June to mid-July, unless the rains wash away the crop like they did this year. "We closed earlier because there were no more blueberries," Mike says. "You can check our Facebook page to know when we'll be open for picking again."
The farm operates on an honor system, with pickers filling their baskets and placing their money into a box provided. "It used to be a You-Pick or We-Pick place, but we're phasing out the 'We-Pick' side of the business," Mike says.
Wadsworth's blueberries are the star of many a recipe Jeanette whips up for family and friends, such as her locally famous Very Berry Salad and Blueberry Bars. A new star has just debuted at Wadsworth Farm – Blueberry Bread Pudding with a blueberry cream sauce.
At Red Hill Farms, also in Cropwell, Vaughan and Christa Bryant sell their pasture-fed cows and free-range pigs by the half or whole, and their packaged ground beef, sausage, pork roasts and chops, as well as various cuts of beef roasts, cubed steaks and stew meat, from their garage on Saturday mornings.
Their beef by the half will be ready soon, and they may still have some half or whole pigs left. The prices for their packaged pork range from $5 per pound for sausage and $7.50 per pound for bacon to $9 per pound for chops. Their beef prices range from $5.50 per pound for ground beef to $12 per pound for London broil and flank steak.
If you're hankering for fresh fruits and vegetables, look no farther than the Mater Shack on U.S. 231 North between Ashville and the I-59 exit. Owned by Greg and Brandy Weston, the Shack sells fresh produce from their own Weston Farm during the summer, and imports from other places the remainder of the year.
"We start picking in July and go through mid-October," says Brandy Weston. "We grow green beans, tomatoes, squash, okra, cantaloupes, watermelons, a big variety of peppers and zucchini."
They also grow pears, which are available for about a month beginning late August or early September, and a variety of pumpkins. "Our fresh peaches and corn (at the Mater Shack) are local but come from Allman Farms, which is near ours," Brandy says. "Our eggs come from Clarence Harris and Eddie McElroy, who also live in St. Clair County."
Dayspring Dairy in Gallant, Alabama's only sheep dairy, produces cheeses, dips and caramel spreads sold at farmers' markets in Birmingham (Pepper Place), Atlanta (Piedmont Park) and Huntsville (Madison City). They also have a small farm store on their property.
Their products include aged cheeses such as gouda and manchego, fresh cheeses such as feta, halloumi and ricotta, a variety of cheese spreads, and a caramel sauce. Their Basil Peppercorn Fresca cheese spread makes a great base for a BLT or tomato sandwich. You can pour their caramel sauces (vanilla bean or bourbon flavored) over brownies and ice cream, or dip apple slices into them.
When you're ready for dessert, try the Pecan-Pie Bars at Canoe Creek Coffee on US 231 South, also between downtown Ashville and I-59. It's just one of their many fresh-baked pastry items. They have branched out into breakfast and lunch panini sandwiches, too. "The most popular is our turkey sandwich, and second would be our BLT, followed by our homemade pimento cheese with bacon and tomato on it," says Sara Jane Bailey, daughter of owners Mike and Alison Bailey. The shop is noted for its coffees, smoothies, tea and bottled soft drinks, too.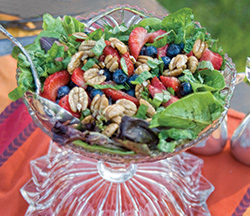 "Come in every Saturday mornings from 9am-11am and hear piano hymns, Celtic, classic and bluegrass by Matthew Bailey," Sarah Jane says, speaking about her brother. "If you would like to bring an instrument, we would love to have them. All musicians get a free breakfast sandwich and coffee."
When it comes to a dessert that gets rave reviews and a spotless plate when dessert is done, check out the Pell City Steakhouse. The local fixture famous for its steaks is just as well known for its pies, which are baked by Shirley Posey and Peggy Reynolds. "They bake sweet potato, pumpkin when people want it, pecan, apple, old-fashioned chocolate and, of course, lemon icebox pie," says owner Joe Wheeler. "People can buy it by the slice or they can get a whole pie to go."
They don't have every variety every day, Wheeler says, and he suggests calling ahead (205-338-7714) if you want a whole pie.
Still haven't satisfied that craving for something sweet? Try Frankie's Fried Pies or Al Strickland's fudge.
For 22 years, Pell City's Frankie Underwood has been making fried pies for friends and former co-workers at two local banks. "I was working at Colonial Bank, and that's when I started doing some, and all of a sudden, it just exploded," she says. "I don't know why I keep doing it." But she does, at the rate of about 150 per week. She makes lemon, chocolate, apple and cherry pies in her home kitchen.
Al Strickland is known around Springville as The Fudge Man. He makes 14 varieties of the candy that people buy for gifts or for themselves. Although his cottage industry helps support the Christian mission work he does through OneEighty Church, he gives away as much as he sells. "My fudge is my ministry," he says. Al makes fudge all year round, but his busy season is the fall. "I make 36 pounds a week then," he says. "At Christmas, I sell some good-sized orders that people box up and give away."
He prices his fudge for $10-$14 per pound, depending upon the variety and amount ordered. He keeps four or five pounds in his refrigerator all year, and delivers if the customer wants several pounds. He also ships some to people in other states whom he has met during his mission trips. To place an order, call Al at 205-999-5508.
Honey can be used to sweeten any recipe, and Jimmy Carmack of Odenville has been making some of the sweetest honey in the state since 1973. He has about 200 colonies of bees spread between Mobile and Huntsville, and primarily produces wildflower honey, cotton honey and occasionally kudzu honey. His honeys have won numerous local, state and national ribbons. In 2007, Whole Foods Market, a national grocery chain, opened their first store in Alabama and contacted Carmack to be their local honey supplier after sampling a variety of honeys from this area. His honey is now in all their locations throughout the state.
In St. Clair County, you can buy his Pure Alabama Honey at C & R Feed Supply and Piggly Wiggly on U.S. 411 in Odenville, at BJ Produce on U.S. 231 in Pell City, at Moody Produce on U.S. 411 in Moody (behind the Chevron station), at Pioneer Hardware on Thornton Avenue in Leeds and at C & R Feed on U.S. 231 in Ragland and Piggly Wiggly in Ashville.
Nearby Birmingham may be growing a reputation as a "foodie" capital, but when it comes to setting that perfect farm to table fare, it's hard to beat St. Clair County's style.
Editor's Note: To learn more about these locally grown, locally made products, check them out on Facebook for Red Hill Farms, Wadsworth Blueberry Farm, Dayspring Dairy and Canoe Creek Coffee.
For recipes, check out the print or full digital edition of Discover The Essence of St. Clair