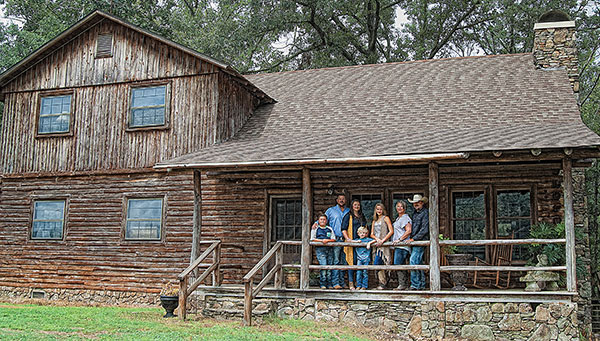 From tomatoes to cattle, Cash brothers eyeing success
Story by Leigh Pritchett
Photos by Susan Wall
Among the numerous farms along St. Clair County Road 33 is one reminiscent of Wyoming's countryside.
Its great expanse of grazing land is bordered by gently sloping, tree-lined hills. Artesian-fed Beaver Creek winds through the 471 acres, tumbling over a rock ford at one point.
"It's a little piece of heaven," said Andrew Smith, who gets to enjoy the view every day in his job as farm manager.
"It's gorgeous," said Joey Cash of Ashville.
From 1972 until recently, this property belonged to Dr. Jim Faulkner. It was called Faulkner Farms.
Not only was it known for its beauty, but also for the registered Simmental cattle from Europe that Faulkner raised right there in St. Clair's Beaver Valley. The annual cattle sales at Faulkner Farms were popular events that drew people from as far away as Montana and Canada. They came to buy livestock, of course, but also to delight in the barbecue and fellowship those occasions offered.
Joey and his brother Brian purchased Faulkner Farms early in 2017.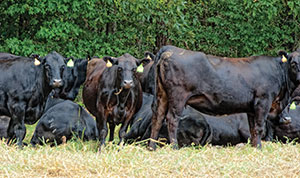 The two had admired the farm from the time they were lads.
"I always recognized it more for the abundant wildlife," Brian said. "There were always turkeys and deer out in the front hay field. I never dreamed we would actually own a piece of this beautiful place."
When the Cashes purchased it, the farm already had a well-established infrastructure that included a tack room and office, four barns, a farmhouse, where Andrew and his family now live, and a two-story log cabin with an incredible view.
The Faulkner Farms property possessed something else of importance, namely its previous reputation as a purebred operation.
All of these made it the "perfect" place for the Cash brothers to establish their cattle enterprise.
"We pretty much want to carry on Dr. Faulkner's legacy of being a well-known cattle business," Joey said. He and Brian want to raise "the best Angus cattle in the business."
They plan to construct a large barn and roping area for holding sales similar to the ones Dr. Faulkner hosted for many years, Brian said.
This cattle venture is an entrepreneurial detour for Joey and Brian. For many years, they have been farming tomatoes on 400 acres the family owns atop St. Clair's Chandler Mountain. Their tomato business currently under the name Cash Cattle Co. – previously was called Burton Farm and has spanned 85-100 years. The Cash brothers represent the fourth generation of tomato farming in the family.
Burton Farm was the largest tomato farm in the state for a time, Brian said.
Joey added that, through the years, it also was an innovator in the business.
"The tomato business has been great to our family," Brian said.
It allowed the brothers to be financially able to purchase Faulkner Farms and the prime Black Angus stock to put on it, Brian said.
They sold two tracts of their tomato-farming land and put the resources into the cattle farm, Joey said.
They acquired the last line of top-pedigree embryo-transplant heifers from Bobo Angus Farm in Huntsville, "one of the biggest and best purebred businesses in the country," the brothers said.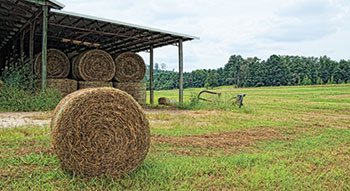 "It would have taken us 10 years to breed up to the kind of animals we bought off the bat," Joey said. "… We bought our way into the (cattle) business as big as we could, and tomato farming allowed us to do that."
Currently, the herd has about 300 head. Two hundred are brood cows, while calves and bulls account for the other 100. One bull – at 2,600 pounds – thinks he is a pet.
For two years, the Cash brothers have been acquiring female cows and keeping them on leased property on Chandler Mountain. Ultimately, the Cashes plan to limit the brood population to 250 and the total herd size to about 500 to avoid overworking the land.
Joey noted theirs is a purebred seed-stock business. In other words, their cattle are for breeding purposes, not for consumption.
Added Brian, "With the genetics we have acquired, the females will pretty much sell themselves. Our emphasis has to be on selling quality, sound bulls to commercial operations. We are going to offer a lot of 'value added' options with the sale of our bulls."
Among the options Brian listed are providing Angus Source perks for buyers seeking to market cattle sired by a Cash Cattle bull, guaranteeing bulls sold by Cash Cattle, and offering free delivery in certain instances.
"We want to be an asset to commercial cattlemen in the area" by providing stock and services that allow Cash Cattle customers to market their own animals at a higher price, Joey said.
The transition out of tomato farming into cattle farming has been exciting, but came about through "a lot of praying," said the brothers.
"We are thankful for the help, support and prayers of our families and many others in this venture," Brian said.
This family cattle business also involves the efforts of Joey's wife, Tracy; and daughter Jacie, 12; as well as Brian's wife, Paige; and sons Corbin, 9; and Cylas, 4. Already, the dads are teaching the younger generation of Cashes to round up, deworm, rope and vaccinate the cows, record pertinent information and search the fields for new calves.
"We want to instill … in our kids … work ethic and pride for the animals and the land that God has blessed us with," Brian said. "I want to build a business that my children, one day if they so choose, will be able to carry on and be successful in."