Coming attractions: Drive-in, miniature golf heading to Leeds area
Story by Graham Hadley and Carol Pappas
Photos by Wallace Bromberg Jr.
Artwork from Coyote Drive-In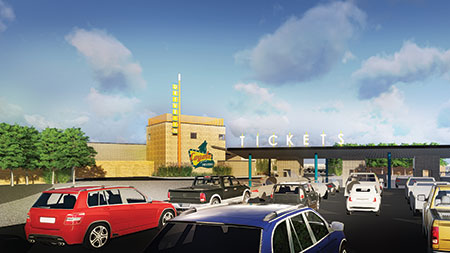 If you're old enough to remember movie nights under the stars with plenty of popcorn devoured in the backseat of your parents' car, prepare to reimagine those times as the Shops of Grand River in Leeds recreates the classic drive-in with plenty of new twists.
The four-screen theater complex aims its sights on being a recreational experience the entire family can enjoy — from the moment the gates open to the end credits of the last double-feature movie.
"We have been working with Christine Szalay, general manager for the Shops of Grand River, for about a year and a half — all the stars aligned and we are going to make it happen," said Steve Wynn, chief operating officer for Coyote Drive-Ins. Wynn notes the company already has a successful, five-screen version in Forth Worth, Texas, which has been in operation since 2013.
The Leeds edition will have a restaurant with a full kitchen, a pizza bar where patrons can watch the pizza-making process from beginning to end, and a bar that serves beer, wine and margaritas. The restaurant will have air-conditioned indoor and outdoor seating and sits next to a controlled-entry, fenced playground. Parents can keep an eye on kids playing while dining with family and friends.
The restaurant's pavilion will occupy about a 10,000 square-foot building that was part of the original Shops of Grand River complex but had never been occupied.
"It will be directly adjacent to the north end of the Shops," Szalay said.
Along with the restaurant and playground, there will also be an 18-hole miniature golf course in the theater area.
As for the drive-in, there are four screens, with movies shown in high definition from top-of-the-line special projectors that are brighter and designed to throw high-quality images farther onto bigger screens. And, Coyote Drive-In shows are double features.
"There is a 30 minute intermission, then you can watch a second movie," Wynn said.
Directly in front of the screens is a no-car, grassy park-like green space where families can have picnics, play football with friends or even walk with their dog. The drive-in is a pet-friendly theater. There is also outdoor seating for those who want to sit outside their cars and enjoy the movies out in the open.
"A lot of it is about the freedom. You can walk your dog, throw a Frisbee, and nobody is going to tell you to turn off your smart phone," Wynn said.
Also planned on Fridays and Saturdays are musicians performing live music.
In Fort Worth, "people are coming about 90 minutes before the shows start," Wynn said. "You can sit out in a lawn chair and watch the movie on a giant screen. It feels like an event – like movies in the park.
"I think it is a social element. This is what we see in Ft. Worth: People are reaching out on social media, saying, 'We are all going out to a movie at Coyote.' They come in large groups, bring the dog, move some picnic tables together, run and play, eat, then watch the movies. People like the social aspect," Wynn said.
"The family crowd is our biggest pizza business. When a family film opens, it always outperforms our other genres, like more adult action-themed movies," Wynn said. The drive-in is more open than a multiplex theater, but screens are set up to prevent line of sight from one viewing area to another. Even so, some movies will not be shown or will be shown later in the night.
"Some of the movies that are too risqué we will not play because a 5-year-old watching movies on one screen might see a movie on another screen. … In Ft. Worth, we did not play 50 Shades of Grey. It was a very popular movie, but the family-friendly environment is paramount," Wynn said.
The theater will have room for a total of 1,100 cars.
The $6 million-plus project is expected to draw people to the Leeds area from possibly as far away as other states like Georgia and Tennessee, not to mention the surrounding Leeds community, Birmingham, Trussville, Pell City, Talladega, Anniston and the rest of north and central Alabama.
With the Shops of Grand River right next door, with stores generally open until 9 p.m., already drawing large crowds daily, the two ventures expect there to be lots of crossover business.
"Coyote Drive-Ins have thought of everything. It was one of the reasons when the discussions started we were enamored with their plan. It made such good sense for the Shops of Grand River," Szalay said.
For the region, it means a recreation and tourism destination point, generating 100 new jobs.
"This makes the Shops of Grand River and Leeds more of a regional destination. People come from a large distance to shop here, and this works on a number of different levels, Szalay said. "We want that close connection to our customers from within the community, and this adds another reason for people who live farther away to come, shop and stay longer."