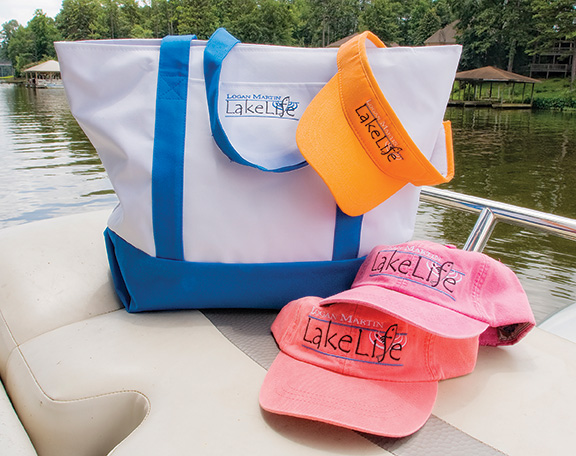 Stickers, clothing, websites and more
Partners by Design Inc., a Pell City-based multimedia marketing company in historic downtown, has expanded its LakeLife brand with new products, an online store and retail outlets.
It started out as a way to promote Logan Martin Lake, and we did so with our website, loganmartinlakelife.com, and social media accounts. That led to the sale of vinyl, die-cut stickers, T-shirts, caps, visors and boat totes bearing our registered logo designed by Graham Hadley, our vice president for the Creative Division," said Partners President and CEO Carol Pappas. "And more products are planned," she added.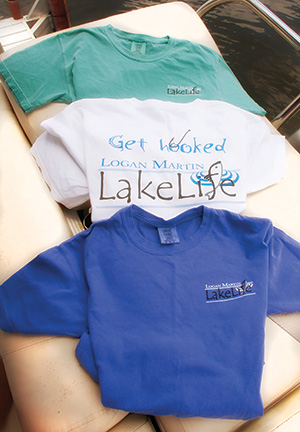 "We quickly saw that LakeLife, in general, is a way of life to promote as well, and we continue to build that brand on our newly launched national site, thelakelife.net," she said, which includes information on Alabama lakes and a blog written by Pappas called LakeLife 24/7. Coincidentally, the site's Twitter handle is lakelife247, and its Facebook page is at LakeLife.
The national site also features LakeLife Cooking, an online store, photos and other lake-related information and links, and content continues to be a work in progress. "We invite the LakeLife community – no matter where it is – to submit photos to be featured on the site," Pappas said.
"In the meantime, Logan Martin LakeLife, continues to grow with our stickers, apparel and accessories selling well," Pappas said. Logan Martin LakeLife products may be found in St. Clair County at Magnolia's Gift Shop in Cropwell, The Dam Store and Country Store at Dam Road near Logan Martin Dam. In Talladega County, find them at Griffin's Laser Engraving and in Jefferson, stickers are being sold at Rocky Ridge Hardware in Vestavia.
Logan Martin LakeLife products also are on sale in our online store at loganmartinlakelife.com, where Neely Henry stickers are also for sale. "St. Clair is blessed with two lakes," Pappas said, "and we are hoping to expand our footprint with more Neely Henry products as well."
Partners by Design was founded in St. Clair County in 2009 by Pappas and began official operation in 2010. Her colleagues at the time, Hadley and Brandon Wynn, have since become shareholders and partners in the organization. Wynn is vice president of Online Services for the company.
In addition to the LakeLife brand, Partners publishes Discover, The Essence of St. Clair Magazine, Chamber magazines for Leeds and Moody, Mosaic Magazine for Alabama Humanities Foundation, produces brochures, newletters, enewsletters, designs and rebuilds websites, and offers graphic design, advertising, communications consulting and photography services.
Find us online at loganmartinlakelife.com and thelakelife.net and on Facebook