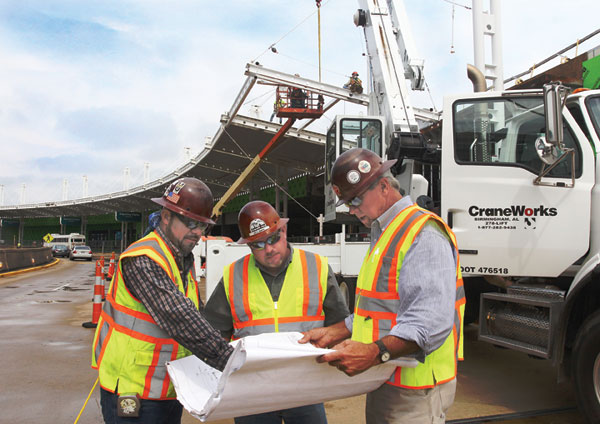 Garrison Steel owner hopes he and his workers can open career doors for others
Story by GiGi Hood
Photos by Jerry Martin
If you looked on a map for the road to success, the most prevalent highway would seem to be the one that leads to and goes through most institutions of higher learning. Attending college and earning a degree have long been touted as the "Main Street" to the world of success.
But there are other maps, with other routes, that can lead to the same destination point. John Garrison, owner and founder of Pell City's Garrison Steel, will quickly tell you that he has a PhD, but not in the traditional sense. His came from "the School of Hard Knocks."
"My grandfather lived through the depression, and the hardships he endured, along with the lessons he learned about living within your meager means, were passed along to my dad," Garrison explained. "And as a result, they were passed on to me. When I got out of high school, my dad told me he had done all the raising of me he was going to do and that it was time for me to make my own way. So, when I graduated from Hewitt- Trussville High School in 1969, I entered the workforce."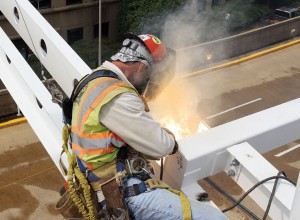 While other friends went on to college, Garrison began cutting his teeth in the steel erection business and traveling the Southeast to do it.
"I was just a kid, but I loved what I was doing," he said. "I never stopped to think about this becoming my life's work. I just showed up each day, was dependable, worked hard and thought it was great that daily, I was getting paid to exercise. When I started, I joined the union, and they taught and guided me as I worked my way up the ladder from an apprentice to a journeyman."
Today, 43 years later, Garrison marvels at how his first job evolved into his life career. He owns his own highly successful steel erection and fabrication business in Pell City with job sites all over the country, and he is sharing his own success story through Go Build Alabama in hopes of raising awareness and understanding among young people that skilled labor can be their ticket to success.
At this point in his life and career, it would be easy to say it is complete. The fairy-tale version would say: "After Garrison attained such great success, he then retired and lived happily ever after." But that is far from the truth. Today, Garrison is driven by a new initiative called Go Build Alabama. And it is his hope that this vision will produce results much greater than any other with which he has been involved.
Just as he had made is mark on the steel end of the construction business, now he hopes to leave his mark on today's younger generation. He hopes to help educate them, make them aware that there are plenty of opportunities to earn a good living while obtaining a great on-the-job educational experience.
He wants them to know that skilled laborers like heavy equipment operators, carpenters and electricians start their earnings at an average of $18-$22 an hour. That's up to $43,000 a year. In 2010, statistics showed that college graduates' starting salary was in the same range and not significantly higher.
Other skilled positions like boilermaker starts at an average of $27 an hour or $56,000 a year. A certified welder? Starting salary is at $22 an hour with the ability to go into six figures in some arenas, according to statistics provided by Go Build Alabama.
"My interest in this was piqued as I looked back over the last 43 years and realized my employees were getting older just as I was, and there was no evidence of young, skilled workers applying for jobs. It dawned on me that while I had learned, grown and built a business by being a sweat of the brow tradesman, skilled worker positions were not being filled because skilled workers were no longer plentiful."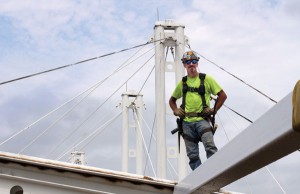 Realizing that the lack of skilled workers in today's industry cannot only cause a slow down, but a complete collapse, he began to think about what could be done. Reflecting on his past, he thought about how he and many others in his generation would not have made it in the workforce without a skilled trade.
He reflected on unemployment levels in our country — especially among the young — and what could be done on that front. Research shows today's generation Y is 92 million strong.
So, just as he had built his own businesses by working, thinking, dreaming, he put his shoulder again to the wheel and is investing his energy into the Go Build Alabama program. He realized that he wanted to teach the Gen Y'ers that there is absolutely no harm or shame in going to work clean and coming home dirty. His dream is to help them see they can have a successful and bright future, just as he had as a Baby Boomer.
"The time right now is a tough time, in many ways similar to the years during the Great Depression," Garrison said. "Unemployment is high, and everyone is very aware of that. But the truth of the matter is high unemployment can and does now co-exist with a shortage of skilled tradesman. Currently there are more than 200,000 skilled labor jobs that are not just available right now but are in desperate need of being filled."
In his day, the job was considered to be hard and dangerous work. "Back then, blue-collar jobs were synonymous with dirty factories and back-breaking work. And while factory jobs are still considered blue-collar work, today's modern and highly technical plants enable the worker to replace just plain, raw muscle with brain power added to just a little muscle."
Garrison knows he has worked hard, been successful and been filled with blessings galore. He knows he has built buildings that will outlive him by a very long time. But now he wants to give back a portion of what his industry has given him. He knows he left his mark on changed landscapes with high-rise buildings, and now he wants to work on leaving a legacy for a new generation of workers.
His vision includes a public-awareness campaign that inspires and guides young adults to pick up a shovel and get busy — to seek a trade that is worthwhile and to build their futures as he did, one day at a time, one skill at a time, one dream at a time. He wants to get the word out and let Generation Y know that hope and prosperity are well within its grasp and that futures can be as bright as any past generation's.
Garrison believes that instead of giving up on another generation, community leaders and past and present business and trades people need to come together, offer a hand, and shine the light into the darkness as mentors. They need to prepare these young people to carry on the industrial future. "They are not just employable, but sorely needed building blocks in our world," Garrison said.
"My goal with Go Build Alabama is that the Gen Y'ers will come to the realization that their presence, their knowledge, their thoughts and their dreams are desperately needed in the today's world.
"They need to be taught the fact that they can be successful. They can face the future with the certainty of knowing that they have the skills they need to carry the industry today and that they will also be needed to teach the generation of tomorrow."