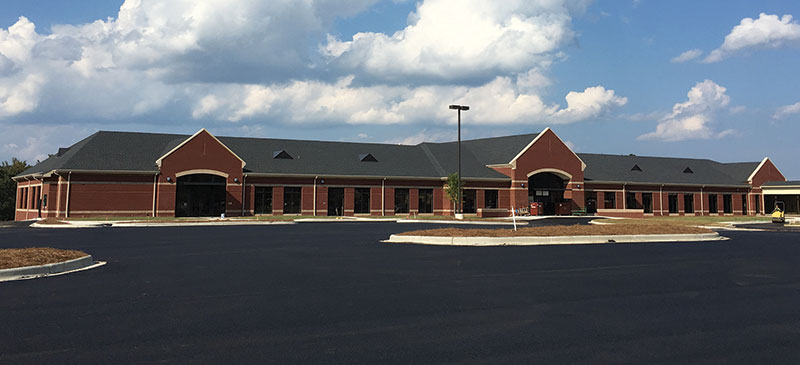 Expansion creating a special place in Pell City
Story and Photos by Carol Pappas
Photos by Graham Hadley
It is hard to imagine that from a small office on John Haynes Drive, a mere 3,000 square feet, that a sprawling medical home could rise a decade and a half later.
But on Pell City's north end, the construction seems endless as Northside Medical Associates continues expansion after expansion.
Founded in 2001 by Dr. Rock Helms, Northside has evolved into 80,000 square feet of patient-centered facilities, the latest of which doubles its size and significantly enhances its scope. Northside Medical Home opened in October, fulfilling the next step in Helms' vision of health care. Official grand opening and ribbon cutting are set for Oct. 24.
At the center of what he envisions is always the patient – comprehensive care, access to cutting-edge diagnostic technology, expanded specialties and an atmosphere where doctors talk to one another for better outcomes for its patients. And all of it is conveniently located close to the patient on a single campus.
"It has always been good to provide a place for patients where they can obtain a full range of medical services at one patient location. This is the next step toward that goal," Helms said. "We encourage collaboration between primary and specialty care because it enables better quality care."
The two-story, 50,000-square-foot Northside Medical Home, fronting Interstate 20 on one side and the existing facilities on the other, represents a sizable next step – diverse specialties all under one roof.
In the new wing will be Alacare Home Health and Hospice, VisionFirst Eye Center, Birmingham Heart Clinic, Alabama Oral & Facial Surgery, Southeast Gastro, Eastern Surgical Associates, an expanded Northside Apothecary, and Northside CARE Team with expanded Health & Wellness department. It even has a café coming in January.
Northside Medical Home's expansion also will include bone density and body composition, infusion suite, and health and wellness classes in its new training center. According to Chief Operating Officer Laura Gossett, the tenants have already expressed interest in hosting events for the public to educate and promote specific health-related topics. "Our training center will be the ideal venue for these types of events."
Doctors Helms, Michael Dupre and Hunter Russell, along with their nurse practitioners and clinical staff, will relocate to the new building. Doctors William McClanahan, Bob Whitmore and Steve Fortson, along with their nurse practitioners and clinical staff, will expand clinical services in buildings I and II. Also expected are new timeshare specialty physicians from Birmingham and surrounding areas joining the Northside campus Timeshare medical staff soon.
"We want this to be a medical home for patients," Helms said. "It's exciting. It's a more convenient, relaxed setting" than driving to larger, crowded metropolitan areas.
And the end result is an unrivaled collaboration coming together to put the patient at the center of everything they do. Here's what Northside Medical Home's newest residents had to say about the new venture:
Birmingham Heart Clinic
With the expansion from a time-share rotation space to a full-time 9,000+ square-foot clinic, it will give Birmingham Heart Clinic the capability of offering full service cardiology to the Pell City area. BHC will have anywhere from one to three physicians seeing patients in its new office every day starting in October.
In addition, the new office space will give BHC the ability to perform a wide range of diagnostic testing in-house, such as nuclear and exercise stress tests, cardiac and vascular ultrasounds, Holter and event monitoring.
"BHC responded to growth in the Pell City area more than eight years ago by opening a clinic, and initially, that volume of patients was served with clinic coverage roughly one day per week," explained Dr. Jason B. Thompson. "The area has seen remarkable growth and has outstanding primary care with both fueling the development of the clinic space set to open. BHC Pell City will be able to accommodate three full-time providers and offer an array of diagnostic testing, allowing patients to keep their care locally."
VisionFirst Eye Center
VisionFirst's Dr. Sara Clark Cleghern is looking forward to quadrupling the amount of space her clinic now occupies. It will have its own waiting room, which features an area for children, complete with toys and an iPad bar.
"More" is the operative word at Pell City's VisionFirst – more examination rooms, more equipment and the ability to do more procedures in-house. With services from primary eye care to surgeons represented, "it will allow us to do more," she said. And there will be an expanded, comprehensive line of glasses.
Birmingham-based VisionFirst affiliated with Northside in January 2015, and Cleghern came on board in August 2015.
"We love how it integrates patient care. So many of our patients have doctors there. We can talk things over with their doctors." If there is a problem with eye care that is associated with their primary care, often the answer is just down the hall. In other communities oftentimes that kind of ease in communication between doctors isn't the case.
As an example, she pointed to a patient with an acute eye problem. The primary doctor referred the patient to Dr. Cleghern, the patient had an MRI in Northside's Imaging Suite before seeing her, so they were able to have access to all they needed before the exam and diagnosis. No delays.
"It's really incredible," she said.
"There is a good community within the clinic, good relationships and the facilities are better," she added. Outside the clinic, "we love the community of Pell City, it's close-knit. I love getting to meet patients and see them year after year," building better relationships and becoming more familiar with their history – medically and personally.
This new clinic will have full vision care with access to comprehensive services – from ocular disease to surgical care.
Alabama Oral Surgery
Dr. Chris Rothman of Alabama Oral & Facial Surgery called the move to Northside Medical Home "a natural fit." He has been practicing in Pell City for 15 years, but was having trouble with infrastructure.
"We needed a new state-of-the-art building," he said.
They found it at Northside in a 2,000-square-foot suite the practice will occupy. "We like the people. It's good for us. There is a pharmacy on-site, and patients can have their surgery, go through the drive through to pick up their prescriptions and be on their way home."
He talked of the strong relationships developed with Northside's key people. "(Chief Operating Officer) Laura Gossett is fantastic to work with, and (CEO) Rock Helms is great, too."
Eastern Surgical Associates
"Our relationship with Northside Medical is paramount in our quest to service patients in East Alabama," said Robin Smith, practice manager of Eastern Surgical Associates, which is based in Trussville and expanded to Northside. "Our practice has continued to grow in East Alabama due to the patient, physician and staff relationships garnered while working in the Northside Medical Building.
"We have been able to provide much-needed surgical assistance to patients that otherwise would have had to travel extensively for care."
Northside Apothecary
Northside Apothecary will be moving to the end cap of the new building with expanded room from its location in Phase II. "We are very excited about moving into our new space," said Pharmacy Director Bradley Pate. The pharmacy will continue its hours of 8:30 a.m. to 8 p.m. weekdays and 9 a.m. to 4 p.m. on Saturdays. "Being back on the end cap, we are able to offer drive-through services to our patients once again. We are adding a second pick-up window, so you definitely won't be wasting time waiting in line to pick up your prescriptions or other needs."
Northside Apothecary will continue to be a full-service pharmacy with a full line of OTC, home-health and compression therapy products. "We will have more retail space and are going to introduce a gift section, which will include items from Willow Tree, Melissa and Doug, an array of gift and greeting cards, and many other boutique and seasonal offerings. We have a wide array of items coming in and changing often, so you are sure to find something for everyone on your list," Pate said.
Additional space in the pharmacy allows it to expand its compounding services to provide unique and individualized medication options for patients. "We can compound just about anything, from our popular arthritis cream to veterinary medications. Northside Apothecary has always been innovative and continues to integrate technology to better provide for our patients."
Northside Apothecary has its own mobile app (currently available for Android users and will soon be added to the Apple App Store) that will allow patients to request prescription refills and transfers, set up refill reminders, and connect on Facebook and Instagram. Patients also have the option to sign up for free, weekly e-newsletters, which incorporate health-related articles and medication information.
"Northside has become a destination for health care in St. Clair County, and Northside Apothecary wants to become the premiere pharmacy in the area," Pate said. "Our relationship with the practitioners at Northside allow us to always provide exceptional care for our patients. We love our patients and will continue to be the pharmacy that fills all your needs."
Alacare Home Health & Hospice
Alacare Home Health & Hospice has been part of the St. Clair County health care community for more than 35 years. "The decision to move into the new Northside Medical Home complex was guided by a question we at Alacare ask ourselves each day, 'How can we deliver the best care possible for our patients?'" according to Alacare CEO Susan B. Brouillette.
"Alacare's ability to work more closely with Northside Medical's "Patient-Centered" care model allows us the opportunity to improve the continuity of care and communication with other healthcare providers.
"The new Northside Medical Home complex that Dr. Helms has developed will facilitate a working collaborative health-care environment enabling us to improve patient's outcomes and reduce the likelihood of a patient having to return to the hospital unless absolutely necessary," she said.
"Across the nation and especially in Alabama, our aging population and increasing healthcare costs will make a person's own home an important place for health care whenever possible. By coordinating with the patient's physician, hospital or outpatient clinic, Alacare Home Health & Hospice can provide the necessary care in the best possible place, the patient's own home."
Northside CARE Team
The newly created Northside CARE Team is a chronic-care management team of health care providers who treat patients at the clinic or at home if needed. It began with four patients in April and has already soared over the 200-mark.
Its aim is to reduce hospitalizations and enhance quality of life by focusing on the relationship between the primary-care provider and the patient, identifying barriers to their patients' health and executing a plan to navigate around those challenges.
"We want them happy, healthy and out of the hospital," said CARE Program Director Dianna McCain.
The CARE Team offers assistance with medications on a weekly basis at patients' homes or daily calls to remind patients to take their medications.
Because of a growing shortage of primary-care physicians, Helms envisioned a program that could take the best care of patients, whether it is at Northside or in the patient's home.
Its new space will allow the program to grow and better serve its patients.
Editor's note: To learn more about Northside Medical Home, go to northsidemedicalhome.com.