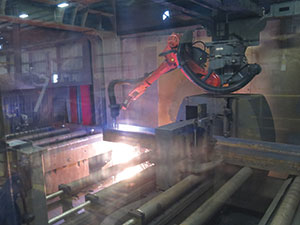 Programs changing lives, building business
Story by Graham Hadley
Photos by Michael Callahan and Graham Hadley
A decade ago, if you were a high school student in Alabama, chances are, all eyes were on what was touted as the ultimate prize – a four-year college degree.
But about that same time, employers across the state and the country started noticing how lean the labor pool was for skilled workers, whether it was a metal fabricator, carpenter, certified nursing assistant, pharmacy tech or paralegal.
We were literally "running out of skilled labor," said Garrison Steel owner John Garrison.
An immediate response was needed, particularly in Alabama, if we were going to remain economically competitive.
"As we were getting graduating seniors, we could not get students who needed to do what we needed them to do. They were worried about graduating students who were going to college and not about students who needed a job," said Jason Goodgame, vice president at Goodgame Company. "Some students don't need to go straight to college. They need to work."
St. Clair County and Pell City were particularly in a prime position to address the problem — all the pieces were already in place. Goodgame, Garrison and other businesses like Ford Meter Box, working with the Economic Development Council, the Pell City School System and Jefferson State Community College, began to develop a plan, actually a series of initiatives, to help identify and train students starting in high school or immediately after graduation to fill the ever-growing gaps in the workforce.
"We need brick masons, electricians, plumbers, and really, for us, people who can be a jack-of-all-trades: put down a foundation, frame out a door, a bit of everything," Goodgame said.
"So we passed a measure to tax ourselves, the businesses that needed the employees, to educate these students that we need."
The initial results, spurred on by the growing demand for workers as the economy recovered, were varied. From training schools in Birmingham to the iCademy next to Jefferson State Community College in Pell City to new initiatives and classes in the school system — often involving spending part of the school day doing on-the-job training.
"We want students who are coming out of high school to have entry-level skills," Garrison said. "… Beyond high school, we want them to come into our companies and continue training with post-secondary schools and with on-site training at our facility by skilled instructors."
As business owners from all areas of the Pell City economy — heavy manufacturing to medical, food, legal and other professional services — stepped up to the plate to help with training and hiring the students, the Pell City School System responded in kind.
"We just have students who are being matched up with specific career interests. The program gives them the opportunity to try out career fields before committing to study through two- and four-year schools," said Kim Williams, curriculum coordinator for Pell City schools.
"And we are getting the students partnered with people who are passionate about what they are teaching – places like Garrsion Steel, Goodgame, Ford Meter Box," Superintendent Michael Barber added. "… It is one generation of workers training the next. Whether it is health care, business, construction, kids are getting excited. It's very meaningful."
The original varied workforce-training programs are starting to work together under a more unified structure, with coordination coming from both the state and local levels.
"Where we are headed is merging these programs back together," Goodgame said.
That means better coordination between the school system and the business community and better job placement for students and recent graduates. Williams even serves on the Industrial Development Board, a sign of the close partnership between schools and the business community.
According to all involved, it is a win-win proposition: The businesses get job-ready workers, and students have the ability to go right into the workforce, earn a real living wage, receive training with room for upward mobility and, if they want, continue their education, often without incurring the heavy debt loads students going straight to college do.
Good Job, Good Life
Blake
Blake White, a member of the 2015 graduating class at Pell City High School, is in his second year at Ford Meter Box. The first year he worked there was during his senior year of high school.
And according to Blake, things could not be going better. He has a good job that he likes, he is training and has already moved up the ladder, he is still attending college, and he is earning more money than he dreamed possible right out of high school.
"If I work here full time, they will pay for college — tuition, books, the whole nine yards."
He already had a scholarship to Jeff State, but that does not cover everything, especially living expenses. Blake always knew he would have to work after graduation to pay those expenses, but before doing co-op at Ford Meter Box, he expected to go to school full time and work fast food or some similar job like many of his friends.
Instead, he works full time and goes to school part time, opening multiple options for his future.
"It was an easy choice, college for two years and have all those expenses, or work, earn money and have someone pay for school," Blake said.
"I really like working with my hands. I started at the bottom as a flange washer, but now I am in maintenance — I fix things," he said.
Along the way, he is learning a wide range of skills. Already a natural mechanic, he is picking up electrical skills along the way, something he says may help if he pursues a degree in electrical engineering or similar field.
And starting as the low man on the totem pole was no problem for Blake — it means he gets to train under people who know the business and to work with people he likes.
"Never settle for where you are at. Do whatever needs doing. You can make it to the top, but you have got to pay your dues," he said. He is working on his core classes for his two-year degree, and the jury is still out on where he goes from there, whether he stays in the business or starts on some kind of engineering degree.
"In a place like this, you can go as far as you want to go if you are willing to put in the time and work hard for it," he said.
C.C.
From his first day on the job at Garrison Steel, Charles Clellon "C.C." Watson was getting training from one of the best. Now he helps estimate the cost for putting up the buildings. He has only been there two and a half years.
C.C. graduated with a degree in communication from Mississippi State in 2013 — a time when the communication industry was lean on jobs.
At first "I wanted to do physical therapy school. My father-in-law was a project manager here and said they were looking for another erector estimator. John Garrison hired me on a 60-to-90-day trial to see if I was the right person for the job, plus training for about a year.
"My family has always been in the construction industry, but not the steel industry. I came in here pretty much blind and had to learn from scratch," he said.
"All the training was on the site. From the first day, John opened up a set of drawings. He taught me what everything was, from what each piece of steel costs to sizing construction cranes. And then I went out into the field to do more training there."
Quick to point out he is making much more money than he probably would have with his communication degree, C.C. says despite the change in professional direction, he is very happy with where he has landed.
"After I got out of college, this was the last thing I thought I would be doing, but I love what I am doing. I have always been really good at math, so this is right up my alley. This is a very competitive industry, so your numbers have to be spot-on to get the contract.
"This has opened up a ton of new doors to new successes for me. Garrison is a great place to work. It has given me options for new jobs here — or anywhere — in the future in the construction industry."
And though he could go elsewhere with his new training, C.C. is happy where he is now.
"I will stay here as long as they let me. I live in Oxford. It's an easy drive. John is a great boss. Everyone here is great, and the company is moving in a great direction."
Cody
Like many of his co-workers at Garrison, Ragland graduate Cody Poe first heard about a job through a friend who already worked there.
"A buddy of mine who was a welder called and told me they were looking for a burn-table operator — it's a CNC plasma machine that burns parts out of plates. That takes training and skill to operate," he said.
He had originally wanted to be a State Trooper, but things have worked out well at Garrison.
"When I started out, Mr. Garrison was impressed with my work ethic. He pulled me off the floor and is training me to do steel purchasing for the company.
"I came in and proved myself, and doors opened for me. They are talking about sending me to class, but there is also lots of hands-on training from the guy who has been doing it all his life. He took me under his wing, showing me the ins and outs.
That training is an essential part of what has made the whole process such a success.
"Garrison believes in training. When you are first hired, they stick you with an experienced person. You stick with that person until they say you have enough experience to be working by yourself," he said.
For Cody, that has helped lay the foundation for the rest of his life.
"It has given me financial security. I moved out on my own. I got to buy a vehicle on my own. It's a jump start on my future. I live about 5 miles from here. It is really great. I don't ever plan on leaving. I plan on staying here as long as I can.
"You have got to come in and prove yourself, come in and want to work. Give it all you have got to get the job done.
"I came in, gave it my all, and it paid off," he said.
Lauren
Pre-med Auburn student Lauren Luker already had a good idea what she wanted to do with her life when she graduated from Pell City High School in 2015, thanks in part to workforce training at Pell City Internal and Family Medicine her senior year and during the summers after graduation.
"I heard about it from other students who had jobs or who were interning for things like physical therapy. I asked the teacher. I had to fill out a lot of forms and get permission," she said.
The initial work fit nicely with her senior schedule, leaving plenty of time for school, extracurricular activities and a social life.
"Dr. (Rick) Jotani was the one who gave me the chance and let me do this. I left every day about 2 and stayed until around 4 p.m. It was really good because it started during school," Lauren said.
The initial school training program was unpaid, but that soon changed.
"I was not paid during the first internship. Then in May, right before I stopped, they asked if I was interested in continuing over the summer. That was paid. So was this summer.
"It's been really nice. They have been so good to me. They really want me to learn. They have taken a chance on me, always asking if I want to learn to do new things. I have been in the business office, checking people in," she said, pointing out those are sides of a medical practice usually not covered in medical school.
"This lets me see how a practice works, lets me see that side of things. This reinforced what I wanted to do. When you are in college, everything is so hard, it is difficult to see the big picture. When you get back here, you see what the end goal is."
Good workers, Good business
Jim Ford, human resources manager for Ford Meter Box in Pell City, believes everything they are doing in workforce development is an investment, not only in his business, but in the local economy as well.
"We are doing anything we can to help get the idea out that education is important – not just four-year, but technical training, too — something that gets them a good-paying job," he said. "We pay 100 percent if our people will commit their time to school as long as they pass. It grows our workforce and our community.
"That is a tenet of Ford Meter Box as a whole.
"It means a sustainable workforce for us in the long run. We think it makes our community better. It brings in jobs and keeps jobs here," he said.
And an educated and skilled workforce helps people like St. Clair Economic Development Council Executive Director Don Smith bring in better-paying jobs.
"It's a cooperative effort. We are glad to do it and hope it continues," Ford said.
Smith agreed, pointing out the beginnings of workforce development go back years, first with the iCademy, now with new classes at Jeff State and Pell City High School and on-the-job training at businesses across the area.
"At the end of the day, companies are going to come where the people have the skillsets they need. Whether it is high school, a two-year or four-year college, if you are producing students, giving them the opportunities to learn those skillsets, then those companies are going to come," he said.
In fact, that is one of the first questions a prospective business asks about when considering locating somewhere. Having a skilled and trained workforce and a training program in place is essential.
"It's a great recruitment tool," said Jason Roberts, assistant director with the St. Clair EDC and someone Smith credits with much of the success of the workforce training program.
The workforce development effort could not have come soon enough for Roberts.
"In the recent past, schools did their own thing, and their objective was usually four-year college or bust. But the reality is, in our community, we have many jobs and fields where the skilled working population is retiring, getting older, and there is no one ready to backfill those positions," he said.
Some fields, like truck driving, are so in demand that employees willing to put in the time can earn six figures a year.
"You can get those truck driving jobs all day long. The same is true for welders, plumbers and electricians," he said.
Now, with everyone working together, the workforce development program is helping the EDC take St. Clair County business recruitment to the next level.
"Now everyone is trying to connect. We have let education know companies and businesses are buyers of their products — educated students – and there is a big push to get people trained to fill these gaps in the workforce," Roberts said.
"It's essential to business recruiting, especially here, because we have proof of product — students in place at businesses here. It's the No. 1 driving force when companies are looking at an area," he said.
"They know their employees are going to make their company successful."