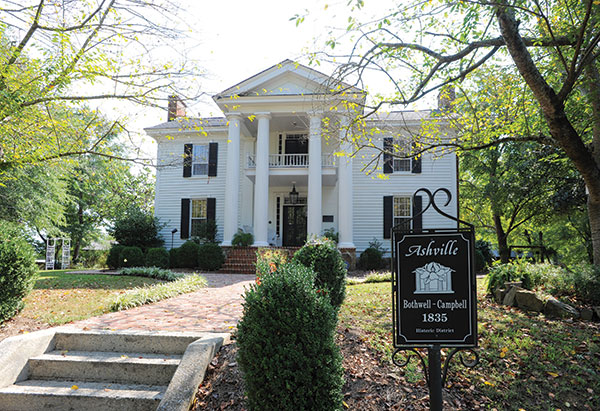 Storied past; promising future
Story by Paul South
Photos by Wallace Bromberg Jr.
"Ashville, the county seat of St. Clair Co., Ala., is a dignified old town, seeming to possess the even tenor of its way at peace with all mankind."
—Mary T. Whitson, The Southern Aegis, Feb. 9, 1910
When Mayor-Elect Derrick Mostella returned home to Ashville after six years in Memphis, he went to his father-in-law at Teague Hardware. There, he'd talk politics with customers, who'd share their ideas and concerns about the town. During slow spells at the store, he'd take walks and drink in all that made his hometown special. And there, he made a decision.
"I knew I wanted to make my impact in Ashville," he said. "I had a sense of responsibility to come back and be part of something of a renaissance. I think we're at that point right now. There's a new feeling that's taken over the city. We've got people that are active, involved and engaged and ready to see good things happen in Ashville."
It indeed seems that St. Clair's original county seat is on the cusp of a renaissance. The town is emerging from the housing recession that began in 2007. St. Clair County government and private entities have made some $8 million in investment in its buildings downtown, including $1.5 million in the administrative annex, transforming cramped government offices and meeting rooms into welcoming spaces.
Phase I of the expansion added 4,725 square feet of space on the east side of the Administrative Building. Cubicles were removed and nine new offices, along with a chairman's office and a conference room, improved the functionality of the building. The St. Clair County Commission Chambers were also expanded, which allows major events, as well as Probate Court, to be conducted in more spacious surroundings.
A second-floor expansion provides more space for the Information Technology Department, the Revenue Commissioner and the Probate Office.
Two manufacturers, Valmont and Grooms Aluminum have also made multimillion dollar reinvestments in their plants, generating additional jobs. In total, the two firms invested more than $3 million.
Grooms – a family business — began operation in Ashville in August of last year. A favorable location, as well as Ashville and St. Clair County's business-friendly climate, drew the Grooms family to open in Ashville, said co-owner and spokesperson Tammy Grooms.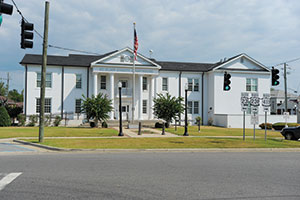 "We researched and looked for land. We found a few different spots. Cost influenced it, of course, but Ashville and St. Clair County were just really good to deal with. They made the process easy. We found a location that worked for what we needed and what we do. It was great working with Ashville," she said. "They've gone out of their way to try to help."
Grooms receives and cleans scrap aluminum from customers, then melts it into ingots called "sows." The sows are returned to the customer, who then sells it to other clients to be made into a product.
Other private concerns have invested in the historic downtown, providing yet another shot in the arm.
"As far as job creation, this has been an incredible last couple of years for (Ashville)," said Don Smith, executive director of the St. Clair County Economic Development Council.
Unlike other municipalities, Ashville has taken a more practical approach to economic growth. With a population of less than 3,000, practicality is key.
"It's been more of a refocus on working on what you can control," Smith said. "Historically, Ashville has had some limitations as far as infrastructure and utilities to be able to handle large growth. That is being worked on now. I think there's a renaissance of community pride and a focus on improving what can be improved, and do the things that can be done to help the community take that next step."
Steeped in history
There is something of an eternal elegance to Ashville, a town that has preserved many of its historic landmarks that go back to the state's earliest days. And when John Ash and his family first explored the area in the early 19th century, a tragedy struck that would offer no clue as to the future. A tiny gravestone would be the symbolic cornerstone for the future county seat of St. Clair County.
In January 1817, John Ash, his wife Margaret and their three daughters and seven slaves were part of a party of a half dozen families on a wagon train en route to Shelby County when they decided to explore Beaver Valley. According to legend, wrote the late historian Mattie Lou Teague Crow, John Ash shot a deer. Ash was near the team of horses when he fired, and little Betsy Ash was thrown from the wagon and suffered a fractured skull. She died of her injuries days later. Reluctant to leave their little girl, the Ash family settled nearby. The Ash home still stands today. John Ash would later serve as a judge, county commissioner and state legislator.
St. Clair County was created in the Alabama territory in 1818. In 1820, the governor appointed Ash and other men to a board of commissioners. The board purchased 30 acres of land from a man named Philip Coleman for $10,000. Sixty-four lots were created from the purchase, including land for the courthouse.
Like other towns in St. Clair County, changes in transportation – the railroad, US 231 and the interstate highway system transformed the town. But the town lots, laid out in the first map of the town in the early 19th century, remain unchanged, with its heart in the Courthouse Square. The first court hearings were conducted at the home of Alexander Brown, according to Crow's writings.
And the descendants of many of the families who first built Ashville – Ash, Box, Inzer, Newton, Byers and more, remain in modern-day Ashville.
Across the years, history has rolled through Ashville, bringing with it harmony and progress, disagreements and disputes. The town, like the rest of the county, was divided over the issue of secession on the eve of the Civil War. Col. John Inzer had opposed secession, but went on to fight for the Confederacy. He would distinguish himself at the battles of Corinth, Shiloh and Chickamauga before being taken as a prisoner of war. After the war, he would go on to a distinguished career in public service in government and was also a trustee of Howard College (now Samford University). His home, the Dean-Inzer home is one of the town's preserved treasures of antebellum architecture.
Asked how she would describe Ashville, Laura Lawley, clerk to the St. Clair County Commission called it a town "near to God's heart." And indeed faith has played a role in the town's history.
Methodists have worshipped in Ashville since 1818, served by a circuit-riding minister in those days. The Masonic Lodge was shared by the Methodists and the Masons until 1892. Baptists constructed a new house of worship in 1859 and Presbyterians in 1879. The original Presbyterian church now serves as a Church of Christ congregation.
These days, churches are still growing in Ashville. Flow of the Spirit Church now worships in the former Burton Foods building, while First Baptist Church is developing plans to expand in anticipation of the anticipated growth in Ashville, according to local real estate executive and developer Lyman Lovejoy. He serves on the building committee of the Baptist church.
One of the gems of the town is Ashville High School. The first school in town was Ashville Academy, founded in 1831. It later became Ashville College and in 1910, Ashville High School.
Ashville has also had an impact in popular culture, both locally and on the world stage. The "Upping Block" is an important local landmark, marking where politicians and orators took to the stump. It's also where ladies were helped up to their horses. World famous archer Howard Hill, married and buried in Ashville, made his mark in Hollywood, using his skills in a number of films, notably Errol Flynn's 1938 classic, The Adventures of Robin Hood.
And, Ashville has been named one of Alabama's coolest small towns by the online site onlyinyourstate.com, one of a dozen towns selected. Ashville was third on the list, behind Alabama's seafood capital, Bayou La Batre and the Walker County town of Cordova.
Of Ashville, onlyinyourstate.com wrote: "Ashville, the county seat of St. Clair County, was established in 1822. This historic Alabama town offers a wonderful city park for family outings, in addition to Greensport Marina, the perfect place for boating and fishing."
Preserving past with eye to future
But with all the changes, Ashville remains true to its history and traditions, preserving it as a family would hold dear to an heirloom quilt or pocket watch. Lunch at Shaw's Barbecue, greeting strangers and friends on the street and church on Sunday are deeply woven into the quality of life.
St. Clair County Commission Chairman Paul Manning and outgoing Ashville Mayor David Thompson are optimistic about the town's future and believe economic growth is on the horizon, both downtown and on the Interstate 59 corridor, but that Ashville will never lose its hometown feel.
"Ashville is unique," said Charlene Simpson, who succeeded Crow in the role as town historian before her own retirement at Ashville Museum and Archives. "It still has one stop light. And the courthouse is still the center of town. It's a place where people still speak to you on the street. It's close to big cities, but it's still a little country town."
A number of historic homes – some nearly two centuries old — still thrive as residential or business properties in Ashville. For example, the Alameth Byers home, built in the 1820s, is home to Kell Realty. The Byers family came to Ashville from South Carolina, where they were indigo farmers, Simpson said.
Alameth's brother, Amzi Byers also owned one of the historic homes downtown. The home was built in 1835, constructed by Richard Crow. The house was eventually owned by Judge Leroy Franklin Box, who presented it to his daughter, Stella Box Hodges, as a wedding gift in 1889, Simpson said.
The Bothwell home, owned by Dr. James J. Bothwell, one of the town's first physicians, is also still thriving today. It was also built by Richard Crow in 1835. It was given as a wedding present by Judge Box to another daughter, Lula Box Embry.
"Ashville is a small, close-knit town," Simpson said. "A lot of the houses were family-owned for a long time, and the families worked to preserve them," Simpson said.
In the last several years, efforts have been made to preserve historic homes and buildings in Ashville, one of St. Clair's two county seats.
"Hopefully, that's going to continue," Simpson said.
A strong foundation
To a person, it seems a universal feeling that Ashville is poised for a revival of sorts. Josh Kell, the owner of Kell Realty, says his firm has enjoyed its best year since the 2007 recession. Low interest rates, affordability and quality of life have driven the recovery.
The founder of Kell Realty, his father, Paul Kell, passed away in 2011 after more than two decades as a respected real estate executive and developer. A former president of the St. Clair Association of Realtors, Paul Kell was also involved in a variety of charitable, civic and church activities, including Relay for Life and The Children's Place.
The family business is located on the Courthouse Square in one of Ashville's many historic homes, the Alameth Byers home built in the 1820s. Among the historic buildings are the Looney House – listed on the National Register of Historic Places, as are the John Inzer Museum and the Dr. James J. Bothwell House. The Dean-Inzer house now serves as the John Inzer Museum.
The Dean-Inzer House also serves as the headquarters for the local Sons of Confederate Veterans. The Inzer family also donated the land for the historic Masonic Lodge and Mattie Lou Teague Crow Museum next door.
One of Ashville's landmark business families, the Fouts family, has operated gas stations, a car dealership and now a tractor business in downtown Ashville for some 80 years, across four generations.
"It's been some sort of family business for over 80 years," said Fouts Tractor President Pat Fouts. His grandfather, C.P. Fouts, and great-grandfather, W.O. Fouts, founded the business.
Downtown revitalization, as well as the shift in population north from Jefferson to St. Clair County has boosted Fouts' business.
"I think the future should be good. The main thing that's helped us is the population growth from people moving out of the Birmingham area. It continues to come this way. The more people that come this way, the more customers you've got. So if you keep doing business the way you're supposed to do it – the right way – you should be able to stay successful."
Downtown revitalization of historic buildings and restoration of historic homes – like the Looney House and the Masonic building – also has had a positive effect, Fouts said.
"Anytime anything is redone, gets better or is improved, it's got to be at the very least a positive impact because at least it doesn't look like something that's run down. There are several towns… where the downtown gets torn down and run down. "(Revitalization) gives you a sense of 'Hey, this looks pretty good. Maybe I'd want to do stuff here, live here, buy stuff here.' So it's definitely been a positive."
One of those positives is the renovation of the historic Rexall Drug location in the heart of town. Once in disrepair like a badly-aging debutante, the tall structure with a front full of glass now shimmers, thanks to local dentist Dr. Joseph Labbe.
Labbe had practiced in an office on a dead end street for about two years when the Rexall building became empty. He watched as years took its toll on the drugstore that once teemed with customers.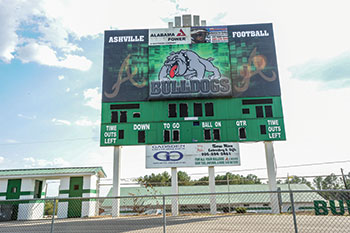 "I liked the building a lot and I wanted to build a new practice," Labbe said. "I needed to remodel my building, but I really liked the (Rexall) building. I put in an offer and was able to buy it. I thought it would be great to be down in the town square. I thought the town square needed more businesses on it."
When Labbe first came to Ashville a dozen years ago, the Rexall was the second building he noticed after the historic St. Clair County Courthouse.
"I thought it was really neat," he said. The courthouse square and the drugstore sparked memories of his childhood in Selma.
"We had drugstores downtown when I was younger, and it kind of reminded me of that, Labbe said. "I hated to see a really nice building like that just fall in. At the time I was looking at building a new practice, looking at land down the highway," he said. "When this building came open, I thought 'That would be perfect.'"
Labbe was attracted by the possibility of more foot traffic to the downtown corner office, as well as the courthouse renovation.
He liked the shape of the front of it, a tall building right on the corner of a main intersection in town. "It had a lot of windows in the front and kind of took up the whole corner. It's just a neat looking building."
The move to the courthouse square in July has boosted his practice, Labbe said. "We actually have a lot more people walking in," Labbe said. "Before we were on a dead-end street, and I don't think too many people knew we were out there. It was mostly word of mouth and advertising.
"Once we started working on the building, people realized that we were here. And when we moved in, I think a lot of people wanted to see what the building looked like. We've picked up a lot. We have a lot more patients walking in who want to make an appointment."
Bright future ahead
Blending old with new has been a good growth strategy for Ashville. "It's an attractive place for people to live," said Josh Kell. "We're 45 minutes from Birmingham and 20 minutes from Gadsden, so while you're not in an urban area, you're under an hour in both directions from anything you need. It's convenient. You can be to the Atlanta airport in less than two hours."
And, along with homes in town, there are also larger lots outside town, as well as Neely Henry Lake, one of the county's "best-kept secrets," Lovejoy said. Ashville, he added, is a community on the move.
"It's not where the rest of the county is, but for the first time since we went through the recession, things are looking better up there," said Lovejoy, former chairman of the St. Clair EDC." People are doing some renovation downtown that we haven't seen in a long time. It was a little slower coming out of the recession than these other places were, but it's definitely on the rise."
Optimism is bubbling in Ashville, from county political and economic development leaders, to young attorneys like Meg Clements. She practices with the Robinson Law Firm, which has represented clients for generations in town.
"I really believe the sky's the limit for Ashville," Clements said. "I believe Ashville will be able to keep its small-town feel. I think Ashville can (grow) the right way, working around the interstate and in the industrial park, while keeping its small-town feel."
Many believe Ashville will be the next community to experience significant growth. Clements supports the idea of slow, steady growth. She remembers when U.S. 231 was four-laned in Pell City. Growth occurred steadily over 25 years.
"I think that's important," Clements said. "I think there's a lot of potential here."
As a new administration takes office in November, preparation is critical.
There's been a ton of money invested in our downtown. We're seeing progress. It's slow, but we're getting there," Mostella said. "At the end of the day, we have to create the kind of environment that's conducive to growth. That's what we want to do." Whatever comes our way—residential, industrial commercial, we want to be prepared for it."