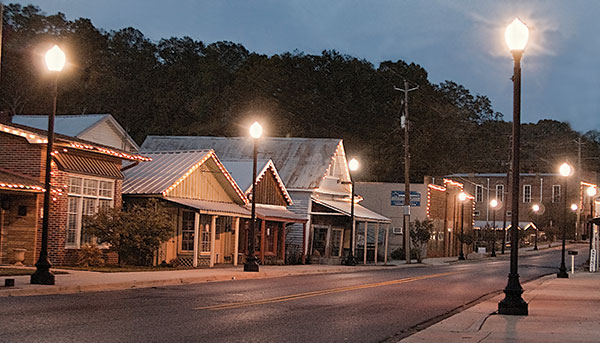 Marching to its own rhythm
Story by Paul South
Photos by Susan Wall
In one sense, Springville rocks to the gentle rhythm of a quintessential Southern small town, where folks speak to everyone – even strangers – on the street. In the mornings, locals and visitors feast on steaming plates of biscuits and gravy at Springville Café, a meat-and-three at lunch, seasoning their food with talk of politics and football and gossip.
They worry when their neighbors are sick, celebrate when a new baby is born and mourn when a neighbor passes away. It's a rhythm of Springville Tiger football on fall Friday nights and heartfelt prayers on sun-washed Sunday mornings.
But in another sense, this town of nearly 4,100 souls marches to its own drumbeat, crowding the local library for the latest literature, tapping their toes at intimate music venues like Local Color, or celebrating local artists and craftspeople at Homestead Hollow. It loves the cool, clear water of Big Canoe Creek, the same ancient waters that brought Native peoples and white settlers to the area centuries ago.
This town that once boasted its own college cherishes history and education, like the Old Rock School, crafted from stones yanked out of the ground by locals, and the current Springville High School that strives for excellence in and out of the classroom
Like its sister cities in St. Clair County, Springville is growing, but at its own pace, with its own sense of how things should be done. It's a stained-glass window of a town, vibrant in life and color, where the light of possibility shines through.
"Springville is a very welcome, gentle, conservative-minded but progressive-thinking city for people to live in. All of those are here," said Springville Mayor William "Butch" Isley. "They are all seeking for it to be slow and easy for people to live here. The daily life here is easy. The town is welcoming and warm to all who come here. That's why I'm here."
A rich history
Why the Springville area's first settlers came here is simple: Water, pure water. The area's crystal clear waters from natural springs made it a popular rest stop for Native peoples and later European pioneers who traveled through and settled in the area. The first settlers came to Springville – first known as Big Springs – before Alabama achieved statehood in 1819. The first church was established in 1817. With the establishment of the first post office in 1833, the town's name was changed to Pinkhill, but was again changed a year later to Springville. The town was incorporated in December 1880.
Descendants of families who settled in Springville in its earliest days – Woodall, McClendon, Bradford, Forman and others – still call Springville home.
A co-educational academy was built in 1861 and in 1873 was renamed Springville High School. The 1870s were marked with both triumph and tragedy. The Alabama Great Southern Railway came through the town in 1870. Sadly, the advent of the railroad brought with it the dreaded disease cholera, killing many of the railroad workers.
Telephone and electricity came to Springville in the first quarter of the 20th century. And the town's water and sewer system came into being in 1935, in the heart of the Great Depression. In 1957, a new city hall was constructed.
Donna Davis is part of a cadre of volunteers working at the Springville Museum and Archives. Once located in the upstairs portion of the Springville Public Library, when the library moved to a new building, the museum made the Masonic Lodge on Main Street its home.
In late October, Davis and the museum volunteers bustled, decorating for a Christmas exhibit. She remembers one of the milepost moments of Springville history, the explosion at the local train depot in January 1969.
"I was in the second grade, and it was two days past my birthday, and I remember it very well. We were all in school on that day," Davis recalled. "What I remember was the panic of everyone. We all were evacuated from the school and ran up the hill behind the school, trying to get to safety. The explosions were shattering the windows of the houses around town."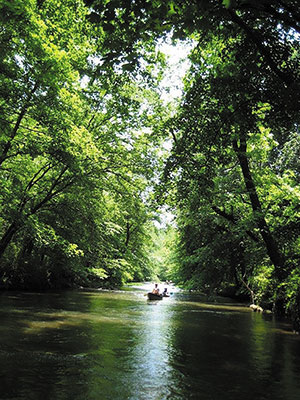 In the panic, children piled into the cars of neighbors to get home. Firefighters from as far away as Birmingham, as well as the Alabama National Guard came to fight the blaze, sparked when a train carrying propane exploded. Miraculously, despite the damage to buildings, no one was killed.
One former town landmark, now gone, brings happier memories. Residents of a certain age will remember a lake constructed by the city in the heart of town. Filled with carp, bream and trout, the lake was popular for picnics and other social events, as well as for folks who simply wanted to feed the fish. A hill behind the lake was home to Easter sunrise services, a celebration of resurrection and renewal.
Springville Lake was a popular spot until the late 1960s when the state health department ordered that the lake be covered over and filled with dirt, opening the floodgates of protest. Letters to the editor flooded local newspapers, and the lake's closure generated coverage from big city papers.
Writing in the Birmingham News more than 40 years ago, the late Frank Sikora reported, "Springville Lake was a natural park. You could hardly walk around the place through the crowds that came on July 4. Now it's gone. Where the water was, there is now only red-yellow dirt. Nobody wanted it to happen, but it did."
The lake was the heart of the town, said lifelong resident Donna Davis. In the early part of the 20th century, Springville had its own college, attracting students from as far away as Texas, many of whom roomed at local homes. Spring Lake College burned down in 1912.
The lake even spawned a number of businesses, flour mills and axe handle mills and hotels. Most notable was the Herron Hotel, which attracted politicians, movie stars and travelers who flocked to Springville to dine.
"It was famous for its fried chicken, which you could get for 50 cents," Davis said.
Big Canoe Creek and other tributaries of the Coosa River have helped the city keep its time-honored ties to the water. And as water enriches life, some natives of Springville have enriched and entertained America, like former major-league ballplayer Artie Wilson, a four-time all-star in the Negro Leagues who hit .402 in 1948.
Wilson broke briefly into the National League, where he was a teammate of Hall-of-Famer and Fairfield, Ala., native Willie Mays. Wilson was also a four-time batting champ in the Pacific Coast League.
Aubrey Willis Williams was head of FDR's National Youth Administration during the New Deal. He was also assistant federal relief administrator during the Depression, the second-highest ranking American relief official at the time.
And the late Springville native Hank Patterson performed the unforgettable role of Fred Ziffel in the classic television comedy, Green Acres. Patterson also had a recurring role in Gunsmoke and appeared in a number of television classics, including The Twilight Zone and Perry Mason.
Smart growth, economic diversity
Like other municipalities in St. Clair County, Springville is growing. In the past 12 months, 50 new homes have either been completed or are in progress, a sign that the housing market is coming out of the recession of 2007-08, Isley said.
St. Clair County Realtor Josh Kell agreed. New rooftops are becoming common in Springville after years of an almost flat-lined housing market. Kell and his late father built one of the new developments in Springville, Village Trace.
"Especially in the past year, you've seen a lot of new construction in Springville, more than the last several years," he said.
Proximity to I-59 is a key selling point, Kell said, attracting newcomers from Jefferson County.
As far as future trends, unless something unforeseen happens, Kell sees continued residential growth.
"I see a lot of continued growth," he said. "There's still plenty of opportunity for new rooftops, barring something similar to what we just came out of."
At the heart of the community's overall economy? Pride.
"The businesses are very focused on that community," said Don Smith, executive director of the St. Clair County Economic Development Authority. "Pride is at an absolute high in Springville."
The town, with rare exception, has operated on a cash basis and has more than $2 million in its rainy-day fund, Isley said. The town has invested some $500,000 annually in recreational facilities and is also working toward sidewalks, curbed and lighted downtown streets as part of a state-sponsored Streetscapes program.
The city has seen growth of new restaurants and businesses along its part of the I-59 corridor and hopes to attract a hotel chain. But Isley would also like to see St. Clair cities along the interstate team up to develop economically.
"We're happy with our retail, but we want to try to partner and market with our sister cities, Argo, Odenville, … Ashville and Steele," Isley said. "I think that we should be promoting our I-59 corridor as sister cities. We're a team player in that regard."
While the town wants to market itself to the wider world, its citizens are the priority, as evidenced by the dedication to parks and other amenities. One of the cornerstones of Springville's economic development is a longstanding commitment to a community blueprint aimed at maintaining the traditional character of Springville.
"That commitment was already in place back when I became the mayor. That commitment has been in place with all of or mayors to help maintain the downtown district – home to the historic district. We have had a concerted effort with the local preservation society and the historical society to maintain the character of the town and to improve it."
Springville has held fast to its blueprint, with positive results.
"They wanted quality-built neighborhoods. They wanted quality developments and didn't change because of the whims of the times. They've been very selective about what they've been involved with," Smith said. "They've been very particular about how they grew, and they wanted to grow in a certain manner."
Smith can see Springville becoming a community more deeply committed to the arts, like a smaller version of Fairhope, Ala., in the future. But it could also be a draw for IT businesses.
A big hurdle economically is finding suitable property currently for sale.
"The challenge for Springville is to continue to redevelop their activities. They need to look to expand without losing their identity."
Cherished Education
There's been a school in Springville since the middle of the 19th century. The city's deep educational heritage and love for it is evidenced by the preservation society's efforts to restore the old Rock School and expansion at the Springville Public Library.
The belief in education and love for creativity flows through local schools, said Springville High School Principal Virgil Winslett.
"You don't have a lot of arts funding for the school. But we have visual arts. We have a very strong band program. We have a choir and choir classes. One thing about Springville High School is we try to be the best we can in every facet. We try to give 110 percent in every aspect."
As it has throughout its history, Springville loves its schools.
"Without a doubt this is one of the strongest bases of support for all of our schools," Winslett said. "We have great support from the mayor and City Council, the Fire Department, the Police Department. When we need help, we get it."
As an example, the city stepped to the plate to help Springville High repair and upgrade its baseball and softball fields after dugouts were destroyed in a storm.
"They're that way all the time. They are very supportive of what we do," Winslett said.
The schools are also willing to help with local city youth sports program. It's a two-way street, Winslett said.
Parental involvement is also a big positive for Springville schools.
"Our teachers feel like they're supported. There's a good relationship between parents and teachers. That shows in the academic success of the school," Winslett said.
Part of its academic success is the school's course offerings.
"We're now an A-Plus College-Rated School," Winslett said. "We were given a three-year grant. We offer six AP classes and dual enrollment through Jefferson State Community College, which allow students to earn college credit while in high school."
Winslett has been an educator in Springville for more than two decades. He's home. New teachers who come from outside to teach in Springville rave about the schools.
"It's not a struggle to get up and come to work every day," he said. "You get up. You're excited about coming to work. We've got good kids here. I don't know of a kid here who would say he or she is not proud to be a Springville Tiger.
"Springville has grown a lot since I've been here, but it still has that small-town feel. People talk to one another and take care of one another. You go to school and go to church with the same people. There's something about that sense of community you won't find in a bigger place. To me, that's very important to me and my family."
Two other avenues for education are the recently-expanded Springville Public Library and the Springville Museum and Archives. Both celebrate literature and the arts. The library recently expanded, adding a young people's literature annex and also celebrates a local artist and author of the month.
On a recent morning, even though it was early, Library Director Jamie Twente was busy, as the library bustled with readers. A book group meets here monthly.
But the library, while it celebrates literature, also cherishes the arts. It offers quilting classes, Cherokee leaf printing, folklore, even martial arts.
The library also offers a variety of services: copying, printing and job-search resources. The library recently received a $20,000 grant for additional computers.
But as with every library, books are at the heart of the facility. Twente said readers at the Springville Library accounted for half of the circulation of the St. Clair County Library System. The Springville Library is now independent.
"Per capita we were checking out seven items per person," Twente said. "People here like to read. They love the printed word. We have artists with no formal training who can do amazing things I could never do. I feel fortunate to live here."
The pace of life in Springville lends itself to a love of the written word and the arts.
"It's a very friendly place. It's a very charming place. People here love their community, but they also love their private time to pursue their interests."
The new children's annex was at different times the Springville City Hall and the local fire station. A huge bay window allows light to stream into the new annex.
"Keeping the downtown area alive is good for the downtown and good for the community," she said.
As for the Springville Museum and Archives, one of its featured exhibits is a piece from one of the World Trade Center Twin Towers, on loan from the Port Authority of New York. The towers were destroyed by terrorists Sept. 11, 2001.
While this month, the museum is celebrating classic Christmas decorations and toys, it's also building its collection of historical archives. Every Springville High yearbook has been preserved digitally. The museum is also working to preserve old newspapers and records, a treasure trove for historians and genealogists.
The museum, along with the historic preservation society, is working to preserve the old Rock School.
It was built in 1921, and "we're trying to renovate it and get it back to its former glory," Davis said.
The Springville Historic Preservation Society is also working to restore a building known as "The White House" for use as a welcome center.
These efforts, aimed at preserving Springville's past for the future, are another facet of the character of the town. The museum staff is a cadre of volunteers working without pay.
"The people, when needed, will join forces together to help each other, and most of the people who've lived here all their lives and even the people who have moved in have a strong love for Springville. They are really dedicated to their town.