When it comes to 'cue, St. Clair joints are smoking hot
Story by Elaine Hobson Miller
Photos by Wallace Bromberg Jr.
It was the Year of Alabama Barbecue, a year that had the state's Tourism Department asking, "Whose 'cue is best?" Its online contest pitted barbecue joints from across the state against each other in five categories. When the smoke finally cleared, two St. Clair-area restaurants were among the victors. Charlie's BBQ of Odenville won in The Dives division, and Rusty's Bar-B-Q in Leeds came out on top of The Mom and Pops category.
Alabama has more barbecue joints per capita than any other state, according to the tourism department's web site. Everyone has his favorite, and the contest proved to be a competition between the fans of each hickory-sweet restaurant.
"Three years ago, we invited barbecue fans to post on our website their favorite barbecue place," says Lee Sentell, director of the Alabama Department of Tourism, explaining how they came up with the contest and categories. "We got about 300 suggestions. This past year, we decided to level the playing field between the different types of places so as not to have the single locations at a disadvantage versus the ones with multiple locations. We came up with five categories that ranged from Mom-and-Pops to the big boys, like Full Moon and Jim 'n Nick's, and encouraged people to vote in each division. We were blown away with the number of fans who became engaged in the voting."
Sentell says the competition demonstrated the depth of loyalty that each restaurant has. "Customers are so proud of their favorites and voted as often as allowed to show their support."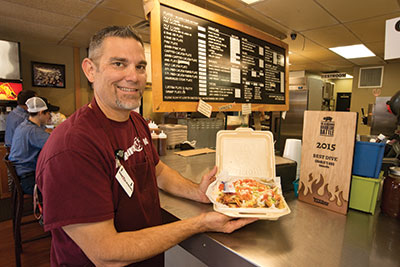 Charlie's a fan favorite
Scott Holmes didn't even know Charlie's was in the contest for several days. "We have a big Facebook and Twitter following," he says. "The fans stepped up." Charlie's beat out nine other barbecue joints with 12,867 votes. The second-place winner had 9,644 votes, and the remaining eight garnered less than 4,500 each.
Holmes thinks his location at the corner of US 411 and Alabama 174 South, in front of the Piggly Wiggly grocery store and adjacent to a service station, probably placed him in the right category. "If you're a barbecue place in Alabama attached to a service station, you're probably a dive," he says.
Charlie's opened in November of 2008. Scott ate there twice a week, and tried to talk the original owner, Charlie Wiles, into teaming up for a barbecue venture in Moody. But Charlie was ready to retire. Both parties prayed about the situation, then Holmes bought the place and switched from painting buildings to cooking 'cue.
"I like food," he says, explaining why he made the move. "I was a commercial painting contractor, but when the economy tanked a few years ago, I wanted to open a barbecue joint." Although Charlie taught him how to smoke ribs, he's mostly a trial-and-error, self-taught chef who says he was fortunate to find an established restaurant with recipes, personnel and products already in place. The secret to his success, he says, is in the way he prepares his 'cue. "We smoke our meats. Not everyone does. Others grill them. We don't use rubs or injections on our pork butts."
His biggest seller is the pork sandwich combo, which features meat, bread and two sides. Chicken tenders are a big deal, too. "Odenville is not big enough to support a barbecue restaurant," he says. "So we also do 'burgers and tenders. Thirty percent of our sales are in chicken tenders. We also do hamburger steaks and fried catfish. We have something for everybody, but we pour our heart and soul into barbecue."
He features off-the-menu specials, too, such as briskets on Wednesdays and Saturdays, and the Saint Burger, a nine-ounce, hand-formed, greasy ground beef patty named for the county's high school football team, on Thursdays. "Briskets are our signature dish," he says. "We smoke six a week. A brisket is the chest muscle of a cow, and it's hard to do. We cook them up to 16 hours to get them tender." There's a different special every Monday, such as the popular Soul Bowl, consisting of a bed of garlic cheese grits layered with turnip greens, pork and a cornbread muffin on top.
Part of his chef's education was a trip to Texas he took four years ago, when he tasted at least a dozen different briskets from Houston to San Antonio. "We're unique at Charlie's, because we have a little bit of every style of barbecue," he says. "We have Texas brisket, Kansas City burnt ends (from a brisket) and Memphis-style barbecue, which uses a dry rub and no sauce."
Another specialty is the St. Clair Cyclone, a soft-serve ice cream treat with chopped Reese's Cup, Oreos or Butterfinger candies. "Our Otis Burger has a huge following, too," he says. It's a double cheeseburger with sautéed onions and Otis Sauce, the latter being a gravy sauce.
A person's taste preference for barbecue styles and sauce flavors depends on what he grew up eating, Holmes believes. He makes five different sauces: hot, medium, sweet, vinegar-based and a white sauce. His primary barbecue sauce is made with both vinegar and ketchup. He makes all sauces in-house. He does his major smoking during the night, removing the pork butts and briskets each morning and throwing on chicken and ribs.
Charlie's is open Monday through Saturday from 10 a.m. until 8 p.m., and does catering as far away as Pelham to the south and Anniston to the north. Originally open weekdays only, he added Saturdays about three months after he took over, and now that's his biggest day. "Iron Bowl Saturday we sold 120 pounds of chicken wings, which we marinate, smoke, then fry to order," he says. "They were mostly to go."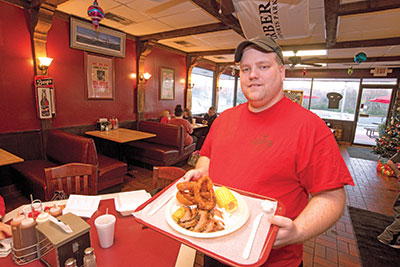 Rusty's builds barbecue following
Rusty's Bar-B-Q gathered 28,637 votes to second-place's 21,369 votes to win The Mom and Pops category in the Alabama Barbecue Battle. The remaining eight contestants had less than 3,000 votes each.
Rusty Tucker started his restaurant seven years ago in a 1970s Jack's Hamburgers location on US 78 in Leeds. His decor, which could best be described as "continuing customer donations" because that's what they are, includes concert posters for Hank Williams and the Drifting Cowboys, the Blues Brothers, Jimi Hendrix, Led Zeppelin, Elvis and the Allman Brothers Band. Vintage metal signs proclaim, "Fresh Eggs 10 cents" and "El Rancho Motel," while others display a pin-up girl beside a bottle of Pepsi or advertise Mobilgas. Thermometers take their places on Barq's Root Beer, Royal Crown Cola and Buffalo Rock signs, and an American League World Series poster from October 1903 has a place of prominence.
An autographed photo of professional race car driver Ryan Hunter-Reay, whom Rusty calls a good friend, and his pit crew, dominates one wall, while other walls display road signs advertising 7-Up, Nichol Kola and Uncle Sam. A trombone and trumpet flank the top of the doorway leading to a hallway and restrooms, while his most recent "gifts," Honda, Suzuki and Kawasaki motorcycle gas cans, take up a countertop next to that doorway. "People bring them to me," he says of all the vintage finds. He feels obliged to display them.
Tucker grew up cooking barbecue with his dad. He went to Johnson & Wales University's College of Culinary Arts at its former Charleston, SC, campus, and gravitated toward fine dining in places like the Charleston Grill. Working his way back to down-home cooking, he was at Satterfield's in Cahaba Heights before returning to his roots. "I love it," he says of running his own business. He's open from 10:30 a.m. to 8 p.m. Sundays through Thursdays,10:30 a.m. to 9 p.m. Fridays and Saturdays, serving lunch and dinner only. He does lots of catering as well, particularly for nearby Barber Motorsports Park events, UAB basketball and Regions Bank's Traditions golf tournaments.
His most popular menu item, and his signature dish, is his ribs. He also does a lot of pulled pork and hamburgers, plus smoked chicken, turkey, briskets and sausage. "We do a more traditional style barbecue — open-brick pit instead of a smoker. We make four kinds of sauces, including a tangy vinegar that's a variation of my granddad's recipe, a sweet barbecue sauce, spicy and white barbecue sauces." The white sauce is a mayonnaise and vinegar mixture that goes well with the turkey and chicken. "It's a North Alabama specialty," he says.
He also does chicken tenders, hamburger steaks and barbecue-topped baked potatoes.
"People come in and say they found us due to publicity from the tourism department contest," Rusty says. "We were featured in its Delicious Road Trips documentary, and we've participated in events like the Atlanta Food & Wine Festival that promote Alabama tourism."
He gets a lot of repeat customers, many of them in town for the annual Barber's Vintage Festival, plus Indy car drivers. He has developed relationships with people from coast to coast, keeping up with them on social media. "There's a group of about 10 guys from Japan that comes into town for Barber motorsports events," he says. "I can't talk to them, but they're nice guys." When he first opened seven years ago, he had a group of 25 guys from France, all Mustang enthusiasts.
What's Rusty's secret to attracting a following from across the globe to just around the corner? "We try to treat everyone like family."