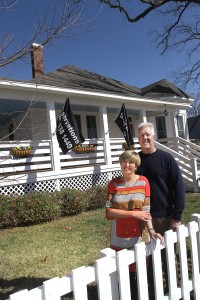 It's about the history; it's about the fine food
Story by Carol Pappas
Photos by Jerry Martin
Mark and Melissa Brooks drove past the old house with the "For Sale" sign on a corner of Pell City's downtown First Avenue a few times before they ventured inside.
They kept looking at the house with the long, covered front porch and an unmistakable character of days gone by that beckoned them inside.
"It would make such a good café with that big veranda out front," Melissa recalls. So they stepped inside Pell City's second oldest home to see. "When we looked at the front room, we both looked at each other and knew we were going to buy the house."
By Halloween 2012, the same day Mark retired from the U.S. Navy as a Captain one year before, they closed on the house and began fulfilling Melissa's dream of one day having a café. In March, it opened as The Garry House Café, named for the family who built it in the early 1900s.
It was owned by Solomon Garry, a Lithuanian Jewish immigrant who moved to Pell City. His son, Jake, owned a mule and cart business in the 1920s. Not much more is known about the house's history other than it is the second oldest — behind the Riser House, they say, encouraging anyone who has more history about it to share.
Australian-born Melissa talks about the house, not as a thing, but as a person. After months-long renovation by the Brooks, their work breathed new life into it. "Now she will have been here longer than she would have been."
It began with a vision to "revive this grand old house," says Mark. "We wanted to bring to downtown what it doesn't have. Then she told me she always wanted to do a café," and that was it. The journey to restore it began. When he was commander of the jet training air wing, Mark says he and Melissa hosted "pre-Winging socials" at their quarters on the base — a similar house from the same era as their new find in Pell City. At the socials, they offered quite a fare for families of pilots about to get their gold wings to be fighter pilots. They came from around the country and throughout the world.
"Melissa is a phenomenal cook," says Mark. "She did all the cooking. We hosted more than 2,000 people over two years."
That culinary precursor led the couple to The Garry House, Mark says of the day they made the decision to buy the house. "Let's do what you always wanted to do," he told her. "So here we are."
A row of Garry House flags, seemingly proclaiming its rebirth, line the edge of the rooftop, immediately catching the attention of passersby. A white picket fence encases the front yard and walkway to a wooden staircase that ascends to a step back in time.
Intimate, white-tablecloth seating on the covered front porch gives diners an al fresco alternative to their meals. Inside lie two large front rooms with bay windows, oversized artwork by Nettie Bean adorning the walls and hinting at just how special this place is. Hardwood floors, white tablecloths and high-backed, black leather chairs only add to the richness and warmth of the home.
"Toly," a 2-foot wooden statue stationed at the top of the hallway says it all through the sign he holds: "Welcome to The Garry House." Toly was a find from a famous restaurant in Melbourne, Australia, Tolarno's Bistro, the first of its kind in the arts district of the city.
The Brooks are hoping to have their own "first" in Pell City, and as you make your way through, it is easy to envision it. Just down the hallway are two more dining rooms — one with more of a female style; the other a bit more masculine.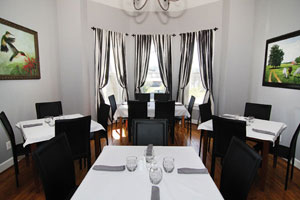 The "more girl-like room" features monthly exhibits of artwork from the Southern Cultural Arts Foundation, a side bay window ushering in plenty of light. Melissa suggests this room for ladies luncheons, afternoon teas, bridge and other special events. The "guy-like room" is dressed in black and white — from the curtains to the tables and chairs to the black and white photographs by Wallace Bromberg that line its walls. It is perfect for lunch business meetings, she says.
While the whole café can seat 64, it can all be converted for use as a stand-up reception.
It is obvious the ideas, the planning and the vision are well thought out from one end of the home to the other.
The Garry House's initial plans are to be open for breakfast and lunch Monday through Friday, offering a diverse menu that is not available elsewhere in the region.
In the land of 'meat 'n three,' The Garry House Café offers options: "Fresh, local, nutritious, delicious" is its vision. "Everything is made from scratch. No deep fried," Melissa says. "And we are using as much local as we can. Everything is fresh, fresh."
Homemade granola, fresh fruit, caprese salad, signature salad with a homemade honey mustard dressing are but a few of the items you will find on the menu. The Garry House Café salad dressings and granola are packaged and available for sale to take home.
"Aussie Meat Pies" are a salute to her heritage, but she "Americanizes" what is traditionally seasoned ground beef in a pastry case. She makes hers into taste-tempting treats — the filling becoming beef and mushroom, boeuf burgundy or other possibilities only limited by the chef's imagination.
In the states, Mark explains, you might order a hotdog. In Australia, its counterpart is a meat pie. Adding a quick history lesson, Melissa says the meat pie tradition has English roots, where coal miners used them as hand warmers in their pockets and then ate them at lunch.
Breakfast pies include bacon and egg, or a zesty sausage and egg, always a favorite, or perhaps, a sausage roll.
In the future, the couple plans two special dinners per month — pre-set meals with wine pairings and tastings. "We may even have cooking classes," she says, noting that the goal of The Garry House Café is to be more than a restaurant. It is a place for special events as well.
With Cathy Powlas assisting Melissa with the cooking, Mark handling administration and maintenance, his sister, Allison Middlebrook, as front manager, and a top-notch wait staff eager to serve, The Garry House has the makings of something very special for Pell City and the region.
And that is just what the Brooks intend. "Unique, dignified, relaxing," Melissa says. Dining should be an experience — an event rather than simply a meal — and the Brooks aim to make that their daily special.