Good food, good friends and The Kitchen, a winning trio
Story by Carol Pappas
Photos by Wallace Bromberg Jr.
It's Thursday morning in Pell City, the sun barely peeking over the horizon to usher in another day. Inside the restaurant just off Alabama 34, Kat Tucker scurries in and out of the tiny kitchen, making sure everything is just right. It has to be, Kat insists. After all, it's breakfast time at The Kitchen, and she won't have it any other way.
Step inside, where they not only know your name, your order already could be on the grill.
"Want some more, Mr. Bob?" server Deb Horn asks a customer at a nearby table, as she pours another cup of some of the richest coffee around.
Conversations abound, whether its server to customer, table to table or Kat just sharing an anecdote to which the entire restaurant is privy.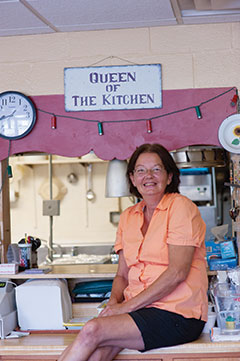 "Here you go, honey," Kat says as she sets a picture perfect plate of scrambled eggs, crispy bacon and toast in front of a regular at another table.
Her daughter, Sara Tucker, and Sara's fiancée, Justin Peacock, who help out, add to the family atmosphere that defines The Kitchen.
There's no white tablecloth at this restaurant, but be assured that the Eggs Benedict at The Kitchen rivals any at fancier establishments – even with stars following their name.
Quality is her specialty, whether it's the name-brand products she uses or the fresh produce she selects herself. "Kerry Joe (Foster) knows how particular I am about my tomatoes," she says, referring to the fresh produce stand he runs just up the road. "I want you to have the very best I can give you. I search out quality."
In Pell City, a stone's throw from Logan Martin Lake, you'll find Kat and her crew serving up that quality with some of the best breakfasts (and lunches) Tuesday through Sunday, a tradition that started 15 years ago this month. She even has special dinners featuring steaks fresh from an outdoor grill on selected Saturday nights during warmer weather, which draw crowds from near and far.
A storied history
Her foray into the restaurant business was quite by accident. Her sister and her sister's husband were interested in buying the popular Pine Harbor community eatery from Rita Engelbrecht, when it was known as Rita's Kitchen. Before that, the late Pop Wyatt had a successful run there as Pop's Barbecue.
Turns out, her sister really didn't want the restaurant, and the option fell to Kat, who had been helping "Miss Rita." The late Ray Cox, who was president of Metro Bank, was eating in the restaurant one morning, and Kat asked him about the prospect of her buying the restaurant. "From a business standpoint, you tell me," she recalls her request of his expertise.
" 'I think you can do this,' " Cox told her. He cited her military background – 11 years of it – as a plus. And, she took to heart this bit of sage advice from him: 'Whether it's a good day or not, give it 110 percent. As long as you can do that, you'll keep it viable.'
There's no mistaking the extra percentage of effort on her part, no matter any day you walk in the door. And the viability part? Well, 15 years should put an exclamation point on that goal.
"If I feed you more than one time a week, you're a regular," she proclaims. "It's not just about people walking through the door. I know their family, significant others and friends. They're like family. Everybody knows everybody."
Newcomers? Not for long. "By the time they leave, we will know their name. They will feel comfortable, like sitting down at the table at their house. They'll talk just like we've know them all their lives."
That concept is key not only to the restaurant's success story but its name as well, Kat explains. "If you're going to someone's house, people always migrate to the kitchen. That's the atmosphere I wanted to create." Hence, the name: The Kitchen.
Perhaps that's why you'll see a coffee mug tree attached to a wall with her regulars' own coffee cups hanging nearby. It's a symbol of the 'make yourself at home' atmosphere that abounds in this place. Her customers seem to have a sense of ownership, even if their investment is only the price of a meal. A table in the corner is evidence of that. It sports a napkin holder with a photo of a group of men, who grab a seat there every Thursday morning to share laughs, swap stories and, of course, dine on 'the usual' at where else, 'our table.'
And 'the usual' even extends to Amber, the Labradoodle that sits in a truck outside, not so much awaiting the return of her owner as the treat Kat takes to her every Thursday. "Today is bacon day," Kat says, as she heads out to the truck, Amber's aromatic treasure in her hand.
"It belongs more to my customers than to me," Kat says. "Without them, I don't need to be here."
"It mirrors the lake community," said Dr. Randal Robertson, noting the diverse backgrounds that come together there for a morning of fellowship, good food and outstanding service.
Ed Tyler, whose ham radio group meets, eats and greets there weekly, calls it "a neighborhood restaurant, where they not only know my name, my coffee is here before I ever get into the chair. When you think of a restaurant, you think of a building. It's the people, the owner and the staff that make it what it is."
And that's what makes this kitchen, "The Kitchen.".