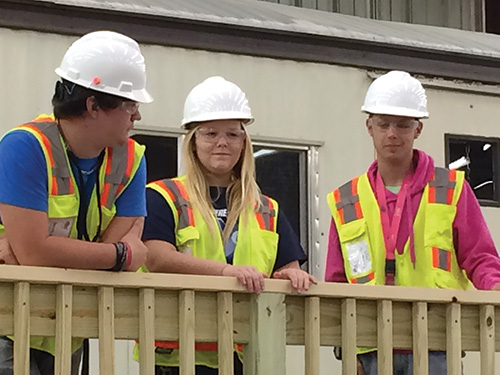 Pell City schools setting example with workforce development
Story by Graham Hadley
Photos courtesy of Pell City School System
When it comes to preparing high school students for entry into the workforce, the Pell City School System is doing everything it can to stack the odds in its students' favor.
Part of that process is the system's continuing partnership with the St. Clair Economic Development Council, Jefferson State Community College and local businesses in a regional workforce development initiative, but a large part of it is the result of the system taking internal measures to embrace a broader view of the role of education in students' lives.
"The key to it is having a team of people who can get information to the students because they hear about college and they hear about jobs, but they do not have a working knowledge of the steps they need to take to get a good job or a career," said Pell City Schools Curriculum Coordinator Kim Williams.
"The second part of it is the training opportunities that go along with those jobs. Just having a team that can provide the knowledge to those students is essential."
The efforts have paid off, not just for students and the school system, but for the community, especially for businesses and industries hungry for a well-trained workforce.
Danielle Pope, one of the Pell City High School teachers focusing on workforce training, said the success of the program did not happen overnight — it was a steady progression over the past few years.
"We went from what was originally called co-op classes to paid internships, and the process continues to progress," she said. "The community has really gotten behind what we are trying to do. We have about 60 community partners between apprenticeships and internships.
"And we keep getting better quality internships that are more career-track based. It lets the students look at more long-term options."
Many schools have some form of career prep, with a later focus on admission to a four-year college.
"Most schools do career prep in the eighth- and ninth-grade — but it is not very relevant to students at that age. Then for juniors, the focus is on college, looking at things like the ACT test and how to get their scores up," Pope said.
And both Pope and Williams said college prep is still a very important part of the curriculum at Pell City, but they also are making career prep a priority to provide options for all students post graduation.
"We have AP and online classes – we have a strong core academic offering for that. The classes we have do a good job preparing students for four-year college. And we have a plethora of students following that path," Williams said.
"But our data points to 40 to 45 percent of our students will finish their first year of college – that's on track with data for the rest of the state. That leaves 55 percent of students who need a viable pathway to a career. They need to find a good career, and that happens through two-year colleges, career centers or workforce development."
According to the other partners in the training programs, Pell City's efforts have been an unqualified success, with students placed in every branch of the regional workforce, from medical offices to major construction and industrial companies.
Williams said their program worked because of the level of commitment from everyone involved as the system implemented and continues to implement more and more job-training options into the curriculum.
"Success comes from the top. Superintendent Dr. Michael Barber has been completely supportive in these programs. … Dr. Barber and the school board have been very supportive in letting us explore ways students not going into formal post-secondary academic settings can get jobs," she said.
"There was a big push in Alabama for workforce development, with big bond issues from the state focusing on that. … Then, as far as the Pell City community goes, we have had business leaders all saying we need a skilled workforce, skilled training programs in our area to meet workforce demands."
And those leaders have been more than willing to help put Pell City students to work.
"Then we have the EDC recognizing that need and working with David Felton, program coordinator and advisor at Jefferson State's Manufacturing Center," someone Williams and EDC Assistant Director Jason Roberts credit as being a key player in coordinating the community college's role with all the other participants.
"We have all these entities in the community recognizing this need, and the school board and superintendent recognizing the need. If you don't have key leadership positions buying in behind the program, it won't be a success," she said.
The other side of that are the hands-on educators and staff in the system like Williams and Pope who make the classes and programs work and continue to grow.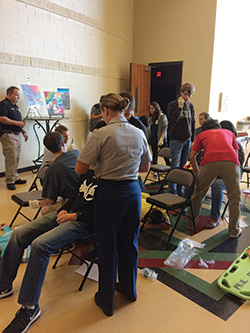 "We have a career coach this year, Shelley Kaler. Our counselors have a lot on them administratively – testing, college applications and all the other essential ways they help our students every day. So, Shelley is devoted to helping students figure out what they want to do — especially students who do not know what they want to do," Pope said.
"She is singularly focused. I think having someone on board who can help students in that one way is very important," Williams agreed.
Pope added that Kaler's position is particularly helpful for students who may not be on a four-year college path.
"She has taken a lot of those kids and said, 'Let's get you in a place that has benefits and good pay, where they can start building a career.' Those are often places that also have tuition assistance for students who may want to explore post-secondary education options while they work," Pope said.
In addition to that guidance and classes that can help students graduate with certification in everything from welding to medical fields, the school system also goes the extra mile to put the students together with the people who will eventually be hiring and training them.
Pope has spent years attending meetings and conferences, making the connections with business leaders, getting their feedback on what they expect from graduates looking for work and also convincing those leaders to take a more hands-on role in the education process.
"This year we are trying to figure out a way for students to get in contact with people in different industries. We did do a traditional job fair for seniors, but we also had career discussions in the medical, construction, industrial, city government and public safety fields with those leaders, including the city manager, police and fire chiefs," Pope said.
"Partners would come in and have a panel, tell how they got where they are. Students could ask questions — and our students did a really good job asking questions, and they could stay after and talk to the panel participants."
The students also got the opportunity to do mock interviews with the employers who might be doing the real interview one day. That was so successful that the school actually had one student hired from a mock interview.
Pope said the response from the students has been positive. But, just as important, the partners have also been impressed with the students and the efforts the school is making.
"The feedback from the representatives who came was positive. They kept saying, 'I did not have anything like this when I was in high school,'" and they wished they did, she said.
"Between 20 to 30 business reps took part this year, with juniors and seniors taking part from the school. We got a lot of good feedback from people in the community — people who want to do this."
The school system has been focusing in the highest demand areas: industry and manufacturing, construction and medicine. But they are continually adding classes, with pharmacy tech, information technology and other areas becoming more in demand.
And because of partnerships with Jeff State and local businesses and a program initiated by the state that allows people like firefighters or accountants to become educators certified to teach their specific areas of expertise, many of the classes being taught can lead to some level of skills certification at graduation.
"We had six students pass their pharmacy tech certification at the end of the year this year," Williams said.
"It has been a team effort," Williams said. "Jeff State has the resources to supply the training. Businesses have the need. The EDC looks after the overall economic health of the community. The superintendent and the board support our programs," she said.
"Everyone is on the same page, sharing the same vision."