Alabama Humanities launches Bicentennial exhibit in Moody
Story by Jackie Romine Walburn
Photos by Michael Callahan
Forward thinking and a prompt application helped St. Clair County become the first stop for the 18-month tour of Making Alabama. A Bicentennial Traveling Exhibit, an impressive blend of state history, culture and humanities.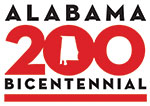 After its debut in Montgomery in March 2018 at the state's capitol, it begins in April of 2018 in the City of Moody and Lee and Wilcox counties and continues through November of 2019 en route to all 67 Alabama counties and the official 200th anniversary month of Alabama's statehood.
That St. Clair County is a year older than the state – having been created as a county by the Alabama territorial general assembly on Nov. 20, 1818 – is a happy coincidence that local planners had in mind when they quickly applied to host the traveling exhibit "as early in 2018 as possible," says St. Clair County Bicentennial chairman, District Judge Alan Furr.
The timing means that the county will be celebrating its bicentennial as it hosts the state's first 200th birthday party. Alabama officially became a state on Dec. 4, 1819.
"Because St. Clair County was formed prior to statehood, we believe our hosting of the state exhibit as it begins its trek throughout the state is significant," the judge says. "And, because we are celebrating our county bicentennial during 2018, being able to host the state exhibit during 2018 enhances our own local celebratory efforts."
The new Moody Civic Complex met all the venue requirements and will be the site for the exhibit. It is being presented by the Alabama Humanities Foundation with support from the Alabama Department of Archives and History, the Alabama Bicentennial Commission, corporate sponsors, individuals and organizations across the state.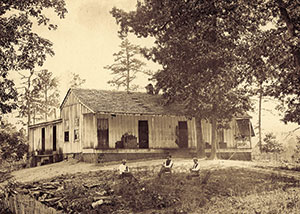 Making Alabama will travel to each of the state's 67 counties, where local exhibits created by host communities will showcase each county's role in their own story of Making Alabama.
Planners in St. Clair County anticipate that the St. Clair story will include information and artifacts relating to Andrew Jackson's residence at Ft. Strother, an 1813 fort – now a series of archeological sites west of Neely Henry Dam near the Ten Islands Historical Park in Ragland.
The fort near the banks of the Coosa River was used as a military supply depot and operations center for Andrew Jackson's Tennessee Militia during the Creek Indian Wars and as a local theater of the War of 1812. Other aspects of the St. Clair local exhibit may include construction of the first brick courthouse in Ashville, the county's mining operations and the importance of the Coosa River to the county and its communities.
"St. Clair County has a rich and diverse history," Furr says. A subcommittee including Furr and Ashville Archives Director Robert Debter, representing the county, plus Councilwoman Linda Crowe of Moody, Sherry Bowers of Pell City, Dr. Robert Harris of Springville and Nancy Sansing of Ashville is already working on locating materials and artifacts to tell the story of St. Clair County, an early Alabama county named for General Arthur St. Clair, who was president of the Continental Congress.
Created from a portion of Shelby County when it was founded in 1818, St. Clair would eventually be divided several more times to create surrounding counties, first Jefferson in 1820 and Cherokee and DeKalb counties in 1836. Then Etowah County was born of a northeast section after the Civil War.
In announcing the order of the bicentennial exhibit, the Alabama Humanities Foundation noted St. Clair as the first stop, followed by Wilcox County in the Alabama Blackbelt, then Lee County in east Alabama, a triangle of counties in distinct sections of Alabama.
"These three communities stepped forward early to become part of this historic event, and we thank them for their eagerness to get involved in the celebration of our becoming a state," said AHF Executive Director Armand DeKeyser.
As a partner in the Smithsonian Museum on Main Street Program, AHF recognizes the value of exhibits like this coming to communities in Alabama, DeKeyser says. "It's an opportunity they and their citizens won't soon forget."
In addition to developing the local exhibit, the St. Clair Bicentennial committee that Judge Furr chairs has a list of tasks to make sure the exhibit's up to three-week engagement in St. Clair runs smoothly and is staffed by local volunteers to serve as exhibit docents.
Plus, committee members – representing St. Clair's towns and communities – have related tasks and projects to complete in the next year. These include documenting historic markers, local festivals and historic tours, developing a local speaker's bureau and bicentennial T-shirts, planning a gospel sing and establishing and publicizing a calendar of events surrounding the county and state celebrations.
A cross section of residents in St. Clair County make up the Bicentennial Committee in addition to the subcommittee. They are: Shirley Phillips of Argo, Charlene Simpson, Rena Brown, Loretta Moore, committee secretary Elizabeth Sorrell and Eloise Williams, all of Ashville; Gaye Austin and Patsy Spradley of Moody; Joe Whitten, Brenda Riddle, Ann Coupland and Jennifer Forman, all of Odenville; Danny Stewart, Deanna Lawley, vice chair Gaston Williamson, Latoya Orr and Andy Eden, all of Pell City; Marie Manning, Pat Ford, Gerri Bunt, Sandi Maroney and Jerry Sue Brannon, all of Ragland. Gary Hanner of Riverside; Nancy Tucker and Carol Waid of Springville and Rosemary Hyatt and Sharon Ingle of Steele.
Making Alabama: A Bicentennial Traveling Exhibit will feature eight periods of history that defined Alabama as a state and the decisions and turning points that shaped what the state would become and will be, according to the websites promoting the Bicentennial celebration.
They are:
Pre-history to 1700, natural environment and an introduction to the exhibit.
1700-1815: The Creek War and Statehood
1815-1860: Settlement and Slavery
1860-1875: Secession, Civil War and Reconstruction
1875-1940: Political Power and the Constitution of 1901
1940-1965: World War and Civil Rights
1965-1990: Economic and Social Adjustment
1990-2020: Our Alabama
On May 5, the three-year Bicentennial celebration kicked off in Mobile, near the site of Alabama's first state capital, St. Stevens, with another historic first – an introduction by Gov. Kay Ivey, Alabama's first Republican female governor. "Why is it Alabama is sweet home?," she asked the crowd. "Because of the innovation and fortitude of our people."
That innovation and fortitude will be honored and celebrated throughout Alabama over the next two and half years. In 2017, the theme will be "Exploring Our Places." In 2018, Alabama will "Honor Our People," and in 2019, the state will "Share Our Stories."
Alabama Humanities Foundation and St. Clair County will follow suit with celebrations of their own through this traveling exhibit.
Through interactive displays, historic photographs, art and narratives that delve deep into Alabama's history and the people – some known, some not-so-famous – Alabamians and St. Clair Countians alike who helped shape that history.
The state exhibit is expected to tell the stories behind the stories about the people, places and cultures that made a difference in Making Alabama.
"St. Clair, a county older than the state, is an integral part of that story," Furr said, "and we are proud to be a part of launching this historic exhibit."
Editor's note: For more information and resources associated with the exhibit, go to www.makingalabama.org. For more on the Bicentennial celebration activities throughout the state as well as resources, go to www.alabama200.org.