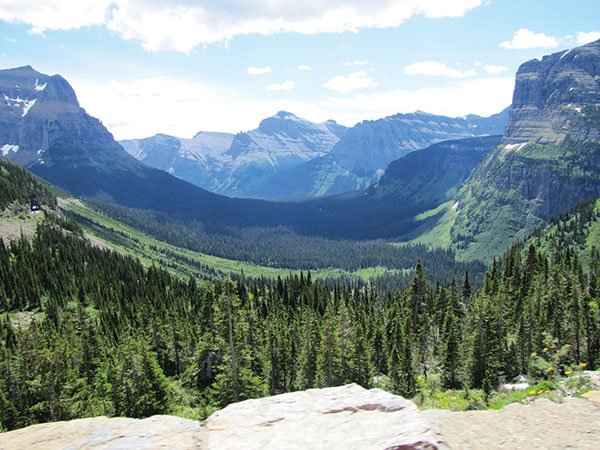 Wonder of Canadian Rockies fulfills 'bucket list' for Pell City group
Story and photos by Carol Pappas
Submitted photos from Friends Bound for New Horizons
I heard the phrase so often along the way, the name just stuck. It was indeed a "bucket list" trip, the descriptor made famous by the 2007 Rob Reiner film starring Jack Nicholson and Morgan Freeman – a list of things you need to do before you 'kick the bucket.'
As we made our way through the Canadian Rockies, it was almost as if you could hear the sound of each member of our group – pencil in hand — crossing it off of their own list.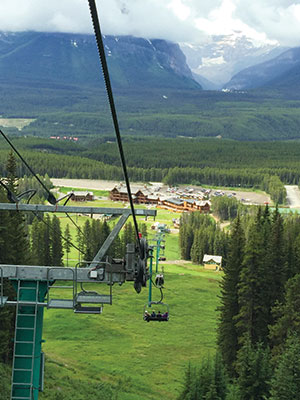 The trip was part of an annual trek by Friends Bound for New Horizons, a group formed to travel the world while helping raise money for the Pell City Schools Educational Foundation and the Pell City Library. What an intriguing concept. Through travel, we learned our own lessons about the world, which in turn, will in myriad ways provide resources for children and adults alike to learn about the world.
These 'friends' came from Pell City, Atlanta, Jasper, Trussville, Talladega, Calera, Charleston, S.C. and Centre. They were friends of friends and strangers who all became friends in the end, brought together by their bucket list bond.
Pell City's Deanna Lawley, a member of the education foundation board, captained the trip. A retired teacher, her passion for learning – and teaching – cannot be disguised. Her unmistakably well-researched anecdotes punctuated the narrative of our German-born guide, Karina. Together through the miles, they painted a story of this land, its mountains, glacier-fed lakes and its people that came to life for all of us at every stop along the way.
As Deanna puts it, Collette Travel, the company she partnered with to organize the trip, puts the "fun" in fundraising. In 2016, the trips had earned $25,000 for the community – teacher grants, enhanced library programs and support for the YWCA's Our Place shelter for abused women.
We began our journey in Calgary, Alberta Province, Canada. Mounties stationed at the airport were our first hint that something special was about to unfold before our very eyes. Looking in virtually any direction from then on, and a sea of cowboy hats met your glance. It was the eve of the Calgary Stampede, the world famous rodeo billed as "The greatest outdoor show on earth."
The Stampede had its beginnings in 1912, when Vaudeville performer and trick roper Guy Weadick pitched a six-day event to would-be investors called the "Frontier Day Celebration and Championship." According to the Stampede's history, he envisioned "a world-class rodeo competition that would celebrate the romance and culture of the "disappearing" Old West."
In July 2016, this world championship rodeo, extravaganza of events, entertainment, shows and a nightly explosion of fireworks, arguably second to none in the world, drew a cumulative 1,088,039 people over its 17 days.
We anticipated we were about to experience something special early on our first morning when the Calgary Stampede opening day parade marched through the immaculate streets of downtown Calgary. The pageantry, the impressive floats, the music and the pride of a country in its heritage were unmistakable as tens of thousands lined the sidewalks to get a closer look.
We were among them, wide-eyed as the rest.
Donning our own white cowboy hats, our group then headed to the Stampede, joining the opening day chorus of 'oohs and ahhs' from attendees, mesmerized by everything from world class bucking competitions to barrel racing to name brand musical entertainment under the stars. A fireworks show like no other shot across the Canadian sky that night, offering its own exclamation point to an unforgettable day.
Movin' on up
Early the next morning, it was time to move on to higher ground, but not before a breakfast spread worthy of even the hungriest of cowboys and a shot size sampling of a Bloody Caesar, a Clamato juice cocktail concoction invented in 1969 at our very hotel, the Calgary Inn, now the Westin. It was originally created as the hotel's signature drink in celebration of its new Italian restaurant at the time.
Aboard the motor coach with everyone accounted for, we were off on our adventure. Next stop: Head-Smashed-In Buffalo Jump, located where the foothills of the Rocky Mountains begin their rise from the prairie.
The name and the subject matter are none too palatable, but their historic value in how First Nations (akin to our Native Americans) hunted its game is nonetheless interesting. It involves the stampeding of a herd of buffalo to the edge of a cliff, but I don't think I need to finish the story for you.
High atop, though, the scenery is spectacular and illustrates some modern day applications along with the storied history. A mule deer wanders nearby as you take in the panoramic view of prairie land, an iridescent blend of green and gold plants that will eventually become canola oil. A contraction of Canada and ola, meaning oil, it is the world's only Made in Canada crop.
Wind turbines off in the distance tell the story of the push for clean energy.
According to the Canada Wind Energy Association, the country has 259 wind farms and 6,066 wind turbines. They produce 5 percent of Canada's domestic electricity demand, which is equivalent to 3 million Canadian homes powered by wind.
Back down the mountainside and into the town of Fort McLeod for lunch, a noon time march of mounted police through its main street was an ideal dessert.
Scenic drive
We headed toward Waterton Lakes National Park. Parks Canada describes it as the place where "the prairies of Alberta meet the peaks of the Rocky Mountains…Clear lakes, thundering waterfalls, rainbow-coloured streams, colourful rocks and mountain vistas await hikers and sightseers. With an exceptional diversity of wildlife and wildflowers and a cozy little waterfront town to serve as a home base, Waterton packs a big natural punch into a relatively small and accessible area."
Postcard perfect views there and along the way were nothing short of awe inspiring. At Waterton, where we would spend the night at the Prince of Wales Hotel, snow-capped mountain peaks towered over deep blue water. The multi-story glass windows overlooking it all from our lodge framed the entire scene perfectly.
Waterton Lakes is the Canadian side of Glacier National Park in Montana, and we ventured back to America the next day to see it. We made our way to Logan Pass, elevation 6,646 feet, along the Continental Divide and at the summit of the Going-to-the-Sun Road. It is the highest point at which you can drive a vehicle.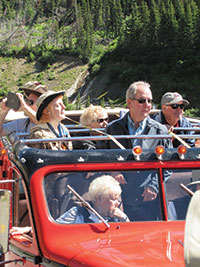 Our mode of transportation was in Red Jammers. These are specially designed vintage 1930s buses with four rows of seats. The fabric tops can be rolled back on pleasant days for passengers to gain a better vantage point of the views as they head up to the pass. That day was a pleasant day in more ways than just the weather as we climbed higher and higher in our Red Jammers with incredible views all around.
Actually, the buses are called reds, and the bus drivers are called jammers because of the sound the gears would make when shifted on the steep roads. The "jamming" sound came from double clutching. The drivers would pause now and then at scenic overlooks and other points of interest like glaciers, waterfalls and wildlife. You could actually stand with your head above the open roof to snap a photo or two. "Prairie dogs up!," shouted by your driver, meant you could stand up in the vehicle, much like the prairie dog stands on his hind legs. "Prairie dogs down" warned you it was time to sit.
It became a running joke among our group when you wanted someone to stand up or sit down the rest of the trip.
On the way back as we talked over the majestic sights, we crossed the continental divide, thankful for what we had seen. It seemed the perfect spiritual moment for a blessing by fellow traveler Linda Prewitt and an inspiring acapella rendition of "Amazing Grace" by Donna Watkins. And it was.
On to Banff and Lake Louise
Up and out of the Prince of Wales Hotel early the next morning, we headed to Banff. I had seen photos of the Banff Springs Hotel, where we would be staying for the next three days, and the beauty of Lake Louise. A photograph simply cannot do those sights justice, but we all tried just the same.
Banff is a mountain town, quaint but bustling. The Fairmont Banff Springs Hotel sits high above, like a European castle carved into the mountainside. In fact, they call it "Castle in the Rockies." From the window of our hotel room, we overlooked the picturesque Bow River flowing between two mountain ranges with a dusting of snow on scattered peaks in the center.
The Banff Springs Hotel is a magical place. Built more than 125 years ago, its architecture inside and out is grand, luxurious and stunning. The next morning we were on our way to Lake Louise, but not before a stop at Ski Louise Lodge, where we rode a gondola – an open or enclosed ski lift – to the top of a mountain to get a bird's eye view of Lake Louise. The top was 6,850 feet above sea level. My sense of adventure kicked in unexpectedly, and I chose the open ski lift.
On the way up, we had a view of a different sort – a grizzly bear who seemed unfazed by the pairs of legs dangling overhead from the lifts. He seemed a bit more interested in foraging. We had a contest to see who got the best photo of the grizzly. Mine, of course, was the wrong end of the bear, and Jackie Reinheimer and Carolyn Hall emerged with award winning, full-faced grizzlies.
The stop at Lake Louise was as promised – breathtaking. Shimmering, turquoise water flanked by snow-covered mountains and a glacier that feeds into it, creating that precise color. It is hard to imagine a more impressive backdrop or a water's hue more vivid.
But in that same day, we visited Peyto Lake, seeing it from a perch high above. The turquoise color was as unbelievable as Karina, our guide, had said. She described it as looking as though someone had created that distinctly beautiful color of paint and poured it right into the lake below.
Walking on a glacier
Our final day of excursions was the perfect ending. Not much could top it. We walked on a glacier. There was no fear of falling through, though. It was 1,000 feet thick, the largest accumulation of ice south of the Arctic Circle.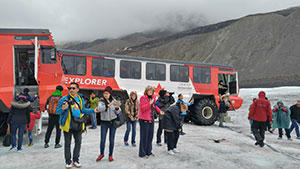 We started our trip early that morning, traveling on the Icefields Parkway. Along the way was a kaleidoscope of cliffs, waterfalls, rushing rivers, glacial peaks and snow covered mountain ranges. In short, all were sights to behold in awe.
We boarded Ice Explorers, bus-like vehicles with tractor-type tires as tall as we are. We inched our way down a steep incline of ice and slush and then up again to the glacier.
The Ice Explorer stopped, the door opened, and we descended, precariously making our way across the ice. Exhilarating, giddy, inspired…those are the first few feelings that come to mind as I recount the experience.
Karina waited at the top near a glacier stream, where you could fill a bottle with pure glacier water, the turquoise color its unmistakable signature. When we were on the motor coach, she had told us of her tradition – a shot of Crown Royal Canadian Rye on the glacier – "because I can't think of any place cooler to drink rye on the rocks."
A few of us, admittedly, found our way to Karina and had the most memorable toast in the most unforgettable place.
The next day we headed home, full of memories to last a lifetime and a bucket list wish fulfilled. l
---
Editor's note: To learn more about or join Friends Bound for New Horizons, contact Deanna Lawley or the Pell City Library.
Special thanks to fellow travelers: Steve and Judy Hager, Gayle Wood, Cherry Bass, Pam Foote, Barnett and Deanna Lawley, Lois Harris, Michal Hopson, Mike and Marion Lowe, Nan Strickland, Jackie Reinheimer, Carolyn Hall, Debbie Jordan, Billy and Kaye Cloud, Hilda Moon, Diane Ray, Randy and Donna Watkins, Bill and Judy Hardwick, Bill and Sandra Norton, Bill and Linda Prewitt, Steve and Donna Prewitt, Lewis and Ann Freedman, Dianne Cleveland, Barbara Money, Darlene Norris.