Young Hank Williams world premiere coming to CEPA
Story by Carol Pappas
Photos by Wallace Bromberg Jr.
At age 29, it hardly seemed enough time to become a legend. But Hiram King Williams, known to most as Hank, possessed an innate musical genius that propelled him to superstardom by the time he was 25.
For the man who garnered number one hits, Grammy Awards and the Pulitzer Prize, it was plenty of time to set the music world on fire, melt more than a few cold, cold hearts along the way and set the standard for country music to this day.
While much has been written about his life as a young man and celebrity, little has been penned about the boy born in Mt. Olive, Alabama, who grew up in Georgianna and Montgomery. Until now.
Nationally syndicated columnist Rheta Grimsley Johnson and playwright John M. Williams collaborated to bring Williams to life on stage once again, but not as the country music legend he would become. It's simply Hiram, the boy from rural Alabama who grew up during the Depression, picked up a guitar at the age of 8 and created music and lyrics that still touch the soul 60 years after his death in 1953.
The world premiere of Hiram, Becoming Hank Williams, comes to center stage at Pell City Center for Education and the Performing Arts, CEPA, Feb. 26-28. Its arrival in St. Clair County perhaps has as many twists and turns as Williams' life.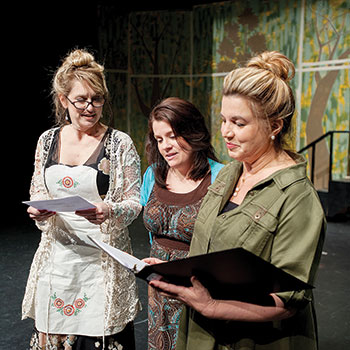 The play was first going to be booked at a theatre in Georgianna, home of Hank Williams' Birthplace Museum and where a festival takes place every year. Johnson, who wrote the book, Hank Hung the Moon and Warmed Our Cold, Cold, Hearts, had a book signing there. Museum Director Margaret Gaston wanted to take it further. "She envisioned a short play at the theatre in Georgianna," Johnson said, and Johnson was encouraged to write it.
Johnson called her playwright friend, John M. Williams, and they agreed to collaborate. "I knew Hank lore, and he knew playwrights."
But, the theatre closed, and Gaston mentioned CEPA Artistic Director Kathy McCoy, who had been a director in nearby Monroeville. "I give her (Gaston) a lot of credit for the idea – "What was the genius? Where did it come from? I am disappointed that Georgianna fell through for her."
Georgianna's loss became Pell City's gain. McCoy agreed to direct, and CEPA's board of directors welcomed the world premiere to its theatre.
Along the way, there has been a lot of work to craft the final version. "It went back and forth," writing and rewriting, said Williams. "We spent lots of time listening to good music," he noted, adding how that music had influenced Hank – Hillbilly, Blues, country.
"We wanted to recreate the South he was in," Williams said.
"Adapting the original play to stage was a challenge," McCoy added. "Music was involved, so we had to bring it all together."
Jett Williams no longer in the wings
Jett Williams, Hank's daughter, co-wrote a song especially for the play. Appropriately called, Hiram, the song will make its debut opening night – and Williams will be there. In a telephone interview from her Green Grove, Tennessee, home, Williams talked about the song, Johnson, her father's life and his influence that is still felt decades after his death.
She co-wrote the song with friend Kelly Zumwalt, and Corey Kirby, who plays Hiram, will be premiering the song.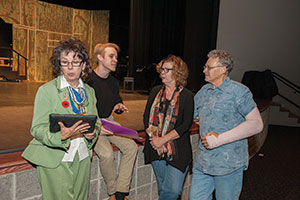 Jet Williams has a longtime friendship with Johnson, who first began writing in her syndicated newspaper columns about Williams' years-long battle to be recognized as Hank Williams' daughter. She devotes a chapter in her book about Hank to Jett Williams.
Jett was born to Bobbie Jett, with whom Williams had a relationship. Hank died months before her birth, but he had made arrangements for his own mother to adopt her. She did, but she died two years after the adoption. Jett went into a foster home and then was adopted again by a couple from Mobile and grew up as Cathy Deupree.
Jett said she met Johnson many years ago when her legal battles began. "She's a fabulous writer. She included me in one of her columns. From the first time I talked to her, she made no secret that she was a huge fan in love with Hank Williams. Other than loving Auburn (Johnson is an AU graduate), that would be it."
Jett talked about Johnson's book and how she was "always a champion for my dad – his music and his memory."
"We started out as reporter and subject. Now, we're friends," Johnson said.
Jett likes the angle of the story for this play, she said. "This is a different approach to Hank Williams," she said. "It's his childhood, discovering his talents and setting forth to live his dream."
So much has been written about his death or the Grand Ole Opry. "More has been written about that time of life," Jett explained. "This goes back to the beginning." Someone of his stature and genius "doesn't just wake up at 21 and say this is something I want to do."
After reading the script, she said, "I am proud of Rheta and Johnny. They did a great job. But reading the play and actually seeing it come to life – that's why I'm coming to Pell City. I want to see it jump off the paper and come to life. I am excited to see it on stage."
Johnson and Williams share the excitement of being able to tell this story. "He was born with this great gift, but there were influences," Johnson said. There was a blues influence, a spiritual influence and a honky tonk influence.
The blues influence on him was "enormous," Williams said. "He had this air all around him, a lot of influences on him."
"He put it all together," Johnson said, citing lyrics from Your Cheatin' Heart. "That's not unlike what the bluesman wrote about: 'Another mule kicking in my stall.' Nothing requires a footnote to explain what was happening in 1952" in his life.
Jett, who is a country music entertainer on her own and a producer of Unreleased Recordings of Hank Williams, earned a Grammy nomination for it.
She accepted the Pulitzer Prize for him. Take the lines from her favorite song, I'm so Lonesome I could Cry, and the genius is evident:
The silence of a falling star
Lights up a purple sky
And as I wonder where you are
I'm so lonesome I could cry
"Even with no melody," Jett said, "it shows you genius. The highest journalist award shows the greatness of the man from Alabama."
"Good music is good music," Johnson said. "The lyrics are so poetic, it's going to last. He's lasted. It's Alabama's best story."
---
Ticket information
Feb. 26 at 7 p.m.
Tickets, $22.50
$15, Students and Seniors
Feb. 27 at 7 p.m.
Tickets, $22.50
$15, Students and Seniors
Feb. 28 at 2 p.m.
Tickets, $22.50
$15, Students and Seniors (62+)
Buy online @ pellcitycenter.com.
Or call to reserve @205-338-1974
Feb. 25 at noon at CEPA
Book signing, program by Jett Williams and Rheta Grimsley Johnson
Reception to follow