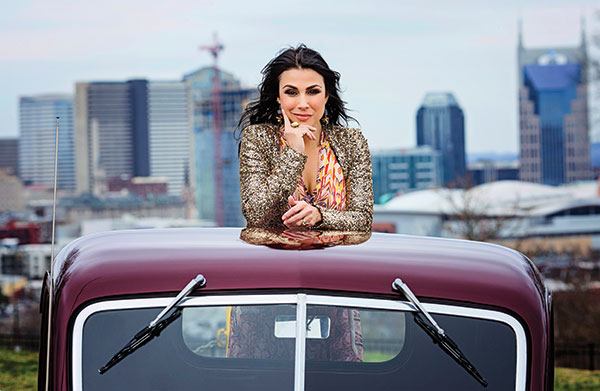 A legendary, lasting legacy, making her mark on air, world
Story by Paul South
Photos by Eric Adkins
Submitted photos
NASHVILLE, Tenn. — Not so long ago, Rachel Baribeau connected with a long-time friend from St. Clair County, the place Baribeau has called home since sixth grade.
"You're a legend around here, you know," the friend said.
"I was like, 'Whaaat?," Baribeau said. "It blew my mind."
The 36-year-old broadcast journalist's reaction may come as a bit of a surprise. After all, Baribeau hosts a sports talk show and has a regular gig on Sirius XM radio's College Sports Nation and a weekly column on GridironNow.com, covering big-time college football for a national audience. She's a Heisman voter. She was the first woman to fully participate in a professional football training camp, suiting up for the Columbus (Ga.) Lions of the American Indoor Football Association. She has a clothing line. She's a life coach and a motivational speaker. In the temporal world, that's heady stuff indeed.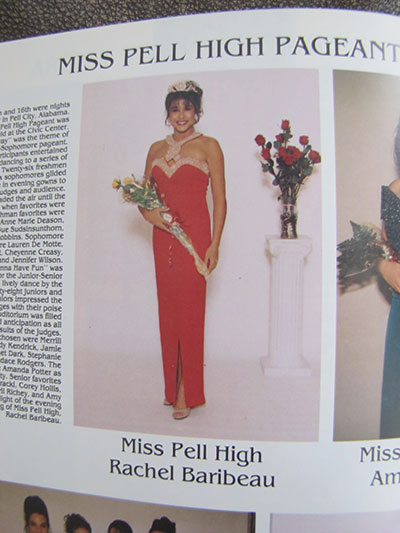 But in the tapestry that is Baribeau's life, the real currency, the anchors of her life, are grounded in timeless values – a devout faith, hard work, putting others first and serving them and measuring life by the hearts she's touched. As she tells it, she's just "a grain in the hourglass.
"As I've gotten older, it's really come full circle for me that people are my currency, and people are my richness," the Auburn University alumnus said. "In that sense, I'm a millionaire because I've come to know so many wonderful people."
To understand why Rachel Baribeau sees people, not material fame and fortune, as her source of wealth, it helps to know her family, especially her grandmother, Ophelia Maria Sifuentes Snow. For 60 years, "Opie" Snow served up cocktails and cold beer to unknown enlisted men and women and the world famous, like John Wayne, Paul "Bear" Bryant and Truman Capote at a watering hole on Victory Drive in Columbus, Ga.
Ophelia was a mix of humanity – a wondrous cocktail of Spanish, Mexican, Jewish and Mayan blood flowed through her veins. Today, that diverse DNA is visible in Baribeau's dark hair and eyes and olive complexion.
"She really loved people and loved all sorts of people. She loved the soldier in Columbus and the politician and the movie star and the prostitute all the same. She just taught me that people matter and that life is about people."
In Baribeau's professional life, she sees stories of people that the herd of journalists may miss.
"I had a writing instructor tell me, 'Rachel, when other people are looking one way, you look the other,' " Baribeau recalled.
One of her earliest broadcast partners, Max Howell, knows well Baribeau's knack at finding stories off the beaten path. Howell has been a fixture in sports talk in the South, working in Atlanta, Memphis, Birmingham and other major markets. He recalled Baribeau's concern over football-related concussions long before the NFL and the rest of the world took notice.
Baribeau offers a "unique voice" in covering the college football landscape, Howell said.
"She's very compassionate and has a lot of empathy for the kids," he added. "She was more concerned about the long-range people problems that evolved. To me, that was her strength. That's what sets her apart from the other co-hosts I had."
Lyn Scarbrough, a columnist and marketing director for Lindy's Sports Annuals, has been a guest on Baribeau's show over the years. Versatility is one of Baribeau's strengths, Scarbrough said, both in her professional life and in her faith and charitable work.
"She can do radio. She can do television. She can do print. She is knowledgeable. She's made journalism a passion. She's willing to take a risk. She cares that it be right, and that it be professional," he said. "In today's culture, it's not an everyday thing to find someone who has that combination of traits and beliefs and experiences. Not everyone has that combination."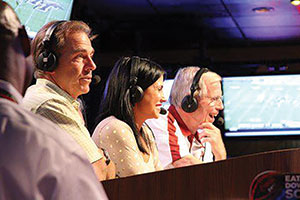 Baribeau, who has a deep religious faith, believes sweat, preparation and divine intervention help her find the stories she reports.
"My penchant for people has made people open up to me and to tell me these stories. I think there is a measure of divine intervention in that. The dots had to connect in a supernatural way," she said.
One of those supernatural connections occurred two football seasons back, when Baribeau convinced her editors at Bleacher Report that Mississippi State University and its quarterback, Dak Prescott, were forces to watch in the 2014 season.
She traveled to Starkville a week after losing her father to cancer. Dak Prescott's mother was waging her own battle with the disease. Before the interview, as Prescott opened up about his Mom's condition, Baribeau began to cry, sharing her own story of her Dad's passing. The two bonded, and Baribeau crafted a story larger than sport.
In January, Prescott was the MVP of the Senior Bowl. And Baribeau works with Prescott's family to promote a foundation that helps cancer-stricken family members of student athletes travel to see their loved ones play, covering travel and medical costs associated with the trips
"Other than with Tom Rinaldi (of ESPN), Dak had never opened up like that before," Baribeau said. "God really worked to orchestrate this meeting."
There are so many layers to the Rachel Baribeau story. She was adopted at 18 months old by David Baribeau, a veteran of the first Gulf War. With her platform as a sports journalist, she is an advocate for adoption. She works with numerous charities, raising $90,000 for ALS research in the wake of her story on former University of Alabama great Kevin Turner, who now battles the disease. She climbed Mount Kilimanjaro for ALS research. The climb is the subject of a documentary, narrated by NFL Hall of Fame player and coach Mike Ditka.
And along with her work as a journalist, she and her mother partnered in early 2016 to form a clothing business. The Joyful Fashionista is crafting fashions for women, ages pre-teen to 85 and of every body type, sizes two to 26. A bricks and mortar shop – Pine Mountain Loft and Gallery in Pine Mountain, Ga., — and websites on Facebook and Instagram, feature the fashion line.
"What better thing than to be a partner with your Mom — your best friend — and help women feel beautiful and do it at a very reasonable cost. We're not trying to break the bank for women who want to feel good about themselves."
What shines through in Baribeau's life is a boundless energy. Spencer Tillman, an analyst for Fox Sports, said Baribeau is "hardwired" for journalism.
"She pursues 'the story' because of her raw passion to win," Tillman wrote on Baribeau's web page. "She gets it right because she cares. She's like that proverbial drip that can wear a hole in a rock. I'd want her on my team."
That water of life has been passed across the years, from her grandmother to her Mom and adopted Dad. Powered by faith, the water is constantly flowing, methodically wearing away at the challenges of work and life.
And in an industry often driven by massive egos and major money, Baribeau's life is defined by a desire to help others, a fire stoked by those who shaped her life from its earliest days.
Female sportscasters like Phyllis George, Jayne Kennedy, Linda Cohn and Lesley Visser may have shattered the glass ceiling. A new generation, including Baribeau, have followed in their path. And while like a gifted architect on a Starbucks bender, Baribeau has crafted a diverse portfolio in journalism, fashion and life coaching. And it appears she's just getting warmed up.
But mileposts of accomplishment are secondary. Baribeau's faith-based priorities are different.
"To move to act, to love, to forgive and to give. That's what it's all about," Baribeau said. "You can have all the money in the world, all the accomplishments in the world. But at the end of the day, my eulogy is not going to be about the things I accomplished, but about the people I touched."