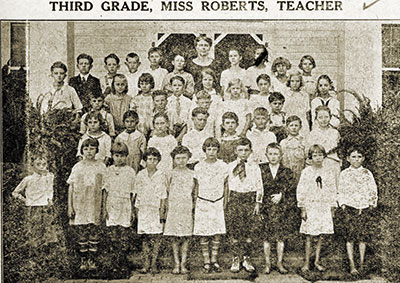 A 60-Year Legacy
Story by Carol Pappas
Photos by Wallace Bromberg Jr.
Photos courtesy Pell City Library Archives
Iola Roberts Elementary seems more of a tradition than simply a school. And its namesake would probably applaud that notion.
After all, Miss Iola Roberts more than earned her name on the school that has since seen generations pass through its doors. She set the standard that is still valued six decades later.
Present-day Iola Roberts School celebrated the legacy she left with an anniversary reception in late April, remembering 60 years of the school's history.
Iola Roberts will always be a part of the school beyond the name. Her portrait hangs in the school's lobby, seeming to keep a watchful eye on the school she loved and the students she nurtured and encouraged as if they were her own.
But step out of line, and the whack of a ruler across the palm or a tiny chin caught in her signature thumb and forefinger pinch weren't far away.
Strict disciplinarian and cultivator of cultural arts were her hallmarks. And many a graduate will tell you those two seemingly opposite characteristics are what shaped their later lives – for the better.
It has been 60 years since Iola Roberts School opened on Pell City's main thoroughfare, US 231. It was formerly known as South St. Clair School. Before that, it was the Avondale School, serving the Mill Village. Miss Roberts actually came to Pell City at the request of mill executives who wanted her to run their school.
And run it she did.
"Miss Roberts made sure we had music and art and good manners," said Julia Skelton, a former student, who attended the anniversary celebration along with more than 100 others.
In a video tribute to the anniversary, Gaston Williamson underscored the recollection. "Miss Roberts' emphasis was on 1. Behaving, 2. Manners, and 3. Culture," he said. The school had a choir, and plays were standard fare.
Andrew Wright, who was principal at the school and a former student, said during his tenure, he tried to continue what Iola Roberts began. His administration offered a well-rounded education that included the arts, and faculty taught students how to understand the world around them.
Dr. Michael Barber is an Iola Roberts alumni who has a unique vantage point when it comes to Iola Roberts. He served as principal at the school, and he is now superintendent of the school system.
The values he learned at Iola Roberts as a student are the principles that guide him to this day – "making a difference in the lives of children every day."
While his approach as principal was a little more unconventional than Miss Roberts', he got students' attention just the same. He focused on reading at the school, and when students met their goals, he rewarded them with feats like jumping out of an airplane, getting arrested by the faculty, shaving his head and kissing a pig.
"Iola Roberts has always been a magical place that seems to transport former students back to their childhood," Barber said. "I am always amazed how accurately students from the 1950s, 60s, and 70s can with great detail recollect fond memories of the school. When a grandmother or grandfather of a current student pauses by a classroom door, lunchroom or staircase, you know they are visiting a very special memory of their own childhood.
"I still do the same thing today. I cringe when I walk into Iola's cafeteria because that is where students received their vaccinations from the county health nurse, Ms. Zachy. All students lined up against the wall and received their shots in front of each other. Many of us fell to the floor writhing in pain."
Barber also remembers field day, a highlight of the school year. "I relive the greased pig chase each time I walk onto the playground. We actually chased greased piglets during field day. If you caught the critter, you won a big candy cane. My brother, Kinsman, caught a pig and we ate the candy cane for a week."
For Barber, he has seen the school from different angles over the years, but the conclusion is always the same. "The employees of Iola have always carried on the wonderful atmosphere found at the school. From the time of Ms. Roberts to today, they welcome children daily. For me, it was Millie Ann Lawley in the first-grade and wonderful teachers each year after."
The school has traditionally been a mainstay of the community. "The people who attended Iola as students feel an ownership and special connection to their school. I don't fuss when my own grown children want to go by Iola when they are in town. I feel so blessed to have attended and worked at such a special school."
Although the anniversary celebration was an opportunity to look back at the legacy. It also was a time for new traditions. Faculty unveiled specially designed Iola Roberts pins, and former faculty and present faculty were "pinned," forever linked by a common bond.
And when children leave Iola Roberts and continue their school career all the way through Pell City High School, faculty pledged to be back at their graduation to let them know how special they are with a pin of their own. It signifies a kinship shared by all those who pass through Iola Roberts Elementary.
"It was wonderful to see former teachers and students share their common love for Iola Roberts Elementary School at the 60th anniversary celebration," Barber said. "I saw and listened to people who qualify for senior citizen benefits become children again."
And that's a tradition that seems to continue year after year.