Cropwell marker, others tell county's storied past
Story and Photos by Jerry C. Smith
As Alabama celebrates its Bicentennial over the next three years, it seemed an ideal time to refurbish and rededicate a decades-old monument in Cropwell that had fallen victim to age.
It is a fitting example of devotion to history known as Cropwell Memorial Park, and it was funded by a grant from the state's Historic Marker Refurbishment Program. The marker was unveiled in a special ceremony in July, celebrating the history that has taken place there. Others throughout St. Clair County, a county older than the state, are undergoing the same improvements, taking note of and preserving the county's history.
In Cropwell, following a series of prayers, music and inspirational addresses by local civic leaders, the restored historical marker was unveiled, followed by a 21-musket salute and Pledge of Allegiance to the American flag. The marker has an Alabama state flag at the top with the words: "Cropwell Historical Park and St. Clair County Alabama" and notes that the post office there was established in 1834 as Diana. The name changed to Cropwell in 1837.
Speaker Gaston Williamson explained to attendees that the Cropwell Park Committee, composed of local citizens, built the park in 1975 with private funds on land donated by the St. Clair County Commission. He pointed out that all five structures making up the monument area are of local sandstone, specially chosen for shape and matching colors.
The henge-like array consists of four waist-high boulders set into a brick courtyard surrounding a tall, irregular obelisk. Each stone bears bronze plates describing various events and information about what happened here and elsewhere in Cropwell.
In June 1861, some 200 men enlisted in Company F of the Tenth Alabama Infantry Regiment. Local legend says they mustered under an apple tree near the park site, then marched 75 miles to Montevallo to catch a train and join Gen. Robert E. Lee's forces in Virginia. This regiment fought in 29 bloody battles, including Harpers Ferry and Gettysburg.
A long bronze plaque on the obelisk lists names of those who enlisted, including substitutes hired by wealthy draftees to fight in their stead, a common practice in those days.
Besides the tribute to Southern soldiers, other bronze markers commemorate various facets of Cropwell history. One tells how the town began as Diana in 1834 and was renamed Cropwell in 1837, the Masonic Lodge's charter in 1857, and the coming of the Birmingham and Atlantic Railroad to Cropwell in 1887.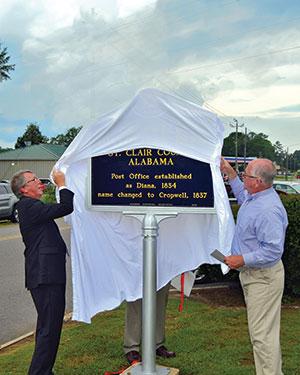 Another speaks of the charter of the local United Daughters of the Confederacy in 1914, and the impoundment of the Coosa in 1946 to form Lake Logan Martin (although this date is a typographical error; should be 1964). A third plaque mentions a cotton gin startup in 1883 and Cropwell Baptist Church in 1889; and the fourth tells of Andrew Jackson's crossing of the Coosa near Cropwell during the Creek Indian Wars of 1813-14.
Among the re-dedication celebrants were a contingent of re-enactors from Ashville-based St. Clair Camp No. 308 of the Sons of Confederate Veterans, resplendent in authentic uniforms as well as homespun garments usually worn by soldiers from less-affluent families.
Pell City Manager Brian Muenger, when approached by a local resident several months previous about the park's condition, sent an application to the state's Historic Marker Refurbishment Program, which was created by the Alabama Department of Tourism in connection with Alabama's Bicentennial.
There are many such markers in Pell City and St Clair County. For those who wish to visit these sites, GPS coordinates are provided in an accompanying box.
HISTORIC DOWNTOWN PELL CITY, on the southwest corner of the courthouse lawn, spells out in great detail the city's founding and development.
Another, at Second Avenue and 21st Street North, adds more early history under the title PELL CITY'S HISTORIC RESIDENTIAL DISTRICT.
A COUNTY OLDER THAN THE STATE, on the corner of 19th Street and Cogswell Avenue, provides some interesting facts concerning St Clair's earliest days and is matched by a sign of the same title on the courthouse lawn in Ashville that adds history of that city's founding.
PELL CITY, ALABAMA, in front of City Hall, tells of the founding of the city by Sumter Cogswell and of the industries that followed. THE MILL VILLAGE, posted on Comer Avenue at 26th Street, gives a thumbnail history of Pell City's chief industry, Avondale Mills, and the community it created for its workers.
All are within comfortable walking distance, and together they nicely sum up Pell City's early history.
Other markers around St Clair County are CAMP WINNATASKA on Winnataska Drive in the Prescott Mountain area, delineating that facility's development. JOHN LOONEY HOUSE, on County Road 24 between Ashville and Greensport, tells of a pioneer family's pilgrimage and their impressive double-dogtrot log house, which is open for annual fall festivals.
FORT STROTHER on US 411 near Neely Henry Dam, commemorates a site used by Andrew Jackson during the Creek Indian Wars of 1813-14.
A history of the founding of HARKEY'S CHAPEL UNITED METHODIST CHURCH is posted on AL 144 near No Business Creek Road, and SITE OF THE COOK SPRINGS HOTEL, near the rail tunnel on Cook Springs Road, describes a late 19th century luxury spa that once drew visitors from all over the South.
In his address to the crowd in Cropwell, Muenger noted, "Monuments like this serve to remind us of where the community came from … and to look back and appreciate all the great things that happened in the history of St. Clair County and here in Pell City."
Speaker David Jackson is the son of W.D. Jackson, who had worked on the original Park Committee along with George Williams, James Ingram, Charles Abbott and Mary Mays. Jackson said, "We all hope that future generations will recognize this park as far more than rocks, plaques and brick walkways. It represents the history of the Cropwell community and the memory of those from here who volunteered for military service."
As a child, Jackson helped his father work on the park. "It was a hot, muggy day, and threatening rain, just like today," he said. "I wanted to give it up and go home, but Dad said that it was the best kind of day for this work because the rain and warmth would help the newly-sown grass to grow."
Ostensibly as a patriotic gesture, the rain held off until a few minutes after the ceremony was concluded. l