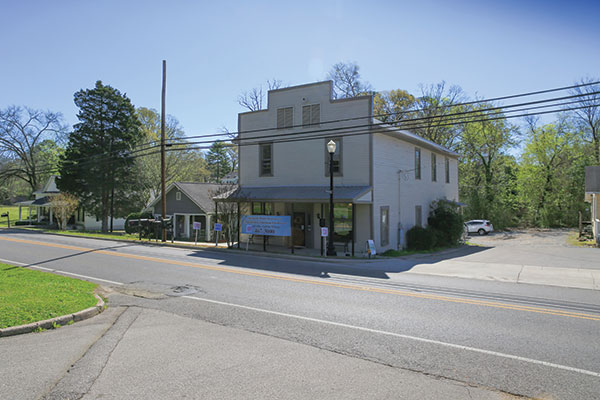 Quest to Preserve Past a Labor of Love
Story by Jackie Romine Walburn
Photos by Michael Callahan
Designed and curated by history-loving volunteers, the Springville Museum takes visitors on a tour of people, events and artifacts of the St. Clair County town named for its natural springs, known for its historic downtown and a famous son who had a TV pig named Arnold.
Located at the 1903 downtown building that once housed Masonic Lodge No. 280, the Springville Museum opened in the fall of 2015. Volunteers with the Springville Preservation Society staff the museum when it's open to the public the first and third Saturdays each month and on special occasions, says Museum Director and volunteer Kathy Burttram.
"We are very proud of the museum and want everyone to come see what we've accomplished," says Burttram, who adds that Springville volunteers and expert advice from the Alabama Department of Archives and History helped get the museum ready for visitors.
Two Masonic Bibles, an antique Masonic emblem and signs from the turn-of-the-century building are displayed behind the museum counter and gift section. This section also features artwork by artist Clay Allison, including intricate watercolor and line drawing prints of the town's many historic building and homes, plus note cards and Christmas ornaments that are sold to benefit the museum and the Springville Preservation Society. Allison, a volunteer himself, also designed the exhibit signs and museum of city history signs out front on Main Street.
The society owns and operates the museum plus a recently refurbished 1800s cabin they call the White House, which will be the city's welcome center next to city hall, and the 1921 Rock School.
Initially called Big Springs about the time the first church was built in 1817, the town's name changed to Pinkhill in 1833, when the first post office was established, and officially became Springville in 1834 and incorporated as a town a generation later in 1880, according to the Encyclopedia of Alabama.
Museum sections include a children's area, a vintage kitchen, a music room, plus exhibits on famous Springville folks of note, military veterans, businesses and schools, including the first grade to college academy, established in 1861 and later called Springville College, that attracted college students from throughout the southeast until it was destroyed by fire in 1912.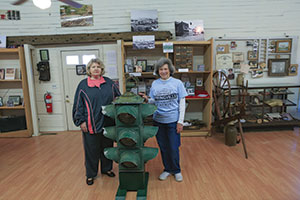 The CHILDREN'S exhibit is an interactive space with rotary phones and their corded touchtone cousins, plus manual typewriters, vintage board games and children's books. The Preservation Society wanted an area where children could experience things from the past and stay busy while adults tour, Burttram says. The museum plans to continue the "Children's Day at the Museum" program started last summer by society president Frank Waid, with interactive activities and stories on a summer date to be announced.
The KITCHEN exhibit – designed by Sally Golsby, Sandra Tucker and Carol Tucker – is centered by an antique Norge refrigerator, on loan by Frank and Janis Price. Antique dishes, a wooden ironing board and iron complete the display that looks like your grandma's or even great-grandma's kitchen.
A LIVING room exhibit, also called the music or church area, was developed by volunteers Gail Hammonds, Sara Trotter, Kathy Burttram and Donna Davis. They created a nostalgic music parlor highlighting an antique piano and organ, surrounded by antique velvet furniture and hymnals, song books and sheet music dating back a century or more.
The upright piano was originally in the Forman Street home of James L. Forman and his son, the late St. Clair probate judge Ward Forman, and is on loan from Forman descendant Lew Windham. Next to the piano is an ornate organ, circa late 1800s. The organ was originally in the parlor of the McGee family from Lamar County and is on loan from a descendant, Evelyn Criswell of Springville.
A CAMERA exhibit, developed by volunteers Clay Allison, Donna Davis and Ed Bruchac, includes a display case of vintage still and video cameras on loan or donated by local folks. These include 35 mm and the wider 110 mm cameras and the film and film canisters that were commonplace before the advent of digital photographs.
A 1921 one-tube radio rests on top of the camera display.
Appropriately, on the wall near the camera display case are framed play bills from the Springville Theatre, a movie theater that changed movies every two days back in its heyday in the 1950s. Donated by local resident Janet McBroom and preservation society volunteer Carol Pearson Waid, the posters show the movies that were at the downtown theater with original play bill artwork. Some posters include notations handwritten by a young Mrs. Waid, who noted who she went to the movies with. Teasing her about her teen-age record keeping on the movie posters, Burttram says, "Somebody told Carol, 'I didn't know you dated so many different people.'"
Carol Pearson Waid and her husband, society president and Vietnam veteran Frank Waid, helped put together the MILITARY exhibit which includes armed services uniforms dating back to World War I plus some Civil War documents. "We have been so fortunate that as word got out about the different exhibits being put together, people would just bring items to loan or donate," said Burttram.
This was true of many exhibits, particularly the military ones, which includes a wide variety of armed services uniforms, plus battlefield letters to and from home and other sentimental items from military families.
Frank Waid, who was a helicopter pilot in Vietnam and served in combat again in the Desert Storm conflict, loaned Vietnam era items. These include a tail rotor blade, signed by servicemen, from a UH1N twin engine Huey helicopter used by special operations forces in Vietnam. Waid also loaned for exhibit his Vietnam Flying Squadron party jumpsuit worn at celebration parties after successful completion of exceptionally long or difficult missions. The unofficial jumpsuit, with its star-spangled peace sign patch, was from the 20th Special Operations Squadron at Cam Rahn Bay in South Vietnam.
At museum center is a full-sized metal traffic light from downtown Springville, complete with bullet holes. The ragged bullet holes in the light's thick metal frame came courtesy of a nearby resident who got frustrated with the red-yellow-green lights shining in his windows and tried to shoot them out more than once.
A BUSINESS exhibit includes an antique cash register and scales and one of the "premium" bowls customers could earn by trading at Bud's Dollar Grocery store. The bowl was shared with the museum by the Joe and Helen Sarusce family. The Pearson sawmill, founded by Carol Waid's grandfather, is featured as being the largest employer in Springville during its peak period prior to its closing in the 1960s. Pearson Hardware, the Simmons sawmill and an old barbershop pole, on loan from the Ricky Hill family, are highlights of the business exhibit designed by Kathy Burttram and Donna Davis.
An exhibit on the Springville Skating rink, includes a giant rotating disco light and sign from the skating rink ceiling. Skates are on loan from Carol Waid and Carol Tucker.
A MEDICAL section features Ash Drug Store, pharmacist Dr. Harold Bettis, and local physicians, Dr. Robinette Smith and Dr. James McLaughlin, and includes a syringe kit from about 1900 and other antique medical items.
The Springville Museum name drops with a FAMOUS PEOPLE exhibit. Noted Springville natives include Hank Patterson (1888-1975), an actor who portrayed Fred Ziffel on TV's Green Acres, a character known for his pet Arnold the Pig, and had a recurring role on Gunsmoke.
There's Margaret Byers, an actress, musician and "little person," who starred on Broadway, including playing a munchkin in a Broadway production of The Wizard of Oz. Miss Byers later taught first grade back home in St. Clair County. And, there's Springville-born cartoonist Milton Caniff who created the Steve Canyon comic strip.
Springville natives who made their mark in the sports world include Arthur Lee "Artie" Wilson. Wilson was a shortstop and left-handed hitter whose .402 mark with the Birmingham Black Barons in 1948 is thought to represent the last time anyone at the top level of professional baseball broke the .400 barrier.
Springville sports notables include Brandon Moore, who played baseball at Auburn University and played and coached on a number of professional baseball teams, including the Kansas City Royals and Chicago White Sox organizations. He also had a coaching stint with the Birmingham Barons.
The exhibit also includes native son Randy Howell who brought fame to St. Clair County when he became the 2014 BASSmaster fishing champion.
In politics and public service, Springville's Marilyn Quarles was the first modern day female member of the Alabama House of Representative when she was elected as a Democrat in the 1970s. She was also a teacher, and her family owned the town's Dairy Dip and Springville theater.
Noted among local politicians is James Clarence Inzer, an attorney who served in the state senate and board of education in the 1920s and 30s and as Alabama lieutenant governor from 1947-1951.
Also featured is current state senator for District 11, Dr. Jim McClendon, a Vietnam veteran, retired optometrist and member of an original Springville family.
The museum also recognizes Springville families with FOCUS FAMILY Tree display that rotates every three months. Recent focus families are The Charles Lovett and Mildred Terry Herring family and the James Shelby and Emma Tucker Jones family.
Another display tells the story of a train derailment in 1969 that shook the town and destroyed the depot. On January 16, 1969, a train carrying propane tanks derailed at the Springville Depot and hit additional propane gas tanks that then exploded. Firefighters from from as far away as Birmingham and the National Guard responded to help fight the blaze. Although damage to the town was considerable, and 400 people were evacuated from their homes, no one was killed.
SPRINGVILLE SCHOOLS display, designed by volunteer Donna Davis, features a 1929 yearbook for the Springville High School Tigers and pictures of classes from the 1950s and earlier.
UPSTAIRS at the museum, volunteers work organizing reference and research materials to be used for genealogy searches. New Springville resident Paulette Kelly is helping to organize materials, including ledgers and vintage books for the upstairs section. Springville native Sandy DeBerry is another volunteer helping to ready the archives and reference areas.
"It's fun learning the history of Springville as we go along," Paulette says
"I love history and love the small town I grew up in," says Sandy DeBerry. "Preserving history is important work."
A plat map cabinet upstairs, donated by the Tucker family, will be used to store maps, large ledgers and bound copies of the St. Clair Clarion, a weekly newspaper that operated through the late 1980s.
To learn more about protecting the artifacts and treasures displayed and available for reference upstairs, museum volunteers visited the state's department of archives and history, where Museum Services Director John Hardin was particularly helpful, Burttram says. In turn, state Archives staff visited the new Springville Museum.
That relationship helped the museum volunteers know to apply for a small grant from the state archives. The grant helped purchase a dehumidifier, tinting for front windows and archive supplies to store scrapbooks, ledgers, journals and old photos.
Projects taking shape upstairs also include work on a book about veterans of St. Clair, the design of a display using the electronic bell from the Methodist Church that still chimes, and creation of a music display featuring donated albums and sheet music. Two types of pews original to the Masonic Lodge are upstairs along with a quilting frame still to be developed into a display.
Burttram says anyone interested in volunteering or helping with or participating in the St. Clair veteran booklet can contact her at kpburttram@hotmail.com.
Other Museum volunteers who have helped with bookkeeping, cleaning, remodeling, painting and more include Millicent Yeager, Glenn Miller, Crissy Sharp, Harold Riker, Tami Spires, Sandy DeBerry and Society secretary-treasurer Sean Andrews.