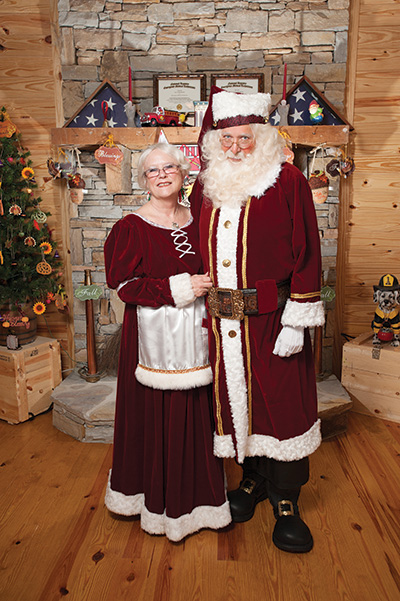 Tragedy leads couple on magical journey
Story by Leigh Pritchett
Photos by Wallace Bromberg Jr.
Carl and Rexanne Brownfield do not mind being known as "the crazy, Christmas people."
"Christmas is probably my favorite holiday," said Mrs. Brownfield, who naturally was wearing red.
Year around, the décor in their home includes two Christmas trees. One is always adorned in Christmas finery.
The buffet in their hallway displays a collection of their favorite Christmas books, among them, Operation Christmas Child by Franklin Graham and Donna Lee Toney.
Overlooking the buffet are many family photos of their four children, 12 grandchildren and two great-grandchildren.
"So we have a huge Christmas," Mrs. Brownfield said.
Four years ago, however, Christmas took on an even greater meaning for the couple and has grown to be part of who they are throughout the year.
Like so many defining moments, this one resulted from heartache.
On April 27, 2011, an EF-4 tornado churned through Shoal Creek Valley, leaving death, devastation and despair in its path.
Thirteen people, including a preborn baby, perished.
Brownfield found several fatalities as he cut through debris trying to reach rescuers working to get into the valley. Some of the injured were taken to what was left of the Brownfields' home, where Mrs. Brownfield and others cared for them until help arrived.
In the weeks and months that followed, life for Shoal Creek residents seemed to be on hold as they worked to clean up and rebuild.
Later that year, Mrs. Brownfield — who adores all things Christmas — took her husband to Bronner's Christmas Wonderland in Frankenmuth, Mich.
While his wife was shopping, Brownfield spotted an advertisement that actor John Wayne had once purchased a Santa suit from Bronner's.
Brownfield thought about how the people of Shoal Creek Valley needed something to "build up beat down spirits." They needed some joy and cheer.
He thought about how he had wanted to be Santa since he was 20 years old.
And here he was, in a massive Christmas store where he could get what he needed to be Santa.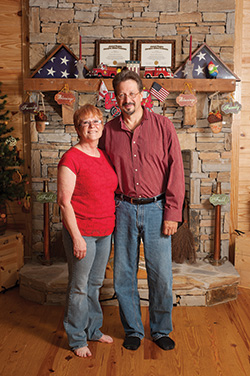 Eight hundred dollars later, Brownfield had his first Santa suit.
Even more so, he became Santa, going to great lengths to find the right accessories for his suit and props for the stories he would tell children during his visits.
That first year as the Jolly Old Elf, Brownfield made appearances at three churches in the Shoal Creek area and one in Moody, at a Pell City day care and at a photo session at Shoal Creek Volunteer Fire Department.
The next year, the demand for the couple grew exponentially. Not only were they engaged for the same events as the first year, but also for a hospital, a children's cancer group and others.
This year, their schedule contains all sorts of events, such as "breakfast with Santa," private and company parties, a hunting club, parade, bank and even a hair salon in Georgia.
The Brownfields get bookings a year in advance.
All year long, the Brownfields are in Christmas mode. They are either thinking about, preparing for or actually being Mr. and Mrs. Claus.
Mrs. Brownfield, in fact, can often be found purchasing Christian coloring books, word-search books and plenty of colors at Dollar Generals. These go in gift bags for children who visit Santa.
Their appearances and the goody bags are the Brownfields' gifts to all they see. They never charge for appearances.
When they are given donations, the Brownfields give them to Toys for Tots or to an entity that assists needy families in St. Clair County.
Being Santa and Mrs. Claus creates opportunities for them to tell children the real reason for Christmas, Brownfield said.
"(Rexanne) reads one of the Jesus stories" at events, Brownfield said. "Some people we visit, we are the only exposure to Jesus they get."
Billy Wakefield, a friend of the couple as well as pastor of Bethany Baptist Church in Shoal Creek Valley, is "just proud of the fact they have used it like a ministry. They use it to share the message of Christ and bring joy to kids' hearts, too. They have a tremendous passion for it. They take it to another level. It's really who they are. It's a calling."
Once Brownfield became Santa, it was not long before he and his wife were asked to visit children with significant life circumstances. Some had experienced abuse or abandonment.
For some of these children, talking with Santa is therapeutic. They tell him things that they might not disclose to anyone else.
Visiting with Santa gives them a reprieve that brings a little laughter. Seeing those joyous faces blesses the Brownfields.
When a child smiles, "it's just worth it," Brownfield said.
The couple have no idea how much they spend each year preparing for and being Mr. and Mrs. Claus. Actually, Mrs. Brownfield said she is a little bit afraid to add it up.
She prefers to calculate it in different terms. If they are able to make one child smile or turn one person to Jesus … that's priceless.
---
For the story from Santa and Mrs. Claus' point of view, read the December 2015 and January 2016 print or full digital edition of Discover The Essence of St. Clair