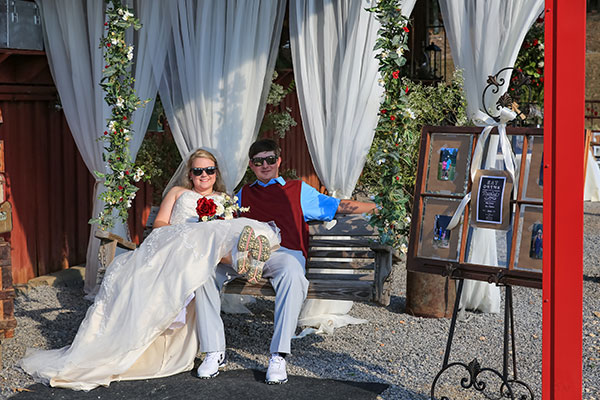 Cattle during the week, weddings on weekends
Story by Elaine Hobson Miller
Photos by Michael Callahan
What started as letting a few friends "borrow" their barn to hold weddings has turned into a full-fledged event venue for the St. John Family in Pell City. Unlike other barns built specifically for events, this one is a cow barn that houses registered Hereford heifers and gets pressure-washed for special occasions.
"We went public in January of 2016," says Locke St. John, one of two sons of farm owners Joy and Kent St. John. "As of the first of November, we'd had 12 weddings, and we had 250 people here to celebrate the (high school) graduation of my brother, Carter."
Like the farm itself, The Barn at Dry Creek Farms is a family-run operation. Carter, 19, is a freshman at Jefferson State Community College, but has classes only two days a week. The remainder of his time is spent on the farm. Locke, 23, is there all day September through March, the months that he isn't playing pro baseball for the Connecticut Tigers, a Detroit farm team. Mom and Dad, Joy and Kent St. John, do chores before and after work each day.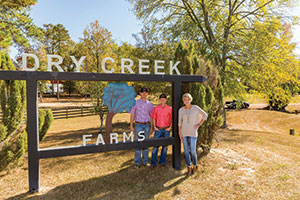 "Locke handles a lot of the marketing details and promotions from wherever he might be in the Minor Leagues," Joy says. "I work all day but when there is an event at The Barn, I go after work and help clean in preparation for or after the event."
The family lives up the road in a log cabin on 20 acres of land. They purchased another 50 or so acres four years ago to expand their cattle business, and it came with the red barn. They run 60-70 cows, selling the commercial (non-registered) ones at the Ashville Stockyards, and show some of their animals, too. "We do two to five shows a year at the state and national level," Locke says. "We've shown our cows in Colorado, South Dakota, Kentucky, Wisconsin and Texas."
The St. Johns painted the front of the barn when they started hosting weddings, but left the back side in its rustic, weather-beaten state. They keep mini-lights strung up inside the barn, and small round bulbs at the back, where tables are often set up for a reception or a band might play while people dance on the concrete patio.
"We own 14 tables and 80 chairs, and we're buying 20 more chairs," Locke says. "People can rent more tables and chairs if they need them, and they can use the hay loft for over-flows, and some use the stalls, too. One wedding party had a cloth down in each stall to designate various stations, such as a kids' play area, a crawfish table and a drink stall."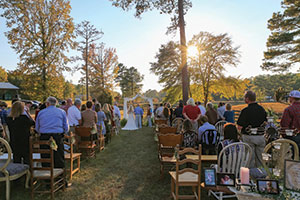 The Barn has a bathroom and dressing room. Decorated with banners from the shows in which the St. John heifers have competed, the dressing room has bar stools with farm-themed backs, a leather sofa, wide-screen TV, small refrigerator and a deer head on the wall. "One couple brought their small camper for the bride to change in," Locke adds. When not being used for a wedding, the changing room makes a great hangout for Locke, Carter and friends.
"I would absolutely recommend The Barn at Dry Creek Farms to anyone who wants their special day to be beautiful, easy, and affordable," one reviewer posted on weddingwire.com, an internet site the St. Johns began using for advertising recently. "They basically give you the key and it's yours to use. They will offer ideas if you have any questions about how other couples set up for their ceremonies and receptions. On top of that, the barn is located on simply gorgeous property. Overall, just a perfect venue for couples wanting a rustic barn wedding without breaking the bank."
Martin houses made from gourds flank the barn, a six-stall shed to one side houses farm equipment, trucks and a travel trailer, a second shed protects a John Deere tractor and round hay bales, which the St. Johns bale themselves, and a small grain silo stands between the sheds. Fence panels lying to one side of the barn and the cattle chutes on the other side bear testimony to the fact that this is a real, working farm. The pond, the Dry Creek Farms sign hanging between two bent cedar trees, and the swing next to the barn make picturesque backdrops for wedding, graduation or birthday party photos.
Peak seasons for 2016 were spring and fall, but any season, people have the choice of getting married at the barn or in front of the lake under an arch that was left behind by a wedding party. Rates are different during the week than on weekends, and some wedding parties will rent the venue for two days and hold rehearsal dinner there, too.
While people use their own wedding photographer and planner and do their own decorating and cleaning up after the wedding, the St. Johns move the cows and hose down the floors before the wedding party descends. "During peak seasons, we won't have the cows in the barn as much so there is less pressure washing to do," Locke says.
The St. Johns have a web page for their farm, DryCreekFarmsCattle.com, and the event venue has its own Facebook page, The Barn at Dry Creek Farms.
"The Barn at Dry Creek Farms was amazing," another weddingwire.com reviewer posted. "It was an actual red barn and the pond in front adds so much. It's a lot of DIY, which makes it fun and the way you want it to be. Many options for ceremony and reception. Also Kent and Joy are great to work with!"
Another reviewer said her party built a dance floor in the middle of the barn and used the stalls as stations for food and drinks and a photo booth.
Although his primary role in the operation is the day-to day farming side of it, Carter helps out with weddings when needed. "The farming side is where my knowledge is at," he says. "But when there's something that needs to be done for The Barn venue, I'm there for it."
His mom says the family works together to do all the chores each day. "That usually entails getting up early to get things done, like checking cows, putting out hay and feeding, before everyone starts their own schedule for the day," she says.
Working on the farm and helping to run the event venue is a lot of work, Locke says, but he vows that he wouldn't do it if he didn't love it. "They have taught my brother and me responsibility and the business part of life," he says.