[tiltviewer id=10 width=600 height=600]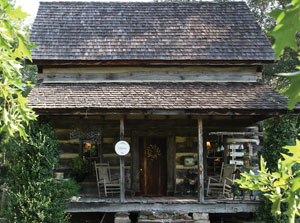 Storefronts uniquely St. Clair
By Elaine Hobson Miller
Photos by Jerry Martin
When it comes to storefronts in St. Clair County, appearances can be deceiving. A turn-of-the century Victorian house in Ashville actually is a quilt shop. A log house in Pell City once was a barn in Virginia. A shed used to brood ducks and turkeys serves as a second-hand shop in Odenville. A historic feed store in Springville has become an antique mall. A tack shop in Ashville is in a landmark rock building that once held cotton waiting to be ginned.
These not-so-modern structures have been transformed under the careful guidance of ingenious owners who make the most of odd-shaped rooms and limited spaces. Some have been restored to their former glory, some modernized, but each offers an unusual shopping experience.
Historic shop
On the outside, the Ashville House Quilt Shop looks much like it did when the Queen Anne-style house was completed in 1894. Listed on the Alabama Register of Landmarks and Historical Places, its turrets and towers, gables and arches, wrap-around porches and gingerbread ornamentation showcase seven different historical paint colors. Inside, the high ceilings, heart-of-pine floors and original wood trim surround hundreds of bolts of gaily-printed fabric, cases and counters of colorful threads and a few quilts for sample and for sale.
"My husband, Lavon, and I bought the house in the early 1990s and spent three years restoring it, then lived here for three years before turning it into a tea room in 2000," says Pat Drake, who operates the shop with her sister and partner, Loretta Horton. "We closed the tea room in 2007 and opened the quilt shop in 2010."
Lavon did "most of the hard stuff" during the restoration, such as rebuilding the interior walls. But it was Pat who painted the ceiling frieze in the music room, using a cake decorator, caulking, paint and "about 200 trips up a 15-foot ladder."
Pat's mom, Alline Hill, pins customers' assembled quilts to a long-arm quilting machine. Pat does the quilting. Loretta teaches most of the quilting classes, which cover basic skills such as binding, piecing and color combinations.
The shop, at the corner of U.S. Highway 231 South and Third Street, Ashville, is open Wednesday through Friday from 10 a.m. until 5 p.m. and Saturday from 10 a.m. until 2 p.m. Call 205-594-7046 or visit www.ashvillehousequiltshop.com for more information.
'The Cabin'
Judy and Richard Potter love antiques, so when their nest became empty and Judy started looking for a way to use her retailing degree, the Pell City couple decided to open an antique shop in a log cabin. Never mind that they didn't own a log cabin.
"We found a two-story log barn in Mendota, Virginia, that was built around 1830," Judy says. "We disassembled it, then reassembled it here in our front yard on Cedar Lane."
Opened 15 years ago, The Cabin on Cedar Lane bears little resemblance to its former self. Stone steps lead to a small porch that the Potters added. The second floor of the 20-by-24-foot structure is where the hay loft used to be. The Potters gave it a new floor from old wood and made a window out of the loft door, then added two windows in the front on the first floor. Original walls are made of hand-hewn oak, poplar and pine. "The poplar were the smooth logs, but they used some oak for strength," Judy explains.
Judy doesn't have as many antiques as when she started, but stocks "some really good reproduction furniture pieces, lamps and home accessories," she says. Many of the items she sells are by local artists, including Ron Sims pottery and Peggy Turner watercolors. Other items include fused glass jewelry, decorator balls made of sea shells, pickled vegetables, dip mixes and Trapp candles.
The Cabin on Cedar Lane, 5014 Cedar Lane, Pell City, is open 10 a.m. – 5 p.m. Tuesdays through Saturdays. Call Judy at 205-338-3866 for more information.
Landmark building
Anyone giving directions to a street off U.S. 411 between Ashville and Leeds invariably says, "Go past (or to) the rock stores. …" The three rock buildings near the intersection of 411 and County Road 31 have been landmarks in the area since Will Dollar built them between 1927 and 1929. Today, one of those buildings houses Jodie's Harness and Tack, a place to buy equine goods, get your tack repaired and shoot the bull about anything from the weather to President Obama's health care plan.
"We bought the two buildings on this side of the Highway 25 years ago from a man who had an auction house here," says Jodie Isbell, the "we" being she and husband Bobby. "The tack shop was where Will Dollar stored cotton to be ginned, and the building next door, where we live, was a feed store. The mercantile was across the street. There was a cotton gin and grist mill behind our two buildings, close to a creek."
Dollar's first store burned down in 1926, and he rebuilt using field stones from his own property. His mercantile was where everybody came to buy sugar and flour, fabric and thread, pots and pans, and to get their corn and wheat ground. "People spent the night here in their wagons to get their wheat and corn ground the next day," Jodie says.
Sixteen years ago, Jodie and Bobby bought a sewing machine and tools from the estate of a late friend who had a leather shop. They simply wanted to repair the harnesses for their own horses, but people started asking them to repair their harnesses and halters, too. "Then they started asking us for other tack and horse supplies," Jodie says. "It just grew."
They've added saddles, horse shoes, bridles, tack to fit large horses like their Percherons, equine grooming supplies, feed supplements and more. They still do tack repairs and sell yard eggs from the 200 chickens running around the property.
Jodie's Harness & Tack, located at 22326 Highway 411, Ashville, is open Wednesday through Friday from 9 a.m. until 5 p.m. and Saturday from 9 a.m. until Noon. Jodie can be reached at 205-629-5891.
No eggs in this hen house
Despite the vintage jewelry, the primitives and the cobalt blue and green feathers from an India Blue peacock, it's the property surrounding The Hen House in Odenville that makes Henrietta T. Goodman's second-hand shop so interesting. She sells "affordable treasures and boutique items at thrift-store prices" from a nondescript, one-room, pre-fab building formerly used by her husband to store feed and brood his ducks and turkeys.
But the shop sits next to Henrietta's orchard, with its blueberry, blackberry and strawberry bushes; it's pear, plum and persimmon trees; and muscadine vines. Both are near the front edge of a 17-acre property that includes house; barn and swimming pool; two ponds; pens for their rare Lady Amherst and Red Golden pheasants, and their peacocks, guineas, quail and chickens; and the pastures for their Zebus (miniature Brahma cattle). "I'm trying to get my husband to plant me a pumpkin patch, and he wants to add goats to our petting zoo," says Henrietta, a vivacious woman with a ready laugh. She has been running second-hand shops since she retired from her job with Bell South Cellular in 2004. She opened The Hen House in 2010. "Everybody stops when they see my Hen House sign, thinking we sell chickens and eggs," she says, laughing. "So we're going to start that soon."
The Hen House, 11934 Hwy 411, Odenville, is open Thursday through Saturday from 10 a.m. 4 p.m. For more information contact Henrietta Goodman at 205-531-0443.
Century old, new life
Just a few years ago, Springville's Main Street was lined with antique shops. Today, there's only one, the Ole Springville Antique Mall, but it boasts 37 vendors, including most of the owners of the former Main Street shops.
Located in the old Washington Feed building, which operated as a feed store for more than 100 years, the antique mall is owned by Curt Deason and managed by Beverly Crumpton. The latter used to own the House of Quilts antique shop down the street.
"I bought Washington Feed in 1994 and operated it until 2003," says Curt. "I sold it, but it went into foreclosure. I bought it back in 2007, remodeled it and turned it into an antique mall." Each vendor has a separate booth, and Deason is pleased with his dealers and their merchandise. "We've got some really nice stuff in here," he says. "We don't allow any yard-sale items, they have to be antiques. That's one of our main policies."
The 8,000-square-foot building actually is two buildings combined. The first was built in 1905 by the grandfather of Frank Rutland. The second was added by Rutland, who ran the feed store for many years. "You can see where the two are joined together, because the walls and doorway are very thick there," Deason says. "Those were outside walls at one time."
The Ole Springville Antique Mall, 6364 U.S. Highway 11, Springville, is open Mondays and Tuesdays, Fridays and Saturdays, from 10 a.m. until 5 p.m. Thursdays hours are 10 a.m. until 7 p.m., and Sundays it's 1 p.m. until 5 p.m. The telephone number is 205-467-0612.