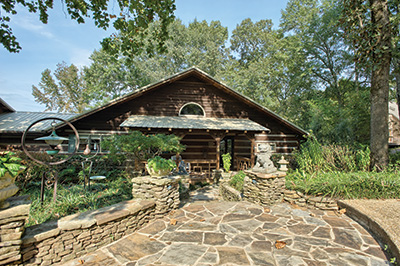 By Elaine Hobson Miller
Photos by Wallace Bromberg Jr.
For eight years, Steve and Carla Valdes have been trying to turn their log home on Logan Martin Lake into a 14th-century Japanese-style home. They tore out the country kitchen, removed a clawfoot bathtub, reworked the master bedroom fireplace and painted the door frames black.
Despite their best efforts, it's still a log house. It's also a showcase for their Asian art collection, which constantly pulls your eyes away from the rustic American details.
"It looked like a cowboy bunkhouse when we bought it from the bachelor who lived here," says Steve. "I hope it conveys an Asian feel now."
The couple were drawn to Asian art when they lived in China and Japan while Steve sold medical devices from India to California for Johnson & Johnson. They began picking up a Burmese temple guard here, a Japanese kimono there, and the first thing they knew, their house was an Asian art gallery. "My daughter calls it an Asian antiques store," Steve says.
Carla, who is originally from Tarrant, was an Atlanta-based Delta flight attendant for 32 years. Steve, originally from Miami, grew up around water. They have lived in several countries and traveled all over the world, but wanted to settle in Atlanta when Steve retired 12 years ago. After searching that area for a house, Steve saw the online real estate ad for a log house on Logan Martin Lake, decided Pell City wasn't so far from Atlanta, and drove over to take a look. "I had never been inside a log house before," he says. "We walked in, and I said, 'This is the place.' I love the warmth of the wood."
From the outside, the house looks like a typical log home, with wide, square logs and gray chinking. The silent sentinel near the front door, a stone Chinthe (lion-like creature that guards Burmese temples), and the Japanese-inspired lattice work between the porch rails on one side, hint at the treasures within.
Just inside the door, a Buddhist home-worship altar sits on a tall-legged cabinet. A small Buddha rests on top, with a gong behind him. "So much of Asian art is religious," Steve says, although he isn't.
Ceramic horses, copies of those found in Chinese burial mounds, stand on the sofa table to the left. Continuing left, on the wall separating the kitchen from the entrance hall, hangs a 14th-century Chinese scroll in a cabinet Steve built for it. As he turns the scroll, the pictures change, revealing a series of seaside and forest scenes done in ink on silk. "It's a 30-foot-long story," Steve says.
He replaced the maple kitchen cabinets with birch and the ceramic-tiled countertops with red and black granite, but the red appears burnt orange. "It looked more red when we picked it out," Steve says. "We thought it would pop, but the color is swallowed up by the wood." Stainless-steel appliances include a Jen-Air range with ceramic cooktop, bought because it has a downdraft. "We didn't want a draft hood blocking the view of the lake," Steve says.
In a corner of the dining area stands a tall, free-form, paper lamp, signed by its Japanese artist, although Steve can't recall his name. "This is my most prized possession from an artistic point of view," he says. "From a value point of view, it would be the Chinese scroll." A four-section, Asian-style curio cabinet nearby houses part of Carla's Madame Alexander doll collection, one of the few feminine touches in the house.
Light pours into the great room from two sets of French doors and the fan-shaped transom above one set, illuminating the wide-plank pine floors and the tongue-in-groove pine ceiling. Both ceiling and floors are stained a golden oak color. Recessed lights in the vaulted ceiling also shed light on the seating area in front of the fireplace.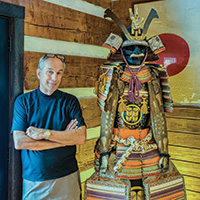 An Asian-style open-front curio cabinet on the right side of the fireplace displays more Chinthe temple guards, including a small ceramic pair that are male and female. The painted ostrich egg, meerkat and giraffe figurines are African, yet seem to fit right in with their Asian cousins. A child's Japanese kimono hangs on the wall behind the curio, while another child-size version and two adult kimonos hang high in the seating area. Bali puppets flank the chimney on stone shelves above the mantel, where a wooden ship rests. An antique Samurai suit of armor from the late 19th or early 20th century drapes a mannequin on the left side of the fireplace.
The master suite features a bathroom with white-washed ceiling boards — Steve's attempt to lighten the ceiling without losing the grain and texture of the pine. This is the bathroom that had a clawfoot tub on a platform when they bought the house, and when he removed it, "people were clamoring for it," he says. He replaced it with a jetted-tub next to a shower that has glass on three sides. The vanity has two matching bowls that sit on top, both with a design depicting orange coy swimming in a sea of emerald-green. Hanging over the tub is a geisha looking into a mirror as she puts on her makeup. "It's an embroidery cloth traditionally used as wrapping paper for important gifts," Steve says. More Chinthe stand guard from each end of the vanity.
Steve tore out the stone fireplace in the bedroom, which shared a chimney with its twin in the Great Room, and replaced it with black marble. The bedroom has a three-dimensional Mandarin king and queen wall hanging made of ivory and wood and a Chinese secretary that serves as a television cabinet.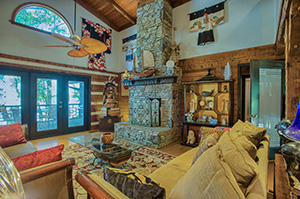 An open deck spanned the back of the house when the Valdeses bought it. Steve screened in both ends, leaving the center section unscreened for outdoor grilling. The section that opens off the master suite is furnished in wicker seating that has predominantly black cushions with an off-white design in them. Another favorite piece of Asian art, a Japanese garden lamp, is located on an end table there. The screened porch off the dining area has more wicker, but with striped cushions in green, tan and red. That porch also has a glass-topped end table that Steve made using a gnarly tree stump he found on the property as the base.
Two areas of the 3,000-square-foot home reflect the eclectic side of Steve, who builds wooden model ships, collects military memorabilia and stocks his bar with South African wines and Italian grappa. (The latter is a fragrant, grape-based pomace brandy.) One is the loft overlooking the great room, the other the basement.
That loft was completely open and had been used as a bedroom when Steve and Carla moved in. He tried to make it look as Asian as possible by building a new bannister with an Asian flair and painting it black. He put up a half wall and painted that black, too. Then he turned its under-the-eaves closet into a storage area and the loft into an office. A Cambodian goddess made of wood, twin dragons made from teak and teak dust that was hardened with glue, and some Thai temple rubbings are the primary Asian art touches. Most of the loft is filled with odds and ends of things that Steve happens to like, such as a small pair of Mayan statues, an FDR "Man of the Hour" clock and the scale model of the steamboat Robert E. Lee that Steve built. "It took me a year," he says of the project. "Now I'm working on a model of the CSS Alabama." On the log wall behind his computer hangs a propeller from his dad's airplane with a clock that Steve inserted in the center hole. "Mom and Dad are pilots," he explains. "I wanted to be, but I'm color blind."
Lights come on automatically as you descend the pine-plank stairs into the basement, which has Mexican-tiled floors. Framed Confederate war bonds hang on one wall of the hallway, which leads to two guest rooms, a small bathroom, Steve's "man cave" and a War Room. He calls the bathroom the Florida bath because of the wooden fish that hang on the wall, fish that he carved himself. "The former owner laid part of the tile floor and I did part," Steve says. "He did the stucco walls." Unlike the main floor, the basement has round log beams.
His man-cave features exposed log ceiling beams, tree-stump benches, a wooden bar for his wines, a Thai spinning wheel and another display case of Carla's Madame Alexander dolls. The closet in one of the guest rooms houses his Nazi and South African Army uniforms and his U.S. Navy peacoat. A Korean painting done on silk hangs on one wall of the room, while a triangular table from China or Taiwan (he's not sure which) stands beside the bed, and Korean puppets and figurines are displayed in a glass-fronted curio cabinet.
He calls the unfinished basement area his "War Room" because of the military memorabilia there. He has Swiss Army helmets, a German propaganda poster, rifles, a radio-controlled PT boat, and a mannequin dressed in his old flight suit, his jungle boots from Vietnam and a flight helmet and Mae West from his Dad. "That's a medical dummy, actually," he says of the mannequin. "It has a pacemaker in its chest. Johnson and Johnson was tossing it out in favor of a newer model, and I adopted it." He also has autographed photos of famous World War II pilots such as George Gay, a Nazi flag, a Confederate flag, a work bench, and the safe from his grandfather's cigar factory in Tampa.
"My wife doesn't like this house as much as I do because it's so masculine," Steve admits. "It's like The Lodge. As the real estate agent told us, it's not a house on the lake, but a lake house."