Ashville farm turns into special wedding, event venue
Story and photos by Jim Smothers
Submitted Photos
When Jeff Caddell's parents, Bud and Mildred, bought 110 acres in Ashville in 1989, they weren't just looking for a home, they were also looking for the perfect spot for Bud to be able to enjoy his life-long hobby of building and flying remote controlled model airplanes. But he didn't want it just for himself, so he chartered an RC club so others could enjoy the sport, and he was just happy to be able to host them at his place. The club is still going strong, even after his death, with 45 members at last count.
So after Jeff and his wife Sheila had a beautiful wedding of their own on a small island in the 8-acre lake on the property, it wasn't long before they wanted others to be able to be able to use the property for their weddings, too, and they got the ball rolling last year. To date, about a dozen couples have begun their lives as man and wife at Mountain View Farms.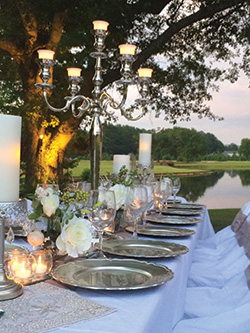 "There are five or six places here where people could have weddings," Jeff said. "Inside or outside the barn, in the middle of a field, on the island – they could even have it on the lawn in front of our house overlooking the lake if they wanted to."
Actually the barn isn't ready yet, but the Caddells are excited about the plans for the future. Rather than building a purpose-built barn for weddings, they want to convert an existing barn that can be used for not only weddings but other large-scale events. The plan is to retro-fit the exterior of the barn with board and batten walls while retaining the original wood and tin on the inside for atmosphere.
"There's 5,000 square feet inside. You can get a lot of people in there," he said. "We will become a destination wedding and events venue next summer once we complete a big remodel of our large home that is being converted into a lodge with lots of stone, cedar, rusty tin and barn wood.
"'The Lodge' and 'The Cottage' at Mountain View Farms will sleep about 20 people and will be … offering overnight stays."
Jeff credits an old friend with suggesting the farm as a wedding venue. Gary Liverett, director of the nearby Alpha Ranch ministry for young men, built the island and gazebo for Mildred Caddell in 2007. When the project was completed, Gary remarked it would be a nice place to have a wedding, which put the wheels in motion for Jeff and Sheila's wedding in 2010. While the plan for hosting weddings was being hatched, Jeff and his mom were puzzled as to where the bride and bridesmaids could get ready. Sheila pointed out there was an unoccupied two-bedroom house on the property that would be perfect.
"'Well, duh!' I thought," Jeff said. "That was perfect."
To get started they set up a Facebook page and offered the use of the farm at little or no charge for a limited number of weddings as a promotion, with the understanding that the Caddells could use photos from those events to show others what they had to offer.
One of the first weddings was actually a couple who remarried each other after being apart for decades.
"Dianne and Gary Duck actually remarried each other here at Mountain View Farms in May. It had been over 30 years since they divorced! They had a small wedding, and then rode away on Gary's Harley. Gary remarked that he was young and stupid and lost her after being married a short time. Life went on, circumstances changed, and he found her again," Caddell said.
More recently, the Caddells offered the farm as a venue for a very special couple. Daniel Creech and Belinda Dorough both attend a day program at United Cerebral Palsy in Birmingham, spending most of their days in wheelchairs, and living in a group home at night.
Daniel communicates by using his eyes to type on an electronic device and surprised Belinda when he popped the question to her. She can speak a little and first responded "What?" and then started crying before answering, "Yes!"
Daniel's mom reached out to the community for help in making their dreams of a beautiful wedding come true via a Facebook post in which she was merely asking for some suggestions. In the end, a motorcycle club held a charity ride for them, and donations of rings, a cake, photographs and other services were all donated as word about their needs got around.
Their wedding day went like clockwork on a beautiful fall afternoon. Their powered wheelchairs zipped back and forth across the wooden bridge to the island as a custom-built sound system enabled friends and relatives to hear the ceremony and enjoy recorded music. The reception tent a short distance away provided an efficient serving area, and tables under strings of lights gave guests an enchanting evening as they enjoyed dancing on a pallet wood dance floor, a project which another couple that tied the knot there built for the Caddells.
All of the couples are special people, and the Caddells stay close to events to make sure their needs are met.
They are working on a plan to share the farm with another special group of people.
"After my mother passed, it was our great pleasure to make a substantial donation to Children's Hospital in my parents' honor," Jeff said. "Mom and Dad had a charitable trust that provided for any remaining funds after their deaths to be donated to the charity. In talking to people at the hospital, they were interested in having a place for kids to go as a respite, so we're working towards that."
They are in the process of setting up a non-profit foundation to be funded by proceeds from weddings and other events at the farm to help fund those kinds of visits.
They are carrying on a tradition of giving established by his parents and want the Caddell Foundation of Hope to give hope to ailing children and their families and underprivileged children.
"When kids go through extended illnesses, their families are incredibly strained," he said. "There are so many out of pocket expenses."
The plan is to organize activities at the farm to give them a break without any expense.