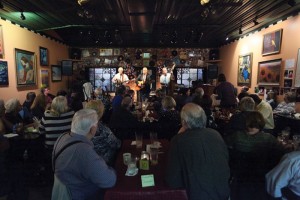 Local Color is Springville's 'colorful' music spot
Story by Mike Bolton
Photos by Jerry Martin
It's barely dark thirty on a Friday evening, and a steady stream of vehicles with tags from Jefferson County, Shelby County, Blount County, Cullman County and other locales vie for a spot in the dimly lit parking lot of the indistinct brick building on Springville's main thoroughfare. The occupants of the vehicles slip almost unnoticed through the side door and enter a world many Springville residents have no idea exists.
It is too obvious of a location to house something sinister, and its occupants are too nicely dressed and genteel for it to be a honky-tonk. Many a weekend passerby has seen the full parking lot across the street from Burton's grocery store and with raised eyebrows pondered just what goes on in that place.
If the conspiracy-minded speculate something odd is going on within the building's walls, at least give them credit for a lucky guess. Once inside, a visitor discovers a place that seems way out of place in Springville, Alabama. Step through the side door, and one might be immediately enveloped in the haunting sounds of a band from Ireland strumming Celtic music, or the toe-tapping music of a band cranking out Dixieland jazz. The next evening, a visitor might encounter the unmistakable sound of a banjo dominating a bluegrass set or watch incredulous that the twang of a bass fiddle from a folk group is shaking the liquid in their glass.
But for a few exceptions in major cities, music halls and supper clubs have pretty much gone the way of full-service gas stations. In Springville, however, Local Color is hanging in there like a rusty fish hook. For 10 years, the music hall has on weekends offered live music accompanied by a fanciful dinner. Despite the fact the business does no advertising, music lovers and a wide array of music groups find the path to the side door each weekend.
The business is operated by Springville residents Merle Dollar and Garry Burttram, who decided a decade ago to combine Burttram's love of music and cooking and Dollar's love of art into one of those dream ventures that for most people would stay just a dream. They both laughingly say their banks accounts attest to the fact that it is strictly a labor of love.
"We borrowed $10,000 to get started and have operated it on a shoestring budget every since," said Dollar who served as an art teacher at Springville High School for 10 years and at Duran Junior High in Pell City for 16 years and now teaches art classes in the building. "Gary is a retired art teacher from Moody High School. He is truly an amazing person."
Dollar says their idea was to incorporate music, art and good food in a quaint setting. The old building that once housed a boat-builder's shop and feed store seemed like a natural. The building's original windows have been replaced by stained glass, and memorabilia from everyone from the Beatles to Elvis adorn the walls along with Dollar's artwork. Classic album covers and posters promoting coming attractions line the brick walls.
"We were looking for a name, and Local Color seemed like a logical choice," she said.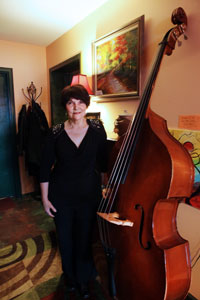 Although he's Local Color's resident chef, and his food draws rave reviews from its patrons, Burttram insists it is all about the music for him.
"I had no choice but to love music because my parents loved music," he said. "I can remember as a little boy hiding under the bed and watching people come to our house to listen to music. I can still remember seeing nothing but the bobby socks and penny loafers as they danced."
Local Color has become a stopping off point for many diverse groups from Alabama, the South and even from around the world. Its reputation as a place that is a throwback in time makes musicians want to play there, band members say.
"Of all the places we have played it's probably our favorite," said Jerry Ryan of Three-on-a-String, the Alabama trio that has been playing across Alabama and the South for 40 years. "There's no smoke and no TVs playing in the background like at most places today. They cater to musicians and make it a fun place to play. They know what it feels like to perform, and they enhance it."
Ryan says music halls like Local Color have fallen by the wayside over the past several decades as television, cable and sports have become the primary entertainment. He says Local Color has survived because of attention to detail.
"It's set up for music," he said. "It's one of the few places left that someone can sit right there close to the band and hear good, top-notch groups."
There is a cover charge, and it varies according to what group performs. The entire cover charge goes to the group performing that night. Patrons may also eat dinner and can purchase wine and other alcoholic beverages.
"It is intimate, diverse, clean," said Local Color regular Nancy Smith, a former Springville resident who now lives in Blount County. "It draws a lot of people from Birmingham. It's just cozy and adorable.
"I bring a lot of people from Birmingham, and they are always surprised. It's just not what you'd expect to find in little, old Springville. You can come here and listen to bluegrass, the blues, jazz and even rock and roll. I just love the diverse offerings."
Local Color has no advertising budget and survives word of mouth and by the 1,900 e-mails it sends out each week, Dollar says. The music hall got a tremendous boost last year when the Alabama Department of Tourism and Travel, which declared 2011 "The Year of Alabama Music" promoted Local Color as a must-visit spot for live music in the state.
Local Color finds its musicians by word of mouth, too.
"I'd say about 99 percent of the groups contact us," said Dollar on a night when a busload of patrons from Cullman had come to hear Three-on-a-String. "Four Shillings Short, a Celtic group from Ireland, was in the U.S. and heard about us and wanted to know if they could come perform.
"Another that surprises many people is Janet Hall of Fox 6 news in Birmingham. She performs twice a year. She is an incredible singer and songwriter."
Singers and songwriters and groups, including Jeff Otwell, the Dill Pickers, Martini Shakers, Sweetwater Road, the Legendary Pineapple Skinners, Once in a Blue Moon, Steven Young (who wrote Seven Bridges Road for the Eagles) and Clair Lynch perform at Local Color annually.
Local Color's house band is Something Else, a trio comprised of Dollar, Sylvia Waid and Peggy Jones, who have performed together for 26 years. The trio plays music from the 1920s to the 1960s and is primarily a swing and boogie group. The three ladies are, in addition to the opening group, ambassadors for Local Color and greet patrons. l
Local Color is open on Friday and Saturday nights for live music and on Sundays for lunch only. Reservations are recommended for the live performances. To make reservations, call 205-467-0334.