We cannot display this gallery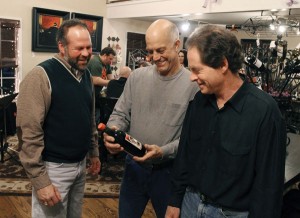 Grapes, grains and gifts make
patrons flock to Springville shop
Story by Elaine Hobson Miller
Photos by Jerry Martin
Dené Huff loves drinking good wine and craft beers, and smoking a good cigar. By opening The Flying Pig in Springville, she was able to bring all her vices together under one roof. "I got tired of driving to Atlanta for good beer, good wine and my wine kits," she says.
She opened October 28, 2011, in the little house behind and between PNC (formerly RBC) Bank and the Springville Antique Mall. She specializes in imported and domestic craft beers and wine from small, family-owned wineries, has on-premise and off-premise licenses, and sells wine openers and aerators, Red Neck wine glasses (small mason jars on stems), and other adult-beverage-related gifts. Upstairs, she has grains, yeast, hops, wine kits and equipment for hobbyists to make their own wine. Hence her shop description, "grapes, grains and gifts."
The name for her business came from her frustration in dealing with the Alabama Beverage Control Board. She couldn't get them to return her phone calls, they messed up her paperwork five times, had her driving back and forth between Ashville, Pell City and Lincoln to get a good set of fingerprints. "I must have logged 1,500 miles trying to get everything resolved," she says. "One day I announced, 'We'll get this resolved when pigs fly. …' My kids heard, 'when pigs fly,'" and said that's what I should name my shop."
Originally from Texas, Dené's military background (she was a Marine corpsman) and her husband's job have taken them all over the United States. "Just throw a dart at a map, and I've lived there," she says. She and husband, Joe, and daughters Lily, 13, and Aria,11, came to Springville two and a half years ago when Valspar made Joe manager of its Birmingham plant. While in Trussville looking at houses, the family took a wrong turn, found the Drive-In at Argo, and fell in love. They stumbled onto Springville right after Memorial Day, when the flags were still up. "I knew it was home," she says.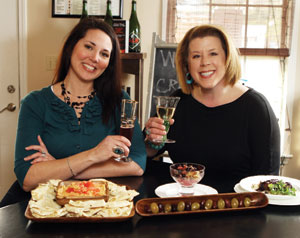 She doesn't carry "grocery-store beer" brands, seeking more imagination in the line she sells. Craft beers, on the other hand, have hundreds of years of thought, ingenuity and, well, craftsmanship behind them. They aren't mass produced, and some have six or seven hops in them. "I get women in here saying, 'I hate beer,' but before they leave here, I've usually found a beer they like," Dené claims.
Within three months of opening, she had a regular clientele. Friday and Saturday nights seem to be their favorite times to meet, but you'll run into at least one of them almost any night.
"We've been friends with the Davises for 20 years," says Laura Sparks, as she sips her favorite Banana Nut Bread Beer. "We used to meet at each others' houses, now we come here. We like the hospitality, and that our favorite beers are kept cold. A lot of beer here you won't find at local bars, convenience stores or Walmart."
The atmosphere at The Flying Pig is such that even her 15-year-old daughter feels comfortable. "She can't drink the alcohol, but she's looking forward to the designer sodas that are coming," Laura says.
"You can sample several beers and wine from all over the world," says her husband, Ray. "You can't sit here and drink to oblivion, though. This is not a bar."
Rob Brantley drops by two to four times per week for the beer and cigars he can't find anywhere else. "You can have a good meal at a local restaurant and top it off here with a good wine or beer. And it's walking distance from my house," he says.
Gary Davis is a local blacksmith who, along with wife, Susan, frequents The Flying Pig for two reasons: Dené and the beer. "We like the atmosphere," Susan says. "It's not a smoky bar. There are no obnoxious people. You could bring your family. Dené knows her customers, knows when to cut off their beer."
Dené is experimenting with live bands on weekends, and has decided acoustic instruments work best in such a small setting, so people can talk over them. A self-described foodie, she loves to experiment with recipes and has made friends with customers who share her interests. Describing herself and her girlfriends as "adventuresome," she has been known to have buffalo or elk flown in for a dinner party. "My girlfriends will try anything," she says.
One such gal pal is KoKo McTyeire, who subscribes to Cook's Illustrated, and tries many of the upscale food publication's recipes. The two frequently gather at one or the other's house to experiment with food, and have been known to invite whoever is in the shop at closing time.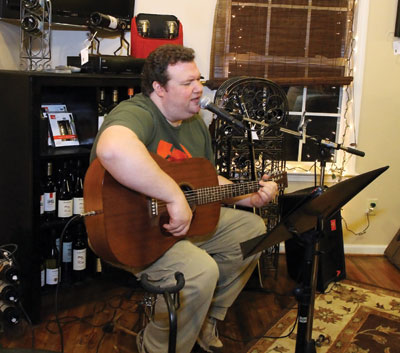 Asked to come up with a scrumptious menu and to pair it with good wines, Dené and KoKo prepared a meal for two Discover contributors that nearly knocked them off their bar stools. The menu started with an appetizer of Roasted Red Peppers and garlic hummus topped with chopped tomatoes and served with torn pieces of naan, a Middle Eastern flat bread. She also had a tray of Kalamata olives and bleu cheese-stuffed olives. The entrée was pot-roasted pork loin with blueberry and Marsala wine reduction sauce, and dessert was fresh berry gratins with Zabaglione topping.
"We selected two quick-and-easy recipes along with two that are a little more involved," Dené says. "We used ingredients that are readily available, either from local vendors or grocery stores. We bought the pork roast at the Chopping Block in Springville, for example, and KoKo grew the blueberries."
The hummus is easy, costs about $3 and took Dené five minutes to make. A versatile appetizer, it can be served with pita or tortilla chips. Her recipe serves four to six people, and leftovers will keep several days when stored in a tight container in the refrigerator.
Dené paired the hummus with a $9 bottle of Vista Point Pinot Grigio from California and, for those who prefer grains to grapes, Unibroue La Findu Monde, a French beer from Quebec. She used the Vista Point to show that you don't have to spend $45 to have a good-tasting wine. "The Pinot Grigio is light and crisp and makes a nice complement for the garlic in the hummus," she says. "Lots of my customers swear it has a vegetable undertone."
She chose the beer because she wanted to show that beer can go with everything, from starters through entrées and on to desserts. "I think the undertones of this beer make it a wonderful addition to the flavors of the roasted peppers and garlic," she adds.
The first time KoKo prepared the roast pork, she couldn't find the herbes de Provence. So she looked it up online, and found what herbs were in the mix. "I had most of them on my shelves, so I made my own mix," she says. "Now, you can buy it at Walmart."
For the entrée, Dené chose a buttery Chardonnay called Creme dy Lis, and a beer called Boulevard Smokestack Series Sixth Glass Quadruple Ale. She picked the buttery (oaked) Chardonnay for the pork "just to add another layer and texture to the tongue," she says.
"I enjoy the oak flavors of the wine with pork, chicken and delicate fish," she says. "I didn't want something to overpower the roasted pork. I believe a red would have done that. I like the quad beer for that exact same reason. It has a gentle flavor of spice that complemented the herbs on the pork, without overpowering the taste."
The dessert pairings of Pimo Amoré Moscato wine and Lindemans Kriek Lambic beer were no-brainers. She says the Moscato is always a safe bet. The beer is just something fun she thought would complement the berries. "It doesn't take a sommelier to be able to pair wines and beer with your food," Dené believes. "It just takes a little understanding of what you are drinking, Google and simply knowing what you like. If you don't particularly care for a Cab (Cabernet Sauvignon) by itself, pair it with a wonderful steak or roasted lamb. It will change your opinion of that particular grape. You must be willing to be adventurous if you want your pallet to expand."
The dessert was prepared with KoKo's homegrown blueberries, and Dené felt that the Kriek Lambic, a Belgium malt beverage with black cherries added, would pair well with it. "I call Lambic the original wine cooler," she says of the fruity-tasting, sweet beer. "I sell what I like. That way, if I go belly up, all this beer and wine are mine!"
• Check out our recipes in the April 2012 edition of Discover, The Essence of St. Clair Magazine.