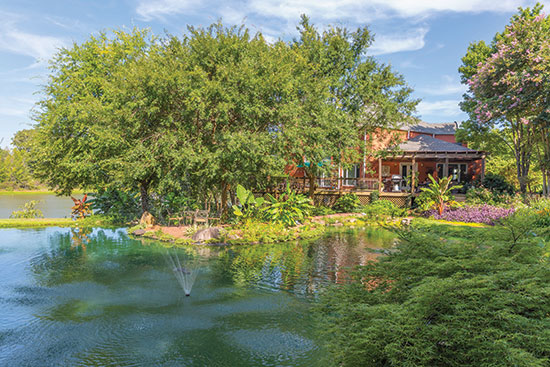 Masterpiece by the water
Story by Carol Pappas
Photos by Michael Callahan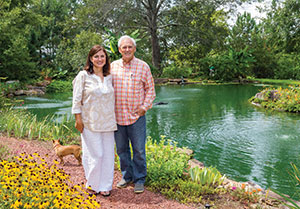 Howard and Linda Tutwiler seem the perfect match. They like to create beauty around them. And a look inside and outside their Logan Martin Lake home reveals that together, they have a talent for doing just that.
Howard, a designer  by trade, calls the planning of their home a "dream come true" for him. "Seldom, do you get to start with a clean sheet of paper."
When they were selling their 90-acre "gentleman's farm" in Talladega County, Howard said, they knew they wanted a view of the water and plenty of acreage for them and their three sons. The Tutwilers found both in property near the Pell City Civic Center, adjacent to Old US 231, which runs underneath Logan Martin Lake.
They first bought five acres and then learned the property next door was for sale. In all, they now own 22 acres, which allowed them to move into the old house on the land and begin building their new one 28 years ago.
The end result is a masterpiece for Tutwiler's blank canvas. Taking into account their needs – and their desires – they certainly put their signature on it.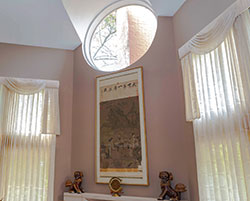 They have a 1,000 year old Tai-tsung Dynasty scroll that is eight feet tall. Hence, the high ceilings in the living room, where this impressive work of art hangs perfectly above the fireplace. Windows all around bathe the entire home in natural light. During the day, they point out, there is no need to even turn on a light.
The foyer is warm and inviting with a staircase leading you to the center of the home, as if you are walking into a perfectly framed painting. The interior of the house has the illusion of being in the round, employing what is known as a "cross hall plan" – no dedicated hallways, leaving no wasted space.
From that vantage point, you simply turn to see the kitchen, dining room, living room and study, hardwood floors throughout bringing it all together.
The eat-in kitchen is beautifully designed with antique white cabinets all around, granite countertops and a linear chandelier with five lights above an island. A glass-top dining table with a view of the water accents the open feel.
The formal dining room is simple and elegant with high back chairs encircling a round table. Deep red walls and crown molding form angles of the room with side tables and accent pieces on facing walls. A draped, oversized window reaching almost to the ceiling ushers in plenty of natural light.
There is a water view from every room in the house, Linda points out.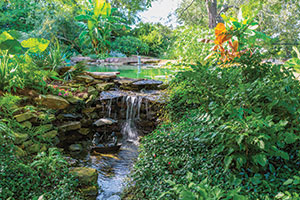 The angular living room is open to the ceiling of the second level of the home, surrounded by windows and French doors allowing an abundance of natural light to envelop the room. A marble fireplace acts almost like a pedestal just beneath the 8-foot scroll.
Four, low-sitting leather love seats – two on each side – face each other for ease of conversation across an intricately designed Oriental rug and small glass table.
A cozy study with wood burning fireplace houses Howard's most prized possession – a wooden rocking chair he made himself in his garage workshop as a Christmas gift for Linda. But this is not just any rocking chair.  He used hand tools to make it in the technique of Sam Maloof, whose rocking chairs fetch a handsome $25,000 price and every president since Ronald Reagan has had one in the White House.
In 1959, he had seen Maloof's techniques in a craft magazine, and he incorporated them in his thesis at Auburn University.
Years later, he spotted a book by Maloof in a bookstore, and he wrote him a letter about his inspirational work. In the return mail, Maloof sent him a three-page, handwritten letter and invited him to his California studio.
While working on a country club project in North Carolina, Tutwiler learned Maloof was conducting a seminar in Atlanta. He drove there just to shake hands and meet him. Later, they crossed paths again in Carmel, California, when Tutwiler was there working on another project. "He spent the whole day with me. It is one of the highlights of my career." The next year, Maloof passed away.
After that, Tutwiler attended a class to teach young craftsmen how to make Maloof-inspired rockers – an arduous task of 10-hour days. When he returned home with his creation, it was in pieces. "For two months, I worked on putting it back together and sanding it," he recalls. Now, he's making one for each of his three sons.
Just like the rocker, there is an interesting feature around just about every corner of the Tutwiler house. The master bedroom, for instance, has a balcony overlooking the living room and across the way to a circular window with a bird's eye view of the outdoors. Downstairs is a three-bedroom living area that accommodated the 'growing up years' of their sons – Adam, Aaron and Austin – referred to by Mom and Dad as "the A-Team."
Linda's prized possession awaits just beyond the French doors and deck. Elaborate gardens, greenhouse and a huge pond and waterfall. The pond came about when Howard learned his view would be diminished each winter when the lake is lowered five feet as part of the hydroelectric power function of the lake.
"We had to have a water feature," he mused.
The pond's expanse is breathtaking with its flowers in bloom, plants of various varieties, paths that meander around it and its soothing waterfall that cascades into a lower pool.
"I've had fun learning about all the different plants – what will survive here and what won't," Linda says. It is a place where she spends most of her time, keeping a watchful eye to ensure the beauty of it all. She points out the bird house she made at downtown Pell City's Artscape Gallery, or she talks of the gatherings of fellow Pell City Garden Club members.
It's all about the aesthetics she and Howard created together. "It's like living in a tropical resort," she says.