Story by Leigh Pritchett
Photos by Wallace
Bromberg Jr.
Submitted photos by
Ben Chandler
and Ellen Tanner
"Jesus is the hope that calms life's storms."
The marquee message at Friendship Baptist Church in Odenville one March evening seemed quite appropriate because, inside the building, a large group of people was learning how to help others recover from natural disasters.
Nina Funderburg of Talladega, who sat beside Pell City friend, Sandy Gafnea, excitedly looked forward to being part of faith-based disaster relief. "If Jesus is in it, I want to do it."
Early the next morning, Funderburg would have to demonstrate safety and skill with a chainsaw by felling a tree.
Mary Parsons of Moody was completing her disaster relief retraining to do what she finds fulfilling. "I just like helping people," she said.
After finishing hours of training and passing a background check, the men and women in the group would receive the Homeland Security clearance necessary for entering a disaster area.
With those credentials in hand, it would be official: each had earned the privilege of wearing the yellow shirt and hat of Southern Baptist Disaster Relief.
Some of the attendees had traveled from as far away as Athens and Rainsville. After the weekend of training, they would return to their part of the state to attach to a unit in their locale. The individuals who attend a Southern Baptist church in St. Clair would become part of the St. Clair Baptist Disaster Relief team.
Members of that team are ambassadors who dispatch on short notice to a storm-damaged area, bringing with them chainsaws, comforting words … and prayer.
Sometimes, they are the first and only contact people in crisis ever have with St. Clair County, Alabama.
"We're kind of one of the best-kept secrets in St. Clair County," said Glenn Pender of Steele, coordinator of St. Clair Baptist Disaster Relief.
In the beginning
In 2003, efforts to organize the team began and, the next year, the first volunteers completed training. Pender said it was also in 2004 when they embarked on their first mission — a rebuilding project in Flomaton after Hurricane Ivan.
Currently, 115 men and women — from ages 25 to 85 and from 22 Southern Baptist churches in St. Clair County – make up the unit. Nearly 30 of the members are chaplains, said Pender and Ben Chandler, director of missions for St. Clair Baptist Association.
Depending on the field of service they have chosen, the members might operate chainsaws, a Bobcat skid steer, bucket truck or shower trailer; give assistance with mud-out, cleanup and recovery, or provide administrative services, explained Chandler and Pender.
Some on the St. Clair volunteers have trained to care for children or to work in mass feeding. Both of those services are provided through the state-level organization, Alabama Baptist Disaster Relief.
Mel Johnson, disaster relief and construction coordinator for Alabama Baptist State Board of Missions in Montgomery, said members of St. Clair Baptist Disaster Relief number among the state's 7,000 Southern Baptist disaster relief volunteers.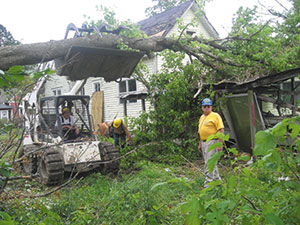 These volunteers are included under the even larger umbrella of the North American Mission Board (NAMB) of the Southern Baptist Convention.
"We are actually volunteer missionaries with the North American Mission Board," Pender said.
In the United States, 65,000 Southern Baptists are trained disaster relief volunteers, said Beth Bootz, disaster relief communications coordinator for NAMB. That makes Southern Baptists "one of the three largest mobilizers of trained disaster relief volunteers in the United States." The other top mobilizers are the American Red Cross and the Salvation Army.
Ellen Tanner, director of St. Clair County Emergency Management Agency, pointed out that St. Clair Baptist Disaster Relief has a crucial role in emergency response in the county. The team provides "vital" services, such as "debris removal on private property, which the county and cities cannot do." Plus, the unit bears the responsibility of registering and directing volunteers and serving as coordinators in the Emergency Operation Center.
Tanner said the team members "are committed to serving God by serving others. Their actions and the love they show for people is often the act of unselfish kindness that can turn a person's life around."
During its 11 years, the disaster relief team has ministered in a long list of places, helping fellow Alabamians after floods, hurricanes and tornadoes. Just last year, the group spent three weeks working in Bessemer after a tornado.
In addition, the unit has assisted after natural disasters in Mississippi, Louisiana, Missouri, Kentucky, Illinois and New York, according to James Dendy, a team chaplain from Cropwell.
When leadership of Alabama Baptist Disaster Relief is asked to help after a crisis in another state, "St. Clair is usually one of the first to mobilize," Johnson said.
Ron Warren of Steele, a member of St. Clair's unit, said its volunteers worked a total of eight weeks in damaged areas after Hurricane Katrina, 11 days following Hurricane Rita and two weeks on Staten Island, N.Y., after Hurricane Sandy.
At times, they have been in areas of martial law with no electrical service for a 100-mile radius. A mob would gather at the arrival of a vehicle loaded with food and supplies. People were so hungry that the situation was dangerous, said Warren, who is also state chainsaw coordinator for Alabama Baptist Disaster Relief.
"It is a stressful ministry" on many different levels, Dendy said. Seeing the despair of the suffering people and magnitude of destruction "gets to you. It can overwhelm you, especially for the new guys. It's one thing to see it on the news. It's another thing to see it on the ground."
Their hearts ache, and they weep for the people in crisis, Pender said. "It's not an easy task."
Because it is such an emotional ministry, Warren said chaplains are embedded in every team the St. Clair unit sends into a storm-damaged area.
The chaplains are present to attend to the volunteers, who hurt deeply for the people they are trying to help, Warren said. The chaplains minister, as well, to those affected by the storms – talking to them, addressing their needs, praying with them and, most importantly, telling them about Jesus.
Often, when the disaster relief team arrives and goes to work, property owners ask how much the services will cost. When the owners hear that it is free of charge, the answer almost always is met with surprise, Dendy said. The people find it difficult to believe that individuals will travel such a long distance to help strangers … for free.
As volunteers, the disaster relief members receive no pay. They cover the costs related to their training, as well as the expenses of traveling to an area of need. Often, they take time off work to assist in affected communities.
"If you ask why these volunteers travel such long distances, spend their own money to get to these locations and put themselves in harm's way to help those suffering through the horrible circumstances brought on by disaster, they will respond, 'God loves you; so do we. And that is why we are here to help,'" said Johnson.
"Our main goal is to carry the word of Christ – to let others see Christ in us," said team member Jimmy Pollard of Riverside.
"The greatest pay is when we see someone come to know Jesus Christ (as Savior)," Pender said.
It is about "helping folks and being there when they need us," said Ron Culberson of Springville, coordinator of St. Clair's chainsaw-cleanup-recovery crew.
"This," said team member Jim Thomas of Clay, "is what God wants me to do."
Prepared and ready
Because of the financial support it receives from churches within St. Clair Baptist Association and from individuals, the disaster relief team has become one of the best equipped in the state.
Of the 54 cleanup-recovery-chainsaw units manned by Southern Baptists in Alabama, "St. Clair is one of the larger, well-organized teams," said Johnson. "St. Clair has invested in equipment that allows them to serve in difficult areas with heavy equipment, such as a bucket truck, skid steer and shower unit."
Warren said St. Clair was the first unit in the state to have a Bobcat skid steer and is the only one with a bucket truck.
As for the shower trailer, it is a "Cadillac" unit, Chandler said. It was the first of three built by the St. Clair team. The other two now belong to Southern Baptist disaster relief groups elsewhere in the state.
Designed by Pender and Warren, the trailer features six shower stalls, each with a locking door. One stall is handicap accessible. A laundry room boasts two pair of commercial washers and dryers.
Generally, the shower unit and laundry facilities are for volunteers to use. However, they also are made available to people in affected areas.
Like the team's equipment, the capabilities and willingness of the members have garnered a positive reputation.
"The skills and abilities of the St. Clair unit are a testament to their ongoing training and commitment to respond for crisis mitigation," Johnson said.
Even though the team's focus is on ministering during a disaster, it stays busy throughout the year with community service projects.
The chainsaw crew frequently cuts trees that are deemed unsafe or are threatening nearby structures.
Also, during the summer months, the shower unit is in great demand as mission teams, such as World Changers and Mission Serve, come into the area to work.
Mission hits home
April 27, 2011 …
That 24-hour span was filled with sadness from beginning to end.
When early morning straight-line winds ripped through Moody, Pell City and Riverside, two lives were lost.
St. Clair Baptist Disaster Relief quickly went to work in the Moody area, cutting trees and moving debris.
Hour after hour, tornados cut paths all over the state. More than 60 of them crisscrossed Alabama, leaving hundreds dead.
Then, just before nightfall, an EF-4 tornado tore through the Shoal Creek community of St. Clair County.
Under normal circumstances, the disaster relief volunteers — who had just gotten home from working all day in Moody — would have been sent into Shoal Creek at first light the next morning.
This time, however, the situation was dire. It could not wait.
Damage was so widespread and debris so thick that team members were sent immediately.
Through the night and well into the next morning, they cut a path for first responders to get into the valley to free the trapped, treat the injured and locate the missing.
Around 3:30 a.m. April 28, the chainsaw crew finally reached the end of the storm's track.
Eleven residents had perished in the tornado. Two more – including a preborn baby – died in the next few days, said Carl Brownfield, chief of Shoal Creek Volunteer Fire Department.
Broken were the hearts of the residents.
Broken, as well, were the hearts of the disaster relief team members. All the past crises in which they had worked could not have prepared them for one so tragic. This time, team members were helping their very own. These were St. Clair people who were hurting; they were "family."
Pender grows emotional talking about that night and the days that followed.
He chokes back tears and says there are some images from that time he just cannot allow to come into his mind because they are too painful.
"We don't like to relive that," Pender said of himself and other disaster relief volunteers who witnessed the death, distress and devastation the tornado left in its wake. "It was difficult for all of us."
Some team members worked nine days straight, breaking only to eat, shower and sleep.
The unit continued its cleanup-and-recovery efforts for another four weeks after that. While some of the team remained engaged in those endeavors, other members moved into the rebuilding phase.
That June, the volunteers worked another three weeks.
"We had people rebuilding in there up until a year or so ago," Warren said.
Giving back
After the tornado, Brownfield exited what was left of his house and entered a "nightmare." He and volunteer firefighter Mike Blanton looked for survivors and cut through trees while trying to reach the rescuers they knew were working to get into the valley.
Several times in the weeks after the tornado, members of St. Clair Baptist Disaster Relief visited Brownfield. They talked to him; they prayed with him.
Those simple acts "lifted me back up and got my faith going again," Brownfield said.
Time and again during those weeks, he encountered different team members and found them all to be "wonderful" people.
"I had seen how much they were doing in our community," Brownfield said.
Although he had heard of the team previously, he had not realized the size of it or the scope of its ministry.
Two years ago, he joined the unit, starting out on the chainsaw crew and then learning to operate the skid steer.
This past spring, Brownfield completed training to become a disaster relief chaplain. He wants to comfort others in crisis.
Within a year after the tornado, Shoal Creek resident David Smith joined the disaster relief team.
For Smith, a volunteer firefighter as well, being involved in St. Clair Baptist Disaster Relief is his way to give to others in return for all that his community received.