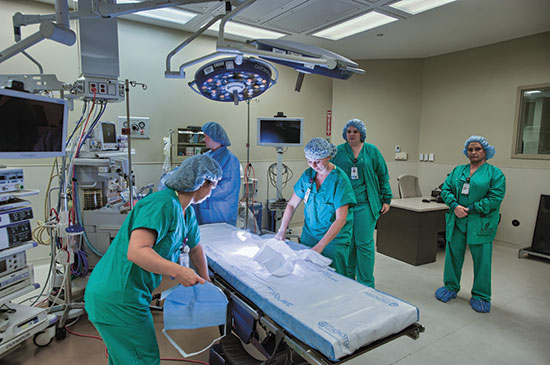 Surgical Services above equal
Story by Graham Hadley
Photos by Wallace Bromberg Jr.
It's been three years since the dream of a new hospital in St. Clair County officially became a reality when the new St. Vincent's St. Clair opened its doors just across Interstate 20 from the center of Pell City.
The underlying goals were to create a cutting-edge, state-of-the-art medical facility that had a warm, welcoming — and comforting atmosphere, all of which are part of the overall big-picture goal of better serving the people of St. Clair County and surrounding communities.
To that end, St. Vincent's has gone beyond all expectations and continues to do so, and nowhere is that more apparent than in the on-site surgical facilities and services.
"St. Vincent's St. Clair offers a very unique opportunity to a growing community," said Dr. Jeffrey D. Lawler, an orthopedic and sports medicine surgeon. "Being centrally located, St. Vincent's St. Clair allows patients to have world-class care without having to travel. Having a surgical procedure can be a stressful experience. St. Vincent's staff, operating facility, and state-of the-art equipment help eliminate a lot of these stressors and make for a positive experience."
A new day for surgeons …
And patients
Because of the forward-looking approach the hospital designers took back in the early planning stages, St. Vincent's is able to offer surgical procedures to residents in the region that before would have required a trip to Birmingham or another big city.
According to Director of Surgical Services Kara Chandler, St. Vincent's St. Clair offers colorectal surgery, epidurals, gastroenterology, general surgery, gynecology, orthopedics, ophthalmology, otolaryngology (ENT), pain management, urology, vascular surgery and more.
"In the near future, we will start performing minimally invasive weight-loss surgery, including lap band, laparoscopic gastric bypass and laparoscopic sleeve gastrectomy," said Dr. Jay Long, general and bariatric surgeon.
"There are 24 specialists on staff here at St. Clair — 16 surgeons in the ORs, and eight gastroenterologists work in our GI Labs," Chandler said.
Not only are these procedures available right here in St. Clair, but because of advances in medicine and surgical technology and techniques being implemented at St. Vincent's, they can mean a much shorter stay in the hospital and, in many cases, a less painful and quicker recovery for the patients.
Foremost among those advancements is the continual honing and perfecting of laparoscopic surgical procedures. Where before, surgeons would have to literally open up a patient, cutting through many tissue layers and muscle with large incisions, now they can make several small incisions and, with the aid of a flexible scope and tools, perform many surgeries in a much less invasive way, said Dr. Scott Smith, a general surgeon and medical director and section chief of Surgical Services at St. Vincent's St. Clair.
That means a better outlook for the patient — fewer complications and a much faster recovery. Some surgeries that would require a week or more recovery in the hospital now only require a two- to three-day stay. After most surgeries performed at St. Vincent's St. Clair, the patients can leave after a day. Some surgeries are even done on an out-patient basis.
"Laparoscopy has been one of the most revolutionary things in medicine, especially when it comes to patient recovery and decreased post surgical pain and discomfort," Smith said. "What was a former six-week recovery for gall bladder surgery now can mean a return to normal activity in a week. … Colon surgery can be done with a three-day stay instead of seven-day stay."
Many of the most common procedures — appendectomies, hernia repair, gall bladder surgery and other basic gastro intestinal surgeries fall into those categories.
In a similar vein, the hospital also can do endoscopic GI procedures, sometimes in conjunction with the laparoscopic surgery. St. Vincent's utilizes laparoscopic and endoscopic equipment that is cross compatible with the hookups in the operating rooms.
"We have two GI Suites that are designed with identical equipment so the physicians are comfortable in both rooms. Our GI Suites are state of the art with high-definition digital endoscopic equipment and video tower systems. Our video screens are suspended from the ceiling to allow maximum room and convenience," Chandler said.
Attention to design
That cross compatibility did not happen by accident. St. Vincent's St. Clair has two operating suites and two gastrointestinal suites — and their design could be called an industry-setting standard.
The large operating suites have all of the major equipment suspended by booms over the surgical areas. This means nurses and doctors have plenty of room to move around and work on their patients without bulky equipment getting in the way.
"The rooms were custom designed with the equipment centrally located around the surgical table. The equipment is suspended on towers from the ceiling and move in any direction to accommodate the visual needs of the surgeon. This allows for optimal positioning of the healthcare team without requiring them to maneuver around the equipment," Chandler said.
For orthopedic surgeons — another common surgery performed at the new St. Clair hospital — that is of primary importance. Those surgeries, in particular, use lots of equipment that requires a lot of space.
Thanks to the large operating suites at St. Vincent's St. Clair, they have all the space they need.
"We have a luxurious orthopedic surgical suite that is significantly larger than the other room to accommodate orthopedic surgery, which requires a great deal of equipment and instrumentation," Chandler said.
To further cater to the special needs of the surgeons, nurses and other doctors and staff involved in the complicated surgical process, the hospital sets up the rooms identically — the equipment and the surgical tools are in the same place in each room. That makes it much easier for them to move from one surgery to the next without having to readapt to a different surgical environment each time.
The laparoscopic surgery is the future of surgical medical care, and the equipment at St. Vincent's reflects that. The fiber-optic light and camera are connected to the latest high-definition monitors so the surgeons can see exactly what they need to while operating remotely through flexible laparoscopic sleeves.
Because not all surgery can be conducted laparoscopically, surgical theater lighting is of the utmost importance. Like the high-definition monitors, the better the lighting, the better the surgeons can see what they are doing.
Replacing the traditional doctor's halogen lights are new low-shadow LED lighting systems that not only provide doctors with a good view of what they are doing, they generate much less heat than the older lighting systems — something that is very important during longer surgeries.
"The lights in our operating rooms are innovative technology. The lights hover from a boom over the operating room table. They are simple to position and have shadow control. The lights are designed for heat reduction so the surgical team does not become overheated during the surgery," Chandler said.
As a bonus, the modern equipment is infinitely more energy efficient than its older counterparts.
Those advances carry over to the GI labs, said Dr. Owen McLean, one of the gastroenterologists at St. Vincent's St. Clair. "The equipment is excellent, and the staff are well trained to work with the surgical and endoscopic cases."
In addition to scheduled surgeries, the surgical staff is on hand to support cases that come in through the emergency room. Though they are not a trauma center, they provide whatever surgical procedures are immediately necessary and within their scope, even if the patient ultimately requires transfer to Birmingham for more specialized trauma care.
All about the care
What ultimately makes the difference at St. Vincent's St. Clair is the quality of the staff and the importance they all place on patient care and serving the community's needs. With all the new equipment, all the special considerations the designers made when planning the surgical suites and GI labs — as amazing as all of the technology is — it still comes down to quality care. And they all are benefits patients receive locally without a long drive to a big-city hospital.
The new hospital boasts a wide array of talented physicians who bring a growing number of specialties to the table, from general surgery to pediatric care and orthopedic medicine.
A big part of what is attracting this deep pool of talent to St. Clair is the cutting-edge facility and the hospital's proactive approach to patient care.
For Smith, who "practices the full scope of general surgery," the decision to come to Pell City was easy.
"With the move to this facility, it became clear there was a need in this community. There were new industries, new population. There was a population here that did not want to go to Birmingham," he said.
"The facilities are on par with any facility I have operated in. The advanced equipment is here to do the laparoscopies. The staff and the expertise to do that are here, so it was an easy choice for me to come to St. Vincent's St. Clair."
The other side of that is the experienced and professional nursing and support staff, who make it their No. 1 concern to work with the physicians to provide the best patient care possible.
"Here at St. Clair we have the most wonderful surgical team any hospital could ever ask for. Our registered nurses hold dual certifications for both adults and pediatrics and offer over 100 years of combined nursing experience," Chandler said.
And for the people who make St. Vincent's St. Clair the top-notch medical facility that it is, serving the local residents who depend on them is the ultimate end game.
That they can do it here in Pell City, providing premium medical care to people not just from St. Clair County, but surrounding areas as well, is a testament to just how well the dream of creating this new hospital here has succeeded.
That achievement is reflected not just in the growing medical offerings at the hospital, but the continually positive response those associated with the hospital receive from the surrounding community, patients and their loved ones.
"I think the community has been receptive to the increased service line here at this hospital. I continue to hear good feedback from people and their families who have been patients here, and not just people I have treated, about the quality of care here," Smith said.
For the doctors, nurses and staff, nothing is a better measure of St. Vincent's St. Clair's success.
"We just want to offer a high level of health care here locally so patients can feel like they are getting first-class medical care at their doorstep without having to go to Birmingham," Smith said. "With the facilities here and the influx of medical specialties, we are providing that."
Chandler agreed, "This team is more than a team — it's a family, and they have one mission — to offer our patients the highest standard of care and services. They collaborate each day regarding each and every case, making sure they have everything they need for the patient. They help each other in every circumstance — they are partners."