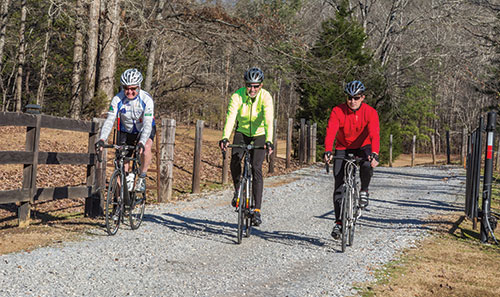 County's terrain, beauty draw cyclists
Story by Will Heath
Photos by Mike Callahan and Susan Wall
Something about St. Clair County keeps drawing cyclists from all around back to its roads. Perhaps it's the winding paths that lead to unrivaled scenery, like Chandler Mountain, Washington Valley, Logan Martin and Neely Henry lakes.
Maybe it's the feel of the wind and the solitude as you pedal one more mile and then another to get a glimpse of one more breathtaking view.
Ask a cyclist, and they will readily tell you it's the countryside – rolling pastures, meandering creeks, an old barn, a roadside waterfall – it all keeps them coming back for more.
"There are more and more people getting involved in it," said Jay Hollis of Pell City. "Last year and particularly the year before, there were quite a few new cyclists in the area.
A rider himself, Hollis now estimates that "probably 35-40 people" in the area ride with about 15 to 20 on a regular basis. His own group, the Pell City Cycling Club, bikes two to three times per week.
"It's a really well-known area," he said. "A lot of the men and women we ride with, they will pass through here, and we meet up with them when we can. They come from Irondale, Chelsea and the Shelby County area. … I ride with a group from Vestavia sometimes on Sundays. They come over about once or twice a month for 40-50 miles around the area."
St. Clair County offers them a central meeting point, with a friendly culture and picturesque scenery.
"I love St. Clair County," said Sherry Wilson of the Urology Foundation, which for a decade chose St. Clair for its Tour de Blue to raise money and awareness about prostate cancer. "It's just a beautiful countryside. The people are so nice and friendly."
"They pitched in and helped us with our ride," Wilson said. "We just kept going back to the same area to put on this event because the people in Moody were just fantastic – from the mayor's office to the police department to the volunteers to the school system. We started at the elementary school and meandered around the countryside. The (administration) was just great to work with, and we just really enjoyed it."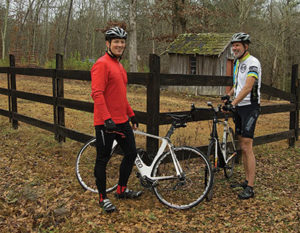 Although Wilson and fellow organizer, Tom Moody, said they were discontinuing the ride for the time being, "I have nothing but good things to say about the people of Moody, and the terrain was lovely," Moody said. "The positive parts were the generosity and support of the people, particularly the mayor's office and the chief of police and the government. And the beautiful scenery we had the riders go through it."
That ride included a century ride – 100 miles in all – that had cyclists from multiple states biking over Blount Mountain and passing McClendon Gap, circling around Chandler Mountain, and through historic Ashville. It was a remarkable showcase for the county's scenery, one that earned no shortage of praise from riders in various forums around the web.
"This is a 'must do' ride in Alabama," said Doug Tinkham of SwimBikeRunAlabama.com
"Put this ride on your calendar," said Dan ("Dirtdog") Watson, creator of Dirtdogs Birmingham Cycling Google Group
"Awesome route. One of the most scenic centuries I've ridden," said John Halsey, another participant
Biking is an activity that draws in participants from all over. Tim Pemberton of Trussville's Cahaba Cycles says he sees a "steady increase" of riders from around his area.
"I think it usually starts off like, 'I want to do something to get in shape,'" he said. "You go from riding around the neighborhood to seeing how far you can go.
"There are lot of people who ride up to Springville by the prison (St. Clair Correctional Facility in historic St. Clair Springs) and come back on 411, make a big loop there. There's also, up in Springville to the left, you can climb Pine Mountain up there. Lots of people are riding in Springville and make that kind of loop and come back (to Trussville)." The view from Pine Mountain's ridge is incredible.
Pemberton sees riders of all ages, particularly since Hewitt-Trussville High School added a mountain biking team. "It's all over the place," he said. "They go from that (high school) age to as old as you want to be."
For his part, Hollis says he and others ride from one end of the county to the other – "all the way to Ohatchee, to sometimes the tip of Talladega," he said. "We'll ride down to Vandiver or Sterrett or to locations near Leeds," also a popular destination point for scenic routes on Highways 55 and 43 (Wolf Creek Rd). "Sundays, we're out sometimes four to five hours at a time when everyone can get together.
Hollis enjoys the Northwest section of the county just as much – "probably more toward Springville and Odenville, there are amazing rides out there," he said, adding that the Pell City Cycling Club would like to start adding some routes to the area. We will post routes on our site and we encourage anyone wanting to start cycling or veteran cyclists to look us up and join in.
"We like getting out, just being outdoors. A little bit of exercise while enjoying the beautiful rolling hills in the area." Sometimes while riding I cant wait for it to end only to find myself thinking about when the next ride begins. You cant help but enjoy the fresh air and the winding backroads.
Safety, equipment
critical to sport
It's more than just the ability to pedal. Pemberton said he frequently field questions from first-time riders to veterans alike. He and others at Cahaba Cycles can offer tips on safety, as well as equipment.
"There's a different bike for riding around the neighborhood, or if you're going to be in a big group riding on the road," he said. "I try to tell everybody to at least have some lights to keep on even during the daytime, and some high viz clothing or helmet or something, so at least you'll be seen."
And as cycling numbers have grown, so has the need for more awareness about vehicles and bicycles on the road together. Hollis noted that a member, Charlie Browning, worked tirelessly and helped encourage the county to erect "Share the Road" signs to help support riders.
As the county continues to grow, "Hopefully they (county government) will get more behind it and make it a bit more rider friendly in the next few years," Hollis said. It is a beautiful destination for people to come and enjoy cycling or running.
For now, though, no one's complaining. They just board their bikes, take in the scenery and enjoy the ride.