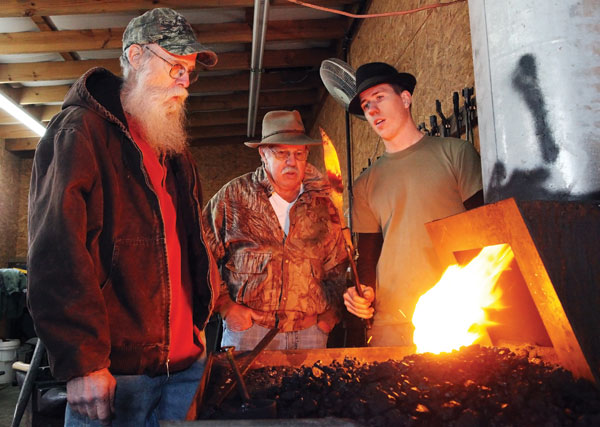 Fincher family sharpen skills as bladesmiths
Story by GiGi Hood
Photos by Jerry Martin
In today's ever-changing and fast-paced world, where one technological wonder is all too quickly followed and then bested by yet another, the Fincher men of St. Clair County might best be defined as an anachronism.
Ray, his brother Jack and his nephew Jon are creators, designers, craftsmen, fabricators. But their works are light years removed from the technological wonders of our time. The passion of their work reverts to a much slower and simplistic time where ideas were born in the brain and created by the hand.
The Finchers have discovered a little known world — the universe of bladesmiths (or more commonly known as knife makers).  Each and every blade is unlike any other; one of a kind. Metal is the common thread that links their trade. Placed in a coal, charcoal or propane fire, it is heated to temperatures sometimes in excess of 1,800 degrees, where its physical properties become softened to the point it can be hammered out until it fits the puzzle that exists within the mind of the maker.
Ray was the first to become interested in knife making. "About 12 years ago, I was attending a gun show and bought a handmade knife from a blade master named Chuck Patrick," he said. "There was just something about that creation that captured my interest. I think it was the simplicity, the creativity, the idea that something so simple, yet so special, could be made by hand."
He then started buying knife parts and assembling them. Not long after, his brother Jack and his son, Jon, also became interested in his newfound project. While assembling knives was fun, the more involved they became, the desire to create their own knives grew. As a result, all three enrolled in classes at Texarkana College in Texarkana, Arkansas, to study and begin their certification in The American Bladesmith Society, which is the national organization for bladesmiths.
Certification is a multi-level process that begins with apprenticeship, progresses through a journeyman program and ends with the title of Master Bladesmith. Jon and Jack say they are not into their craft for the certification, just the pure enjoyment of creating one-of-a-kind knives from beginning to end. Ray is more active in it and has the goal of attaining journeyman status.
Jon, who was only 15 when he began, had to have permission from his principal to be absent from high school while attending the two-week classes in Texarkana. Swapping one type of education for another, he quickly fell in love with his newfound hobby. His first class, blacksmithing, culminated with the making of his first test knife. The test knife was required as one of the steps in completing his apprenticeship.
"It was fun; it allowed for individual creativity and it was also physical," Jon explained. "There's just something exciting about taking a flat piece of steel, heating it and then pounding on it until you've made your very own creation. It is very physical and very challenging. I loved it from the beginning, and I probably always will."
Jon, a Marine who is in school at the University of South Alabama, makes a bee-line to the forge anytime he returns to St. Clair County. When observed as he works and explains the importance of each step, his passion for his art is clearly apparent.
Jack, Jon's dad, enjoyed the knife assembly portion. But when the forging began, both father and son were truly hooked. "Jack, who earned his engineering degree from Auburn University, is both a seasoned professional with a great mind for detail and an eye for craftsmanship," Ray explained. "He was immediately interested in knife making, but when Jon fell hard for it, that further cemented Jack's passion. Anything Jon loves, Jack loves, so it was a match made in heaven for father and son — actually for all of us. Our mother instilled in us the importance of family togetherness, and she would be proud to know that we have carried that with us in all of our endeavors."
Describing himself as a problem child who definitely marched to the beat of a different drummer, Ray was sent to Riverside Military Academy in Gainesville, Georgia, during the regular school year. His summers were spent at another military school in Hollywood, Florida, where his love for deep-water diving was born. During his high-school years, he worked in a pipe shop. After graduating high school, he worked as a pipe fitter before joining the U.S. Marine Corps. After his time of service, he worked as a field pipe worker.
Following in the footsteps of his father, and having had the opportunity to become experienced in every aspect of pipe fitting, fabrication and design, he decided to embark on running his own business. "I had a pick-up truck, a barrel of tools, very little money but lots of desire, tenacity and determination," he remembers. As his business, Fincher Fire Protection Systems, began to grow, family once again became intertwined when Jack, with his education, expertise and strong work ethic, went to work with Ray. Years later, after building the business, Ray decided it was time to retire and participate in his many other interests and his new love of bladesmithing.
Today, Ray, Jack and Jon all work out of the shop that Ray has built on his St. Clair County property that he shares with his wife, Nancy, and their Tennessee Walking Horses. Simply put, Ray loves knives, and Nancy loves horses. From the road, the property doesn't speak of or give hints related to the diversity that exists within the confines of the fences that enclose the beautiful pastureland, barns and horses.
However, after driving through the property to the back shops, Jack, Jon and Ray's world most certainly exists in tandem with Nancy's. The huge shop, filled with high-priced and fine equipment doesn't look like a hobby shop. It has all the accoutrements of a serious business: a forge, kiln, presses, lathes, table saws, trim saws, finishing equipment and multitudinous other high-tech tools.
It also houses a large supply of exotic materials, worthy of being used to make the handles for the finest of their creations. The supply is seemingly limitless. Tiger maple; desert iron wood; mesquite; giraffe bones (harvested from the carcasses of giraffes that have been killed by lions); Zircoti, a fine wood from Central America; and even petrified wooly mammoth tusk or walrus oossic are just a few of the exotic materials they use to create the beautiful handles for their metal masterpieces.
The Fincher guys love their hobby and have plenty to show for it. Ray said that, even though they sell their creations, it is still a hobby and not a business. "We turn everything we make back into our tools, our equipment, the stock we need, and our training," he said. "Quite often, we travel to other parts of the country to attend schools, seminars and work with other bladesmiths to learn more about our trade. In conjunction with the Alabama Forging Council, we also travel around the country and help in the presentation and teaching the youths of today about the practices of another era."
One of their greatest goals is learning how to produce Damascus Steel. A tedious and multi-stepped process, it is pattern welded and created by the layering of steel. The bladesmith starts with alternating layers of steel, forges, draws out and folds it over and over to create unique patterns.
Finally, as the blade is etched with acid, beautiful patterns can be seen within the layers of the Damascus Steel blade. As Jack pointed out, "There are no limits here. An infinite number of variations are possible. It's incredible. They even have ways of putting your name or image in the steel. It's called Mosaic Damascus. The possibilities are endless."
The Finchers are getting ready for the Batson Blade Symposium, which will be held April 14, at Tannehill State Park, just south of Bessemer. In June, Atlanta will host the Atlanta Blade Masters Show, where literally thousands of people from all over the world are expected to attend.
They hope others share their enthusiasm. Forging opportunities are available for newcomers, and youths are particularly encouraged to get involved. The State Blacksmith Association and the Alabama Forge Council maintain top-notch forging facilities within the park. It hosts the Batson Symposium and an annual conference in September promoting smithing, in general.
At the present, the Finchers' passion is still considered a hobby that will hopefully be passed to other generations. Ray best sums it up when he say he loves achieving in a field where learning is constant. "It slows us down, it makes us think, it gives us time to appreciate the intricacies of life, and it gives our family time and opportunity to dream, to create and enjoy the meaningful time that we are able to spend together because of our shared interests."
Ray has one final dream. "Jon is so very talented. He loves this (and so does his dad). Given his foresight, his drive, his desire, his commitment to being a bladesmith, I think it will be quite sad if he doesn't take the step to move from the arena of an enjoyable hobby to creating a viable business doing what he loves and what he is best at. Currently, he is the Fincher legacy, and I hope he will make the most out of his talent and the passion he possesses and that he will not only share it with our younger family members, but with the world as well."