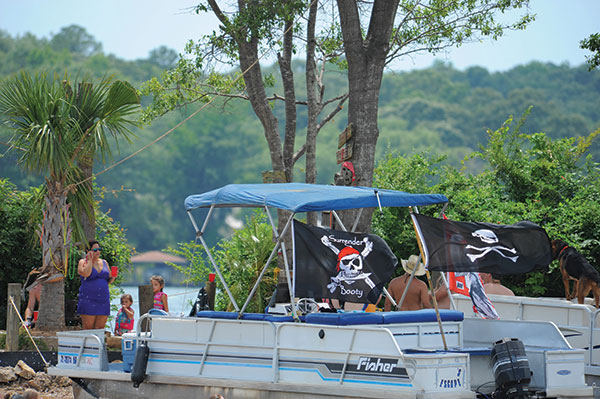 A day in the life of a
Logan Martin landmark
Story by Carol Pappas
Photos by Wallace Bromberg Jr.
Submitted photos
Drone Photo by
David Smith, Star Aerial
It's a place that would make Jimmy Buffett proud. Surrounded by family and friends and scores more of adopted family and friends, this tiny island in the middle of Logan Martin Lake is like the star of the singer's tune, Cheeseburger in Paradise – "heaven on earth with an onion slice."
On this Saturday afternoon in late June, one of the hottest of the year, there are no complaints about the sweltering temperature, only laughter, music, children's squeals and an unrivaled camaraderie of hundreds gathered around Pirate's Island.
It has become THE place to meet, anchor your boat or personal watercraft, wade into the shallow water all around and greet friends – old and new.
It's a recreational respite in an otherwise wide open waterway of boats darting to and fro.
Lincoln's Kent Crumley has been coming to the island since 2012. Now joined by his son and grandchildren, the fun they have as a family is unmistakable. Brian Crumley and his children, Easton, Addie and Brynlee are there to celebrate Easton's first birthday.
What makes this place so special? "Just the people," Kent says. "The fellowship," his son adds. "We came to hang out and have a great time," Kent says, putting an exclamation point on the sentiment of the day.
And it's precisely the purpose Jim Regan intended for the island when his wife, Laurie, bought it for him as a birthday present.
She had decorated it with crepe paper, but rain put a damper on the surprise impact it was supposed to have when approached by boat that evening. So, Laurie improvised. She grabbed a drink Koozie, wrote "Welcome to Your Island" on it, put a drink in it and handed it to Jim. He kept putting the drink down, never glancing at the message. Laurie said she finally – and strongly – urged him to look. He read it, and in that moment of realization, "he dove right off the boat!"
That was 2008. It took about a year to fulfill the vision they had in mind for the island – they cleared underbrush, built a beach, brought in palm trees, a hammock, a treasure chest and of course, a pirate flag.
They first named it Grand Island, but the throngs of boaters who found their own paradise there won out. Pirate Island, it became, and Pirate Island, it will stay. "We were outvoted by the people," Laurie says.
And the people keep coming. On Memorial Day, 46 boats were counted anchored around the island. On this day, a typical Saturday afternoon, there were 29 boats full of people.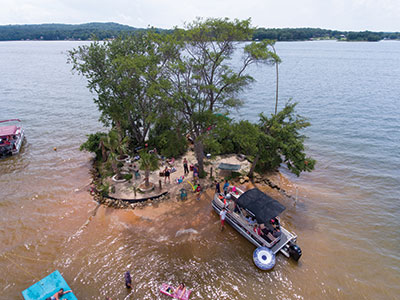 On the 75 x 50-foot island itself, its palm trees leaning out over the water, the Regans' family and friends gather around a fire pit, relaxing in chairs of all shapes and sizes.
A nearby grill, still smoldering, hints at noon day activities on the island. "It was Cheeseburger in Paradise Day," says Jim. He cooked 36 hamburgers for his invited guests and boaters who happened to be there. It's not unusual for Jim to cook on the weekends. He simply signals in boaters when the hotdogs or hamburgers are ready, according to Laurie.
All are welcome on Pirate's Island. It's a tradition that evolved when a boat load of 10 year olds asked if they needed help on the island. They helped clean it, and their pay came in hotdogs.
Of course there are other riches on the island. A treasure chest full of Mardi Beads and gold coins awaits, and children rush to see what's inside. Down on their knees like a cannon shot, they surround the chest, combing through to pick just the right color. Giggles and shrieks tell the rest of that story.
"I get them from a Mardi Gras supplier in Mobile where I grew up," Laurie says. The treasure chest is filled to the brim, and it is the island's most popular destination point for kids. As a bonus, Jim sprinkles gold coins all around the water's edge for children to 'discover.'
Palm trees don faces and perhaps a pirate kerchief – "Palm Pirates," they call them. A 'pirate' pontoon boat sits anchored on the main channel side of the island. It even has a gang plank. The customary island hammock hangs between palms, an inviting place for a summer's day.
And a skull and cross bones pirate flag flaps in the summer breeze some 50 feet above on a pole made of bamboo courtesy of a neighbor, helping passersby pinpoint this Logan Martin landmark.
On Saturday mornings, Jim puts out an oversized float a few feet offshore – a Lilypad – for kids to launch themselves in innovative ways into the water. He doesn't dare take it up until Sunday night. Too much fun would be missed, he and Laurie surmise.
"Everybody has taken responsibility for the island," Laurie adds. "We'll get calls if someone is not doing something right. They help clean it up. They love the island. Everyone takes ownership in it."
Why do the Regans share their own bit of paradise? "We love our family and kids. This is our town. It's our home," Laurie says. "It just feels good."
Perhaps this email Jim sent to his family in 2008 just after he became the proud owner of the island tells the evolution of the original vision best:
Laurie surprised the living daylights out of me for my birthday by purchasing the tiny island just 1/4 mile down the beach from us. I've been pining for it for over a decade, and Laurie thought it was a pretty worthwhile goal also. 
We have named it "Grand Island"…owing to its "massive" size (75 ft.X 50 ft. excluding beach & sandbar) and also to the original purchase price some years ago by our friends & the former owners-Randy & Sandy. The island is a popular place to park your boat and swim from its sandy little beach. It will remain open to the public. We've already heard some excellent ideas like: planting fruit & palm trees; placing a "Grand Island" plaque on it; mount a "Wilson" volleyball on a pole (from the movie "Castaway"); hanging a hammock between two trees; and the ideas just keep coming. Feel free to add your art to the picture.
 Whether you remember this little Corona commercial of an island or not, I happen to know that each of you have been there. We hope you'll come to the island many times again in both mind and body. Once you've hacked your way through the jungle and pass the lost temple beyond the largest cave on the other side of Blue Lagoon, look for us…We'll be right there in a hammock holding out your favorite cold beverage.
On any given weekend, it's easy to see: Dream fulfilled.