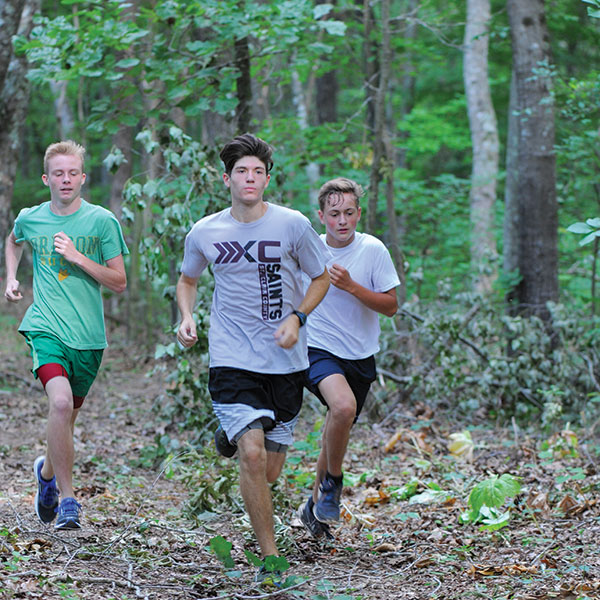 Cross Country in St. Clair
Story by Carol Pappas
Photos by Wallace Bromberg Jr.
A methodical thud of a rubber sole hitting a dirt trail below – a dozen or more pair of them – emanate from the woods just beyond St. Clair County High School's campus in Odenville.
It is almost like a cadence, interrupted and punctuated by the distinct inhales and exhales of determined runners. It's a sound heard all summer long as the high school's cross country team prepared for battle across the state.
At home, their arena is a 3.1-mile path cut through woods, up hills, around bends and under the canopy of towering hardwoods and pines.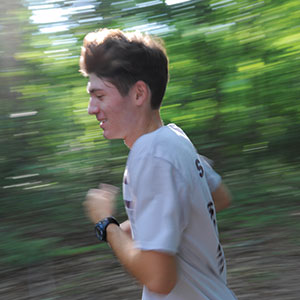 "We're proud of the hills," said former Coach Mason Dye, who helped former Principal Brian Terry realize his dream of having a cross country track. "It's a challenging course."
"It's unique in the county," added Terry. "It's almost unique in the state."
The course twists and winds all around the campus. There's even a pond runners make their way around, and its diverse landscape is perfect for non-competitors, too, who just want to take a walk in the woods. The trail is open to the public.
Terry has since retired from St. Clair County High School but is working in Georgia. "I run it when I'm home on weekends…for nostalgia," said Terry, a track athlete himself in his younger days at Samford University.
On a hot, summer day, surrounded by young, aspiring cross country runners when Terry was still principal, he and Dye talked of the genesis of the course. The cross country program is now in its fourth year. "I started working on it six or seven years ago," Terry said. He had a "vision" of what it should be, and he set out to make it happen.
Two miles were laid out courtesy of a Soil and Water Conservation grant to build a nature trail. Scooter Dorsett helped in the project.
"Cross country to me is a sport that attracts a group of kids who don't have another niche. They're loners. They're bright. They're not football players," he said, noting that it gives them an outlet in which they excel.
"It brings in a group of kids who need to do their thing," Terry added. "The kids tend to unify." It becomes a team sport.
"They become like family running together," Dye said, adding that it is co-ed.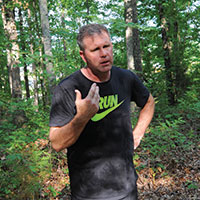 When Dye, who also ran track in college, arrived on campus, the course was finished. "He put the vision into play," Terry said of his young coach.
It has had a tremendous impact on athletics. Five students from St. Clair County High have already earned track scholarships. More than a dozen schools held a meet in the fall with more than 300 athletes participating.
And the Odenville course has been a catalyst for growth in other programs around the county. "Every school in the county now has a cross country team except Ragland," Terry said. "Cross country is growing and evolving as a sport. It builds excitement."
Parents and volunteers maintain the course, and the community is beginning to learn about its existence and about the sport itself. "The community as whole is unfamiliar with what cross country is," Terry said.
But now, awareness is increasing and with it, there is heightened interest from middle school and high school students. "We don't cut," Dye said. "It is not limited to a set roster."
By its very nature, it encourages more and more to become involved. And, like Dye and Terry, these runners see they can grow personally and physically, and they can compete for scholarships.
"Track and field paid my way through Samford," Terry said, and he wanted to see other young people provided with the same opportunities he had. "It's a great sport to be a part of."