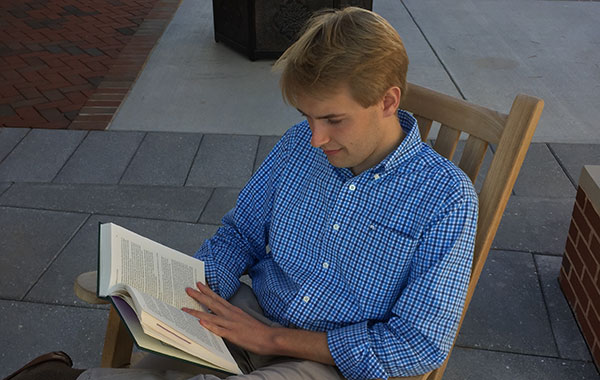 Anatomy of a rising political star
Story by Leigh Pritchett
Photos by Mike Callahan
Submitted photos
Emory Cox sat on the lakeside patio of his Pell City home, laughing and talking with a stranger as if with a long-time friend.
He discussed politics, society, government and the state of domestic and foreign affairs. With the certainty that comes from first-hand knowledge, he assessed the work of sundry politicians.
This was a brief moment of respite after a summer in the company of newsmakers.
During his summer break from Washington and Lee University in Lexington, Va., the 21-year-old junior served internships in the Capitol Hill office of U.S. Sen. Jeff Sessions, R-AL; with the U.S. Senate Committee on Banking, Housing and Urban Affairs (the chairman of which is U.S. Sen. Richard Shelby, R-AL), and in the office of Alabama Attorney General Luther Strange.
Once during Cox's time in Washington, there was an "armed shooter" alert in his building. "That was wild," Cox said. Thankfully, it was a false alarm.
At least twice during his internship in Alabama, Cox saw history unfold:
– He attended former Alabama Supreme Court Chief Justice Roy Moore's first hearing before the Judicial Inquiry Commission.
– He went to a parole hearing for Thomas Blanton, who was convicted in the 1963 bombing of 16th Street Baptist Church in Birmingham that claimed the lives of four African-American girls.
Cox has long been interested in law and politics. In college, he is studying economics and American history, intending to pursue a master's degree in business administration and ultimately a law degree.
His choice for graduate school is likely to be the University of Alabama. His father, Ray, was a golfer there and his grandfather, long-time Pell City dentist and former mayor Dr. Bam Cox (deceased), played on the 1941 National Championship football team.
This past summer was actually Cox's fourth for serving internships in government offices.
Before his senior year in high school, Cox was an intern in Congressman Mike Rogers' office in Washington, D.C.
"That was definitely a good, growing-up experience," Cox said. Living alone and taking care of finances, laundry, meals, and everything else "definitely gives you more respect for your parents. … You remember to say, 'Thank you,' (to them) more often."
His mother, Annette, never doubted that he was ready for the venture. "I had every confidence that he was mature enough to behave responsibly away from home," she said. "… I knew that living and interning in Washington would be a wonderful learning experience for Emory. From age 11 forward, he planned our family vacations and was always at ease when traveling. We have close friends in the D.C. area who I knew would be there for him if any issues arose."
The summer between high school and college, Cox assisted Bill Armistead, chairman of the Alabama Republican Party. Then, during summer break 2015, Cox worked in the office of Alabama Gov. Robert Bentley and with Alabama Secretary of State John Merrill.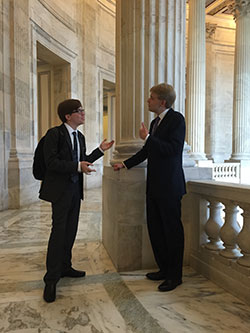 Preparing for politics
Cox's interests are many. He enjoys kayaking, swimming, traveling, playing golf and tennis, and visiting family, friends and neighbors. Following politics is definitely one of his hobbies.
And yes, he does have political aspirations. He quickly added, however, that he does not want to be a career politician. Instead, he wants his public service to be in the truest sense — only for a short time and only with prior private sector experience.
"I'm a huge supporter of term limits," said Cox, who participates in the St. Clair County Republican Party when he is home. "That's the way the Founders wanted it."
In the various internships, Cox believes he has observed the traits of effective leadership.
He admires what he saw in Armistead, whom Cox describes as a moral, ethical, spiritual person.
Through that internship, Cox met Dr. Ben Carson, who later would become a GOP contender in the 2016 Presidential race. "Dr. Carson is a brilliant man of sincere conviction whose life story proves that, with hard work, anyone can succeed in America," Cox said. "I admire his thoughtful approach to complex problems and believe that he would be an excellent secretary of health or education in a Presidential cabinet."
As for Sessions, Cox said, "He is attuned to the people of Alabama and deeply grounded in faith." Even during a busy time of advising then-GOP Presidential candidate Donald Trump, attending to Senate business, and meeting with constituents, Sessions still spent time with Cox. "(He) took time to talk to and mentor and encourage a young person."
Cox found Strange to be a mountain of a man … literally. Though Cox stands six feet tall, he was dwarfed by Strange's stature. Even so, Cox said Strange is "approachable" and "down to earth."
Each of the internships left an impression on Cox, who left an impression as well.
"Emory brought an unwavering passion for hard work and an enthusiasm for tackling any assignment," said Mike Lewis, communications director in Strange's office. "We wish his internship had not ended so soon."
College life
Cox's busy summer is an extension of his busy college life.
In addition to his course load, he is chairman of the College Republican Club at Washington and Lee University and was appointed by the university's president to serve on the student financial aid committee. Also, he was elected to a Student Government body that formulates a course of action in student disciplinary matters.
In the Lexington, Va., community, he is involved in the Rockbridge County Republican Party, as well as Robert E. Lee Memorial Episcopal Church. He said he and friends go to church together as a way to keep each other accountable.
More importantly, though, they attend church because faith has an all-encompassing importance in a person's life.
At home, Cox is a member of Pell City First United Methodist Church.
Being with other followers of Christ Jesus is an essential ingredient in Cox's recipe for success in college. The recipe reads like this: "go to class (of course); study hard and find a church home to stay grounded in faith."
In church, "you meet people in the community. It keeps you grounded," Cox said. "It keeps faith in the forefront. … I know how important faith is in my life."
Faith, Cox explained, instills moral and ethical values. It leads a person to treat everyone with respect, and affirms the presence of the all-powerful God, who is far greater than we are and is in control of everything.
When individuals who make policies, laws and decisions are people of faith, they serve with integrity the voters they represent, Cox said. "We need more people like that in public office."
Early life
Cox shares a common experience with so many of the historical figures who shaped our nation: he lived his early years in a cabin. Until age 2, his family lived in a 500-square-foot, A-frame cabin at Seddon Shores before moving to their current home.
Through eighth grade, Cox attended Pell City schools and then went to The Altamont School in Birmingham for high school.
Cox said his parents — both entrepreneurs — instilled in him values, perseverance and determination.
"No matter the task, no matter what you might be doing in life, do it 100 percent," Cox said, recalling what his father taught him. "Find your passion and devote yourself to it."
Before Cox was born, his father, Ray, founded Metro Bank by going door to door to sell stock in it. The first location opened in Pell City. Now, the bank operates nine sites in St. Clair, Etowah, Talladega and Cleburne counties.
Annette Cox ran her own Pell City business, called Potpourri Gifts & Antiques. Emory Cox said his mother passed to him the legacy of hard work she learned growing up on a farm in South Alabama.
Ray Cox was driven, passionate and diligent, Emory Cox continued. "He was very good at treating people with respect, no matter what walk of life. That's a goal that I set for myself."
Ray Cox was also adept at balancing responsibilities and, as a result, was a great father, his son said.
When Emory Cox was quite young, his dad was diagnosed with cancer and given only six months to live. For 18 months, Ray Cox continued to work and to create special family memories. After a two-year battle with the disease, Ray Cox succumbed to cancer in 2005.
Emory Cox was nine years old.
Cox said his mother "handled (Dad's) passing with such strength and grace and determination. … She was determined to raise me in a way she thought he would be proud of. She was always strong, always supportive, always there for me. … I love her dearly."
Losing a parent, Cox said, brings the realization that relationships are important and each day with those we love is to be cherished.
Annette Cox said her son "stepped up as an adult overnight. We had to learn to depend on each other and, as a result, have a great relationship. It has been amazing to watch Emory grow into a young man that I know his Dad would be so proud of. I feel honored to be his mother."