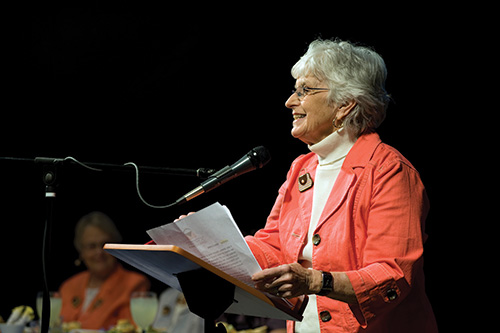 Her monumental legacy
Story by Leigh Pritchett
Submitted photos
Dr. Jenny Gauld stood 5 feet 3. Yet, those who knew her said her influence in everything she undertook was monumental.
From rearing children to helping those in need to establishing a new program at a university, she did it with vision and diligence, they say.
"She gave 110 percent at the very least," said daughter Lee Franklin Shafer of Anniston.
Following a brief illness, 78-year-old Dr. Gauld – who had 6 children (one deceased), 11 grandchildren and 1 great-grandchild – passed away on March 14, 2017.
The legacy she left is far reaching.
… as wife and mom
Her husband of 40 years, Ernie Gauld of Pell City, described her as "a fun person."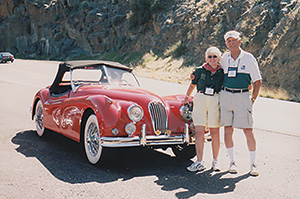 "She loved people and loved making people happy," the Rev. Shafer said of her mom.
Denson Franklin III of Birmingham, Dr. Gauld's son, said his mother was patient and supportive of her children. "We knew she loved us unconditionally." An "intense listener, … she saw value and worth in everyone."
Not only was she an avid Atlanta Braves fan, but she also was an excellent cook and gardener. "Whenever we would visit, she would send us home with a grocery sack full of tomatoes, pole beans, eggplant, squash and cucumbers," Franklin recalled.
She was quite the knitter and seamstress too, Franklin continued. "I still have the corduroy Winnie the Pooh she made that was my full-time companion from about age 3 until somebody told me I was too old for dolls!"
She and her husband liked antique vehicles and had 10 of them. Dr. Gauld's favorite was a 1955 red Jaguar, which she made certain her husband handled with care.
Even in her husband's hobby, Dr. Gauld was fully committed. As a result, she was named to the board of directors for the Library and Research Center of the Antique Automobile Club of America.
… as a leader
For nearly 30 years, Dr. Gauld worked at the University of Alabama at Birmingham, where in 1986 she became the institution's first assistant vice president for enrollment management, said Cindy Roberts Holmes of Hoover. Ms. Holmes was Dr. Gauld's executive assistant.
Ultimately, Dr. Gauld became vice president of student affairs, the first female to hold a vice presidential position at UAB.
The Rev. Shafer credits her mother with being a trailblazer who wanted women to be "known for their brains and skills. … Because of women like Mom, who broke down the barriers between men and women in the '70s, I have had a much easier time in my career as an Episcopal priest, another role that was historically reserved for men."
Some UAB projects that bore Dr. Gauld's fingerprint included the Campus Recreation Center, the Commons on the Green dining facility, and the transition from a "commuter school" to a full-service institution, according to the UAB National Alumni Society and UAB News Archives. Early admission to UAB's medical school was also one of her projects, states another source.
"She is credited with leading UAB in enrollment growth and was strongly committed to diversity," said Stella Cocoris of Hoover, who retired from UAB as assistant vice president for enrollment services and university registrar. "Under her leadership, a pioneering program in minority recruitment and retention graduated hundreds of students who are now professionals in the fields of health, law, business and more.
"Jenny's vision and drive helped change UAB from its well-established and long-standing image as a 'commuter school' to that of a vibrant residential campus with a full complement of student programs and activities – the UAB of today."
… as a visionary
Dr. Gauld's time away from the office was no different.
In 1985, for example, she was a volunteer with Family Violence Project that later came to be a service of the YWCA Central Alabama, said Suzanne Durham of Cook Springs, YWCA's chief executive officer for 34 years. YWCA Central Alabama is based in Birmingham.
A year later, Dr. Gauld was named to the YWCA board of directors. In four more years, she was president, a post she held five years, Ms. Durham said.
In 2000, Dr. Gauld helped to start the Purse & Passion Luncheon in Birmingham to raise funds for the YWCA emergency shelter and services.
After her time as president, "she co-chaired two capital campaigns that each raised close to $15 million," Ms. Durham said. "The campaign in 2006-2008 raised funds to bring a domestic violence shelter to St. Clair County and build a new family homeless shelter and affordable housing in a neighborhood close to downtown Birmingham."
The YWCA board planned to surprise Dr. Gauld by naming the St. Clair shelter "Jenny's Place." Dr. Gauld, however, wanted people to feel dignity in saying they live at "Our Place" instead of at "Jenny's Place." Thus, it is called "Our Place" at her request.
Nine years after Purse & Passion commenced in Birmingham, Dr. Gauld duplicated that annual fundraiser in Pell City. "Since then, Purse & Passion St. Clair County has raised nearly $500,000 in vital funding to support Our Place," YWCA officials say. Dr. Gauld's efforts were recognized in a special tribute at the 2016 event.
Before bringing Purse & Passion to St. Clair County, Dr. Gauld helped to establish the YWCA's Prom Palooza locally. Through this endeavor, teen girls in need in St. Clair receive a free gown, accessories and shoes for their special night.
… as the achiever
A native of Gadsden, Virginia Gauld earned her bachelor's degree in education from Emory University. From the University of Alabama, she received both a master's in rehabilitation counseling and a doctorate in higher education administration. She began her career in 1967 as a first-grade teacher and joined the staff of UAB in 1977.
The Virginia D. Gauld National Alumni Society Endowed Scholarship was established at UAB in her honor. She retired from UAB in 2006.
According to UAB News Archives, Birmingham News deemed her "one of Birmingham's most influential women," and Birmingham Business Journal named her "one of the top 10 Birmingham women." She served with the National Conference for Community Justice and Cahaba Girl Scout Council.
In addition, she was a graduate of Leadership Alabama and Leadership Birmingham, and served on the Jefferson State Community College advisory board.
After moving to Pell City, she was "citizen of the year," a member of the boards of directors for Rotary Club of Pell City, Pell City Housing Authority and Pell City Center for Education and Performing Arts (CEPA). She was active in many facets of Pell City First United Methodist Church.
Ms. Cocoris, who worked with Dr. Gauld 20 years, found her to be a woman of integrity. "She was compassionate, passionate about her work, and the epitome of commitment and dedication to UAB and her many community-based interests, especially the YWCA. … She would never ask someone to do work she was unwilling to do herself. … She had an innate ability to identify and value an individual's unique skills and, in doing so, gave many people the gift of better knowing and valuing themselves."
… as a friend
During the challenging years of establishing a new program at UAB, a bond of trust developed between Ms. Holmes and Dr. Gauld that grew stronger and stronger.
They were known as the "dynamic duo."
"We were best friends," said Ms. Holmes, who became Dr. Gauld's assistant in 1984. "She loved my family, and I loved hers."
When Ms. Holmes' husband suddenly became gravely ill in 2003, Dr. Gauld accomplished the near impossible, setting up in only two days a scholarship in his name before his passing.
"Jenny Gauld was the one person who made the most impact on who I am today," Ms. Holmes continued. "She was my mentor, my best friend and my soul mate. She touched everyone she knew in a special way, but none more than me."
She had a gift for making people feel special.
One day in 2008, Brenda Wyatt of Pell City answered her telephone to hear, "This is Jenny Gauld. I've been told you are someone I need to meet."
Dr. Gauld had contacted Mrs. Wyatt because both of them shared a desire to help women and children in crisis or poverty.
Immediately, the two women connected. "There was something about Jenny that made me feel as if we had known each other all of our lives," Mrs. Wyatt recounted.
During the many hours spent planning an emergency shelter for women and children, a precious friendship blossomed between Mrs. Wyatt and Dr. Gauld.
"My life is immensely richer for having known Dr. Virginia Gauld," Mrs. Wyatt said. "To be called her friend will always be considered one of the great honors of my life. … She did not need to know me. Quite the contrary, I needed to know her. And for that, I will be forever enriched and grateful." l
Purse & Passion is scheduled for Thursday, Aug. 24, at 11:30 a.m. at the Beacon of Pell City First United Methodist Church. If anyone is interested in hosting a table or attending the fundraiser as a guest, they can contact Liz Major at lmajor@ywcabham.org or (205) 322-9922 ext. 350 for more information.