From Sweden to Ragland, artist's life takes many a turn
Story by Leigh Pritchett
Photos by Michael Callahan
Marie Barber shooed chickens and a guinea to welcome a visitor one bitterly cold day.
Once inside her woodsy home with warm Gulf Coast decor, she smiled and said, "It does feel like Sweden out there."
Living near Ragland and the Coosa River, this Swedish native quietly creates designs and artwork that are nationally known and have been featured in many books, magazines and retail outlets.
Her resume is extensive: she has been an illustrator for the magazines Paula Deen, Victoria, Tea Time and Southern Lady; a designer for Chapelle Ltd. of Ogden, Utah, and creator of cross-stitch designs that filled six or more books for Sterling Publishing Co. of New York. In addition, she illustrated leisure, etiquette and decor books.
During her 15 years as designer with Hoffman Media, she did "hundreds and hundreds of cross-stitch leaflets and cross-stitch designs for magazines," and all cross-stitch chart conversions from the Disney movie, Pocahontas. Also through Hoffman Media, she fashioned fabric designs for the former Hancock Fabrics and worked on Hancock's Paula Deen Collection.
A count even commissioned Mrs. Barber to replicate in his mansion some paintings of the Sistine Chapel.
Mrs. Barber spent three weeks on eight-foot scaffolds in Count Albert von Oldenburg's living room to paint the scenes on a 37-foot tray ceiling. The palatial estate in Eastaboga in Talladega County was like a museum and a history book, Mrs. Barber said.
"When you went to his home, it was like you were in a fairy tale. You were not in Alabama," she continued.
During those weeks, the count taught her etiquette in the presence of nobility and gave her keepsakes from all over the world.
That, Mrs. Barber said, "was probably the most memorable experience" she has had with her art.
Now working in the decorative art of needlepoint, Mrs. Barber produces "fun" designs and projects. She designs belts, pillows, eyeglass cases, phone cases, lampshade covers, jewelry, purses and bags, rugs and tapestries, and has done custom orders for dining room chairs.
The formative years
Marie Olsson spent her early years in Skåne (pronounced skone-neh) on the southern tip of Sweden. Skåne is about 20 minutes from the Baltic Sea. The region is flat and experiences snow four months a year.
"Sometimes, your eyelashes iced up," she recalled.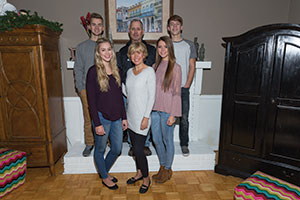 Marie and her parents lived with grandparents in the countryside in a home without indoor plumbing.
When she was six years old, she and her parents moved to Tollarp to what she described as an elaborate home with an indoor sauna.
Each Christmas, she wanted art paper and markers. By second grade, she was an acclaimed artist, at least to her classmates who would ask her to draw Donald Duck, Goofy and Mickey Mouse for them.
Her father passed when Marie was 10, and her mother, three years ago.
Although Marie has no siblings, she does have 40 first cousins living around the world. One of them — Anna Steed — lives in St. Clair County not very far at all from Marie.
As a teenager, Marie applied to the American Scandinavian Student Exchange program to become an exchange student.
Interestingly, while in a music class in ninth grade in Sweden, she had sung the lyrics, "I come from Alabama with a banjo on my knee." But, Marie confessed, "I had no idea Alabama was a state."
Nonetheless, that is exactly where she was placed as an exchange student. The girl from the southern tip of Sweden with a southern Swedish dialect found herself in the southern region of the United States.
Even though she was to be in Alabama only for Pell City High School's 1983-1984 school year, Marie found she just could not stay away. One reason was Kinsman Barber, a Pell City native and Jacksonville State University student she met four months into her sojourn in the United States.
After completing the exchange program, Marie returned to Sweden, finished junior college and worked for a while in Stockholm. Then, at 19, she decided to attend art school either in Australia or the U.S. She chose the U.S., going first to California and then to Alabama by bus.
Marie traveled to Auburn University to stay with friend Wendy Bradshaw Weathers (who now lives in Ozark). Through an outreach ministry to foreign students, Marie heard about Jesus Christ, His love and the forgiveness He gives to all who will receive it.
"I utterly broke down and couldn't believe anyone would love me in spite of all my unrighteousness," said Marie. She asked Jesus Christ to save her.
A "long, winding road" brought her and Kinsman back into contact.
She enrolled in the Art Institute of Atlanta to study visual communication and, a week after earning her associate's degree, she and Kinsman wed.
Marie, the artist, and Kinsman, the teacher and coach at Victory Christian School, have been married 27 years and have four children — Malin, 21; Peyton, 19; Daniel, 17, and Magdalena, 16.
They also have 18 chickens, three dogs, two cats, one guinea and an herb garden.
"I enjoy the simplicity of life," said Mrs. Barber. To her, it is reminiscent of the childhood experiences she cherishes most. The years of living in the Swedish countryside as a child were simple and meager. But, "my best memories were in the country."
In her Alabama country home nestled in the woods, she creates her art while listening to sermons by David Platt, president of the International Mission Board of the Southern Baptist Convention and best-selling author.
"God has allowed me to work at home," Mrs. Barber said.
A diverse talent
Mrs. Barber's art spans many genres.
"I used to do Christian art — cards and prints," she said. "I did that for a little while."
One of her pieces hangs in her church, which is Hardin Chapel in Ragland.
From the large floral acrylic on canvas that accents her dining room to the vibrant needlepoint pillow she had just finished, all her pieces show her penchant and flare for color.
"I'm all about pink leopard with some fur," she said with a laugh. "… I like color. I'm not traditional."
When she formed her own art design company, it was appropriately named Colors of Praise.
"Most designers use their name for their design," she said. She chose, however, to use the name Colors of Praise because its gives her opportunity to tell others who Jesus Christ is. She said all her accomplishments are small in comparison to what Jesus has done for her.
Getting to where she is now in her art was the result of another "winding road" in life that started with an economic recession.
In February 2009, downsizing at Hoffman Media claimed her position as illustrator and cross-stitch designer. Because of that, she sought a new direction for her art.
Mrs. Barber had seen Kaffe Fassett's color schemes in his decorative arts designs and noticed that they resemble her own use of color. When her love of color was paired with her appreciation for the tapestries of Europe, Mrs. Barber found a new direction for her art – needlepoint designs.
That April, she sent her application to The National NeedleArts Association and was accepted to a trade show in Columbus, Ohio. Her first show was in June, during which she received $15,000 in orders.
Since then, she has shown her wares in trade shows in Los Angeles and San Diego, Calif.; Phoenix, Ariz.; Dallas, Texas, and many other cities. The majority of her creations are marketed in Florida, California and the northeastern states. Locally, they can be found at Needleworks LLC in Birmingham.
Kinsman said his wife frequently gets ideas for needlepoint designs from sources like magazines and record covers.
And the designs are not "your grandmother's needlepoint," Mrs. Barber said.
"Her work truly is an original style," said Judith Carter, owner of Needleworks LLC. "To me, she has captured the essence of a younger generation of needlepoint stitchers…She has been an exciting addition to our industry."
One of the needlepoint belts Mrs. Barber recently completed boasts a spectrum of colors, flosses, textures, patterns and accents. Retail is estimated between $160 and $200.
She develops 200-250 designs for each January's needle arts trade show and another 100 for the summer show.
"I like to design a lot of new patterns every year," she said. "… I want it to be more of what they would have fun with."
Plus, she has monthly trunk shows. "I sell to a lot of stores in California," she said.
Her venture into needlepoint designs followed a different path from the norm, she explained.
"I am an illustrator coming in as a designer (who had to learn needlepoint)," she said. "Most are needlepointers becoming designers."
To be able to do what she does, she had to become accomplished in the various needlepoint stitches and learn the difference in flosses and other aspects of the art.
Actually, her needlepoint enterprise has grown into a family endeavor.
"The girls are very creative," Mrs. Barber said. "There are times I ask them for advice. Malin could run my business. She has done trade shows without me."
The family sometimes travels to shows with her and, together, they see sights and tour landmarks. "That has been a fun, fun part of it," she said.
Mrs. Barber is in an almost constant state of creativity, whether painting a canvas, stitching a needlepoint project or using seashells washed ashore by Hurricane Wilma to turn an accent mirror into a conversation piece.
"Taking away paint from me would be devastating." She said it would be like telling her husband — who happened to be playing guitar in the background — to give up his music.
"… It's my crazy world!"
For more about Marie Barber and Colors of Praise,