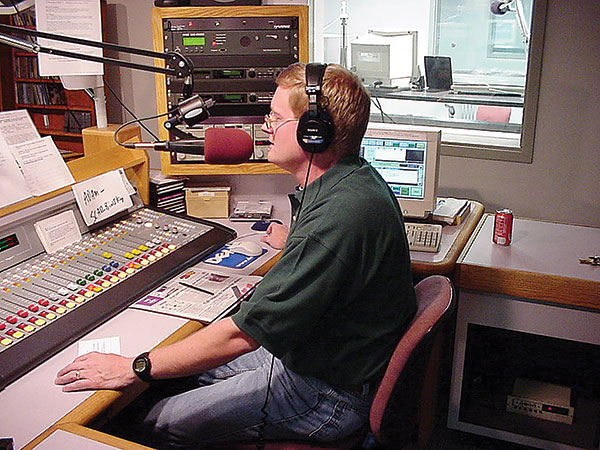 Dale Owen shares music around the world
Story by Paul South
Submitted Photos
As a journalism student at Troy State (now Troy University), Dale Owen landed a job at an AM radio station near campus.
"They had a show on Saturday morning that played crooner music," Owen said. "The station manager just wanted someone to keep the seat warm while the program aired. But I found out it was an incredible genre of music."
His time "keeping the seat warm" sparked something more.
"It really lit a fire in me," Owen said. "I decided that if I ever had control over my own show, I'd play that kind of music."
Almost 30 years later, Owen's love for the music of Bing Crosby, Frank Sinatra, Nat King Cole, Louis Armstrong, Rosemary Clooney, Ella Fitzgerald and countless other contributors to the great American songbook still burns.
And each week from a home studio in Pell City, he shares that love with the world. Owen records The Crooners with Dale Owen for Alabama Public Radio. The show airs from 6 p.m.-8 p.m. Sunday evenings on the APR, but thanks to technology, is available to be heard 'round the globe. Commercial radio may have forgotten the music of our parents, grandparents and beyond, but for Owen and APR over the past 21 years, the music and memories linger like the taste of timeless fine wine.
Owen's post college path didn't start as a stroll down a musical memory lane. The Marietta, Ga., native began his professional life as a producer at CNN, first in Atlanta, then at the network's Detroit Bureau.
But after six years, Michigan winters drove him back South. Owen went to work at the University of Alabama's Center for Public Radio and Television in Tuscaloosa as operations director for the Alabama Public Radio network of stations, which reaches not only across Alabama, but into Tennessee, Georgia, Mississippi and Florida. He also worked for National Public Radio as a local anchor for the network's signature news programs, Morning Edition and All Things Considered.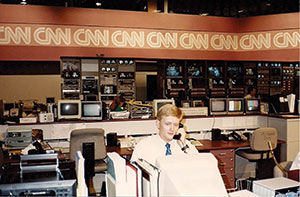 In Tuscaloosa, he pitched the idea for The Crooners to then program director Roger Duvall. "I loved Sinatra and the crooners, of course, and fortunately, he went for it," Owen recalled.
After 11 years at the Capstone, Owen would eventually relocate to Pell City, his wife's hometown. And from Pell City, Owen crafts what APR music director David Duff calls, Owen's "labor of love."
"One of the missions of public radio is to serve underserved audiences," Duff said. "Certainly, we do that with classical music, but we do that with specialty shows on the weekend like The Crooners. You'd be hard pressed to find that on most radio stations. We felt like it was a market we could serve and it's proved to be very successful. It serves a niche that might not be served otherwise."
Brittany Young, program director and content manager for APR, put it simply. "People love the show," she said. "They just love the fact that he plays the classics. . .the music that lasts forever. You can play it today. You can play it 20 years from now, and it's still amazing. It takes you back to a place where you first heard it. People love that."
The Crooners has a devout following, Young said. "If you were to take it away from them, then there would be an uproar," she said. "Those loyal listeners, they'll let you know. . .They expect to hear it every Sunday from 6 to 8 and as long as it's there, they're good. But if you took it away, I'm sure we'd get a lot of backlash."
The success of the program came quickly. What began as a one-hour broadcast was expanded to two hours after only a year. And listeners span the generations. Owen learned that quickly during a pledge drive for the listener-supported network while he was still broadcasting from Tuscaloosa.
"When I was still in Tuscaloosa in 2001, we would get calls from college kids, some in Auburn, some in Tuscaloosa and other parts of the state," Owen said. "(They'd say) 'I only have about $5 to contribute. I'm a college student on a fixed income, but I really love your show.' The show has done well."
What's the attraction of the music that resonates even today, not just in the classic singers of yesteryear, but also in modern rock and pop stars, from Rod Stewart and Linda Ronstadt, to Annie Lennox of the Eurhythmics and Brian Setzer of The Stray Cats?
"It's something different for every person that listens. But I think if you're talking about standards and even torch songs, there's a certain longing for love," Owen said. "The songs that are written by the great composers – Rodgers and Hart, George and Ira Gershwin – they just found a way to reach down into that hole and just pull out the feelings and emotions so many people have about love and about loss."
The recipe for timeless music combines a great voice, with great music and lyrics and a great arranger. Owen points to the classic Sinatra album, In the Wee Small Hours, arranged by Nelson Riddle, as an example.
"I think that music just created a bond with something that all people have to be loved and a feeling of loss," Owen said. "When you've got great writers and lyricists and great singers like Andy Williams and Sinatra and Tony Bennett that can present that, it just all melts together. It's like a perfect storm."
There's a set formula for a timeless classic.
"Most of your standard music has two elements that are crucial to great music and that is, a great vocalist and a great lyricist/composer. Those are the two elements you've got to have to make the perfect song," Owen said. "Crooner music exhibits that time and time again. It comes together for that perfect storm that people say, "Yeah, that's exactly how I feel about it."
Lots of people love Owen's Sunday night perfect storm of great songs. Some reach out on social media. Others send in requests for Sunday night dinner parties. For Owen, those are precious encouragements.
"That's huge for me. It's a real affirmation that (the show) makes an impact on people's lives," Owen said.
He said he feels a strong connection to his listeners. For Owen, the fire for the music and for pleasing his listeners still burns. And audiences around the world can access the show any time. "I don't know what people's perceptions are of people on the radio," he said. "But I hope they know I'm a real guy who loves this real music and wants them to have an experience when they listen. I want them to know they're listening to a friend that has something very much in common with them." l
Editor's Note: You can tune in to The Crooners with Dale Owen on Alabama Public Radio at 90.3 FM every Sunday from 6 p.m. to 8 p.m.