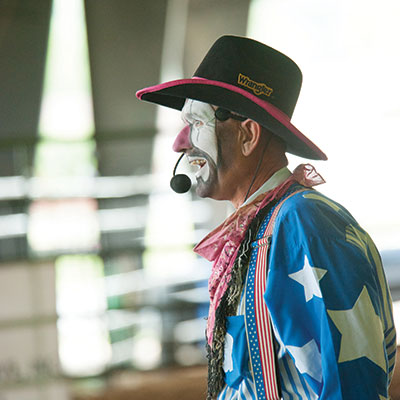 Loving the life of a rodeo clown
Story by Leigh Pritchett
Photos by Wallace Bromberg Jr.
He is known as Huck Hano — Skylar's Dad, … the neighbor, … the sheet metal mechanic, … the man who plays guitar at St. Clair County Cowboy Church.
Yet, when he walks into a rodeo arena, the Louisiana native becomes the Cajun Kid, a clown with oversized Wrangler jeans, a star-spangled shirt and a hat full of humor.
For 38 years, he has been a rodeo clown, appearing in more than 25 states.
He has worked at small rodeos, and he has worked at big ones that drew as many as 30,000 spectators. Performing before such a large crowd was scary, he said, but oh so fulfilling when the people laughed.
"I love entertaining people," said 55-year-old Hano. "I love making people smile."
In May, he got to be a clown locally during a horseless rodeo at St. Clair County Arena.
Interestingly, his love for clowning came from riding a bull.
In his early teens, Hano started riding bulls two days a week at an arena near his home in Albany, La. He became so proficient at the sport that he advanced to state finals his senior year in high school.
When he was at a rodeo, however, his competitors were not his focus; the clowns were.
He studied what they did and how they did it. He noted their timing, body language and jokes.
"That was my whole reason to be there," he said about his five years of riding bulls.
His first time to be a clown was in 1978 at a high school rodeo in McComb, Miss.
"It was the greatest thing in the world," Hano said. "I knew then that it was what I wanted to do."
In the beginning …
His name is actually Elisha Henry Hano. He acquired the nickname "Huck" as a 5-year-old dressed in jean shorts and a straw hat.
His Dad, a Baptist preacher, remarked that his son looked like the character Huckleberry Finn. And the name stuck.
It was also his Dad who was glad when Hano become a clown.
"My dad was relieved because, when I started clowning, I started riding bulls less," Hano said.
In a rodeo, Hano said, there are two kinds of clowns. The job of one kind is to protect. A bullfighter is a clown who distracts the bull to let the rider get to safety. There is also a "barrel man," who wears a barrel and gets between the bull and the rider, or between the bull and a tired or imperiled bullfighter. The job of the other kind of clown is to entertain. That clown tells jokes and performs acts to amuse the audience.
Hano has been all of them. At first, he was a bullfighter before moving into a comedic role.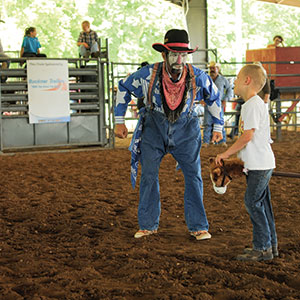 The purpose of the entertaining clown is to fill time gaps between activities to make the program flow smoothly. Generally, each of the clown's appearances during the rodeo is just a few minutes long.
If glitches or interruptions occur during the program, in comes the clown. At a rodeo in New York, for instance, a transformer blew, putting the arena in darkness. For 25 minutes, Hano and the announcer told non-stop jokes to the crowd.
In all his years as a rodeo clown, Hano has never suffered a serious injury. But there have been some harrowing moments.
A particularly frightening one occurred in Lafayette, Ga., in 1985. A bull got his horn behind Hano's leg and threw the clown into the air. While Hano was still in midair, the bull caught the man in his horns and tossed him up again. That would happen once more before the bull finally let Hano fall to the ground.
The entire time, a rider was sitting on the bull's back.
That "hooking" happened on the first of a three-night rodeo series. Hano performed the other two nights with bruises and soreness.
"I've taken several hookings (through the years), but that was definitely the worst," he said.
Dwayne Banks of Odenville, who is pastor of St. Clair County Cowboy Church, said Hano was a clown at the first rodeo in which Banks participated.
He described Hano as humble. "That's who Huck is."
Banks said Hano's personality makes people feel comfortable. He has a quick wit and can connect with the audience. "He is a very down-to-earth type of individual. (He) has the ability to capture attention by what he says and how he acts."
Behind the clown makeup is a man who "loves the Lord with all his heart," Banks said. "… He's got a heart for the people around him. … He wants to serve."
Hano does indeed want to serve. Currently, he is music minister at St. Clair County Cowboy Church, and believes that clowning is a talent God gave for serving Him.
In a rodeo, "the clown's job is actually to serve," Hano said.
Being a clown has given Hano opportunities to speak in churches and schools all across the country and to tell people about Jesus Christ. "God used me as a rodeo clown and that's what I want to do is be used," Hano said.
For about 12 years, Hano was a clown fulltime, traveling from March through October. His living quarters were in the front third of a trailer he towed. In the middle section, he stored the props for his acts, such as a spaceship he built himself. The back third of the trailer was a stall for his four-legged comedy partner.
During the rodeo circuit's "winter months" of November through February, Hano was at home with his family and worked at another job.
It was his career as a clown that led him to move to Odenville in 1993. Where he lived in Louisiana was flat and "a long way anywhere," Hano said. St. Clair County, on the other hand, is near three interstate systems … and has mountains.
The five acres on which his home sits are nearly encircled by mountains. It is a quiet refuge where he reads his Bible, farms and works to train a colt named Dolly.
"I love the mountains. Where I came from, there were no mountains," said Hano. "I walk out and say, 'Thank you, God.' I get to see this on a daily basis."
When his daughter Skylar was a baby 18 years ago, Hano felt he was missing much of her life by being on the road. At that point, he took a full-time job locally and became a weekend clown.
He has continued to be a clown part-time and currently works full time as a sheet metal mechanic at Hardy Corp. in Birmingham.
Clowning is hard work
Being a clown is not all chuckles; it is work.
"Clown acts are not as easy to come up with as you would think," Hano said.
It takes researching and planning. It takes building props. It takes rehearsing and refining. Perfecting an act could easily require two years of work, he said.
"You want as many different acts as you can. But you want quality acts," he said.
For many years, Hano had a comedic sidekick named Esther. She was a white mule.
"She turned out to be one of the best acts I've had," Hano said. "She opened a lot of doors for me across the country. People loved that mule."
Esther would lie down, roll over, play dead and sit up, all on command.
"I think her greatest asset was she loved doing what she did. (Other clowns said) they had never seen a mule work as smoothly as she did," Hano said. "She was one of a kind."
Two years ago, at age 32, Esther died. She is buried underneath her favorite tree in the pasture.
It is Hano's hope that Dolly will be Esther's successor in comedy.
When Hano got Dolly a few months ago, she did not like him, he said.
But that has changed. Now, she runs to the fence to meet him when she sees him come out his front door. When he reaches the fence, she nuzzles him, indicating she would appreciate a back-scratching.
In some ways, she is like Esther was at first.
"When I got Esther, she was six months old," and was so unruly that four people were needed to handle her, Hano said. Within a few months, he had won her trust. That was when the training began.
He is encouraged as he watches Dolly learn to trust, too.
"I like seeing them come from nothing to being disciplined," Hano said.
Eighteen times in his career, Hano has been given the privilege of clowning in the finals of several rodeo associations across the county. The selection of clowns for the finals is done by a vote system, and only those ranked "best" are invited to perform.
Even so, Hano expresses humility about his work as a clown.
"I never considered myself the star of the show," he said. "I considered myself a part of the team that made the show work."
After nearly 40 years of making people laugh, Hano is now accepting fewer engagements and thinks he might, at some point, retire from being a clown.
He is seeking to serve in a different way in this season of his life.
"I've had a good career," Hano said. "And if I had it to do all over again, I'd do it again. … God has given me a good life. Now that I'm slowing down, I'm going to give it back to Him."